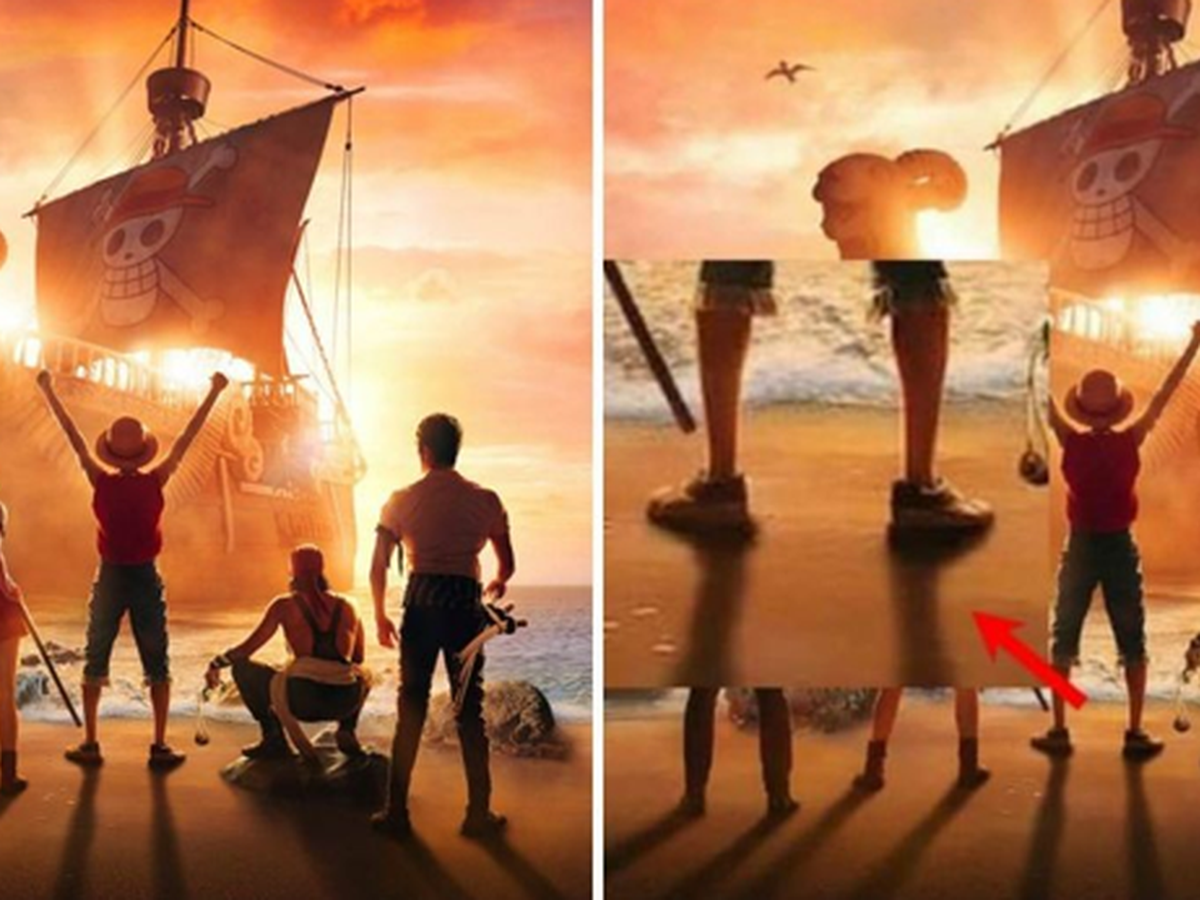 A few days ago, Netflix's One Piece Twitter account published the first images of the live-action film adaptation, and also revealed a part of the series' broadcast schedule.
So what are the new images for Netflix's live-action One Piece movie? Find out below!
1. The Straw Hats' costumes are the same as the original manga version
So far, the characters from the Netflix adaptation of One Piece have only been seen from behind.
Even so, we've also got a glimpse of the Straw Hats. It can be seen that in terms of costumes, Netflix's live-action film is similar to the manga and anime versions (comics and cartoons).
However, there are still differences that fans can easily recognize.
2. Luffy's year-old flip-flops are gone
Luffy wears shoes in the newly released Netflix poster
At first glance, the Straw Hats' costumes look very similar to the anime version. But if you look closely, Luffy in the photo shared by Netflix is ​​wearing… shoes. Despite the fact that Luffy usually wears sandals.
In the manga and anime One Piece, Luffy wears flip flops
It seems that after "going abroad", the Straw Hat youth was bought by the manufacturer for a new pair of shoes to look more polite.
3. The Straw Hat Pirates' flag remains intact
In the official image of the film adaptation of One Piece, the emblem on the Straw Hat Pirates' flag remains unchanged, looking the same as in the original. The logo on the pirate flag still features a simple skull and crossbones, with the iconic straw hat associated with Luffy.
Previously, there was speculation that the Straw Hat icon would be more realistic for this live-action version. Especially since Going Merry's "appearance" is nothing like what we know in the manga. But it turns out that the symbol of the Straw Hats is still the same as we know it until now.
4. Gulls that deliver newspapers appear
On the poster of One Piece live-action, there is an appearance of a seagull. Interestingly, it has a hat on its head. And we all know that the seagulls wearing hats in One Piece are all News Coo birds. They are responsible for distributing the World Economic Times (the news newspaper in the One Piece world) to everywhere.