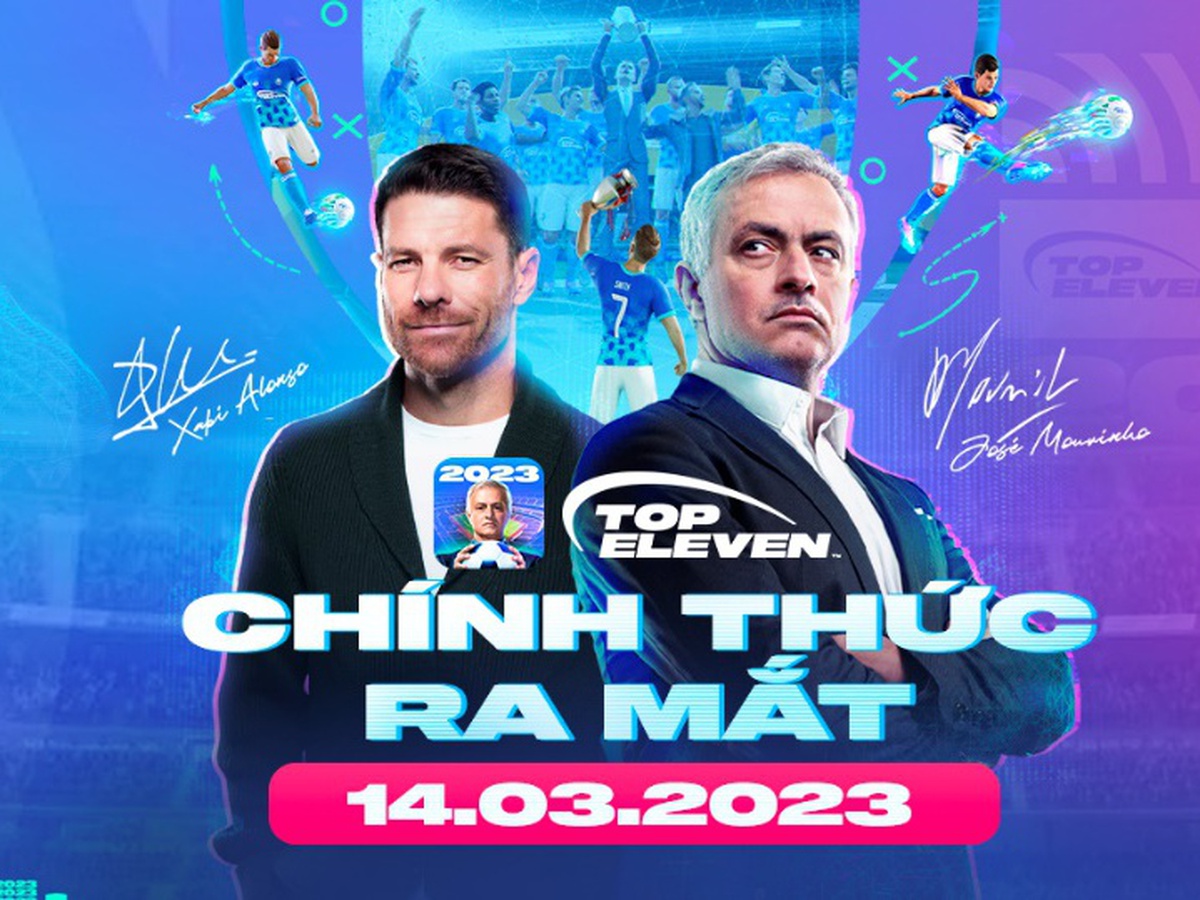 After nearly 13 years of playing on the "away field", from today March 14, 2023, Vietnamese gamers can experience the game Top Eleven right at the "home ground" of Vietnam, released by VNGGames. In particular, players of the international version can convert their accounts to the Vietnamese version with only 6 simple steps and still keep the played data.
Top Eleven: Football Manager officially launched today March 14.
6 steps to convert Top Eleven account from international to Vietnam.
Specifically, after successfully converting to the Vietnamese version, resources such as Toke, Relaxation Ticket, Injury Ticket, Combat Shirt, Club Logo, Stadium Level, … of the Coach (name) of players in the game) will be preserved. Gamers can still match and play with opponents from all over the world without geographical restrictions.
At the same time, the feature of viewing ads to receive items will also be preserved in the Vietnamese version. This feature is considered as one of the differences and is extremely useful for players, when it brings many useful resources such as Relax Tickets, Spirit Boost Tickets, Healing Tickets, etc. In addition, players Players also have the opportunity to receive lots of free Codes when participating in events on Fanpage and Community Group.
Top Eleven: Football Manager is a strategy game combining team management skills that is very popular around the world. Appearing since 2010, Top Eleven has attracted millions of football fans and has not stopped updating for the past 13 years. Recently, the developer Nordeus has added a 3D view of the game, giving Coaches a vivid and realistic experience, as if watching a football match live on the screen. phone picture.
Entering the world of Top Eleven VNG, players will become a real football manager, own a team and do all the work necessary to bring the club to victory. The main tasks of the Coaches are to find players (through Recruiting or Transferring), plan Training for players to improve their stats, strategize the squad and direct in each game. match. Players can also train a new generation of players from the Youth Football Academy, to prepare resources when entering higher leagues.
Practice helps to improve player's stats.
The Coach is also the one who makes financial decisions for the club: signing a television rights contract, finding sponsors, or building and upgrading the stadium to attract more spectators, thereby increasing income from ticket sales for each match.
With unique gameplay and simple design, Top Eleven VNG will definitely bring different experiences to Vietnamese gamers and even football fans. This will be an opportunity for you to directly experience the feeling of "leader", realize the tactical ideas that are in your mind, and enjoy the feeling of sublimation in each match, each season.
On March 14, 2023, Top Eleven: Football Manager officially launched Vietnamese gamers. Players can download the application at https://topelevenvng.onelink.me/qqOQ/PR, switch accounts and play this unique game right away.
Follow the latest information about Top Eleven VNG at fanpage Top Eleven: Football Manager and community group.