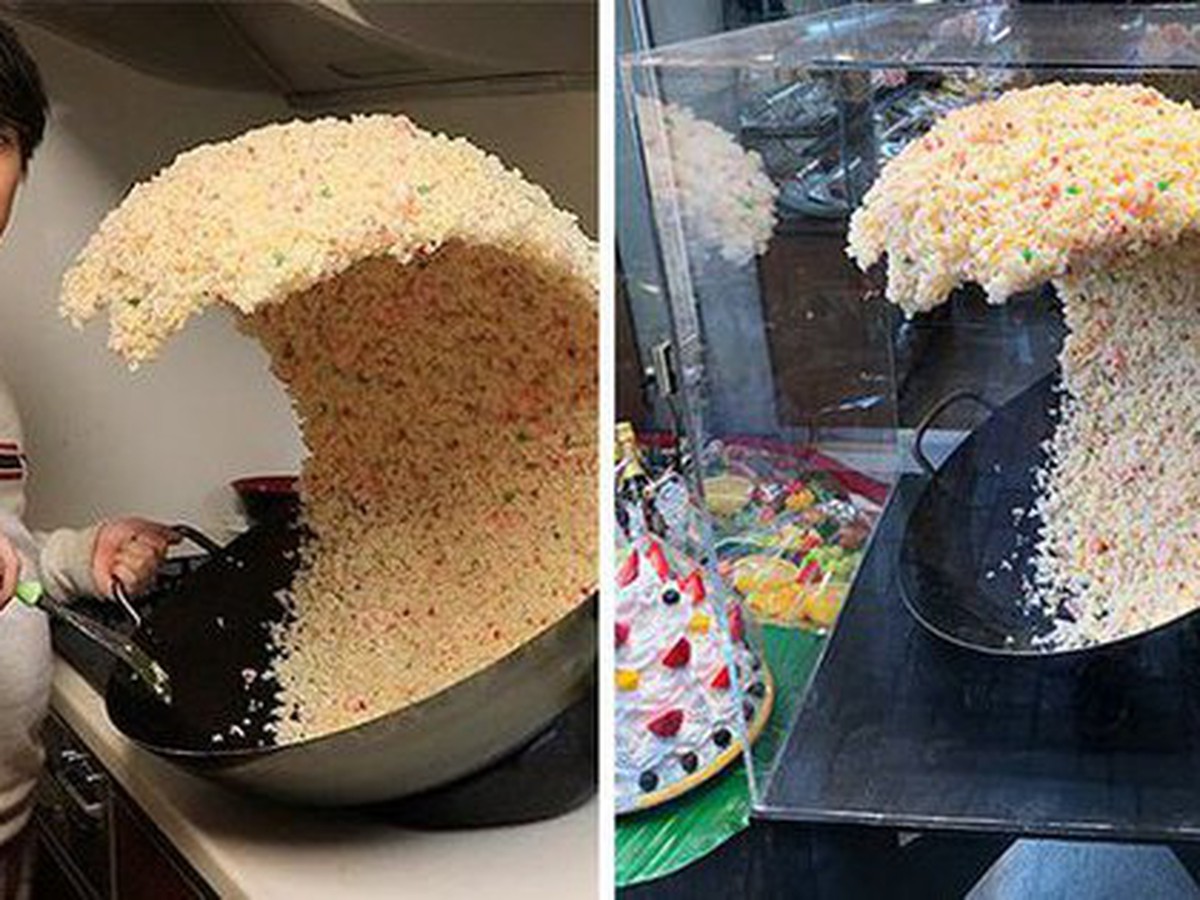 In the age of the Internet, we are no stranger to fake news. With today's photo editing tools, even the most observant can be easily fooled. Have you ever wondered how many famous photos circulating online are 100% real? The facts below will show us that you cannot believe everything you see online.
Behind-the-scenes shot of the MGM . intro
The photo of a lion strapped to a machine to create the iconic MGM trailer is actually a photo of a lion being diagnosed at the vet's office. Fortunately, the lion has recovered and is completely healthy. Also, an interesting fact is that there were 7 lions used to create the intro of MGM, the current one, named Leo, has appeared in almost every movie since 1957.
Fried rice island boy
One of the photos that went viral a few years ago was a "fried rice meme" of a guy skillfully roasting rice in a pan. This interesting photo quickly gained a lot of attention online. Unfortunately, the original was a fake photo because the delicious meal was a collage of a sculpture displayed in a Tokyo grocery store.
Magic Castle
The photo of this magical castle on this island makes anyone who love to travel also want to visit to see it with their own eyes. Unfortunately, this is just a combination of a photo of a rock in Thailand and a castle in Germany.
The pilot's sky selfie
This iconic selfie of a pilot taking himself in the air is actually a photo of himself once he landed safely, with the sky behind him a photoshopped product.
Ice Venice
Venice is undoubtedly one of the most beautiful places to visit, so there's no need to photoshop a frozen Lake Baikal photo in Russia to make it look even more stunning. This collage has fooled many people about a magical moment in Venice.
Perfect lenticular cloud
Lenticular clouds are inherently pretty cool and don't need excessive photoshop to make them look better. Unfortunately, the person who photoshopped this viral photo doesn't really think so.
Moon on a skyscraper
The original photo on the right was taken by photographer Mo Aoun. It was already a great work but to increase the shimmer even more, there were netizens photoshopping the moon in an unrealistic position as shown in the fake photo that went viral.
10 years of anti-deforestation challenge
When the #10yearchallenge trend went viral, this before and after photo of the devastated forest startled many people. Although the warning effect is quite effective, it is fake because these are two different forests.
Einstein was riding his bike when the bomb went off
It's not just modern fake photos that are photoshopped and spread like the real thing, fooling people. This photo of the explosion was actually taken 7 years after Einstein's death.
Source: Bored Panda