The product possesses a powerful configuration, neat design and affordable price. This popular Gaming Laptop is equipped with Intel Core i5 Gen 12 H chip CPU and powerful RTX 2050 or RTX 3050 GPU, providing top learning and gaming performance in the segment from 15 to under 20 million VND.
Minimalist and elegant design
Different from the rugged appearance often seen on other Gaming Laptop lines, the Acer Gaming Aspire 7 2023 has a unique, sophisticated and impressive minimalist design with a neat, square appearance, elegant neutral colors, easily reach young people, especially students. In addition, this 20 million Aspire 7 Gaming Laptop line is also convenient for users to carry and use anywhere thanks to its minimalist design and weight of only 2.1kg.
Powerful performance "balances" everything from studying to entertainment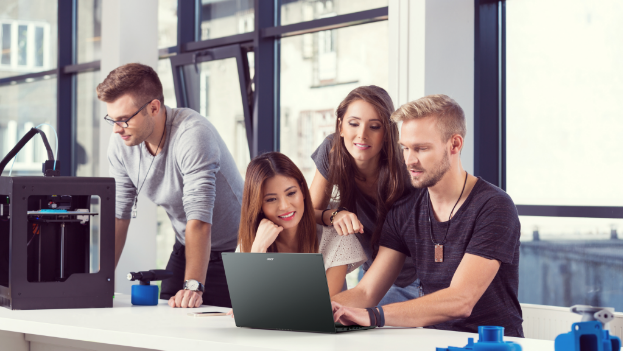 Gaming Aspire 7 2023 is equipped with standard Gaming configuration with enchanting power in the popular price range of 15 to 20 million VND. Superior to conventional powerful compact laptops, Gaming Aspire 7 is equipped with a powerful Intel® Core™ i5-12450H processor combined with an advanced GeForce RTX™ 2050 or RTX™ 3050 graphics card.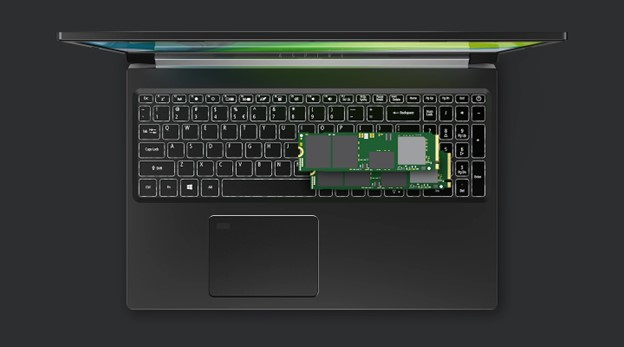 With the above impressive parameters, users can use this RTX 3050 Laptop for all diverse needs from playing Online/Esports games such as PUBG, LOL, Valorant, FFO4… to studying and working in the office. room, programming, engineering, image and video editing… in a smooth way. In particular, Gaming Aspire 7 also possesses the ability to upgrade up to 32GB of DDR4 RAM and 2TB SDD, helping to improve performance for long-term use.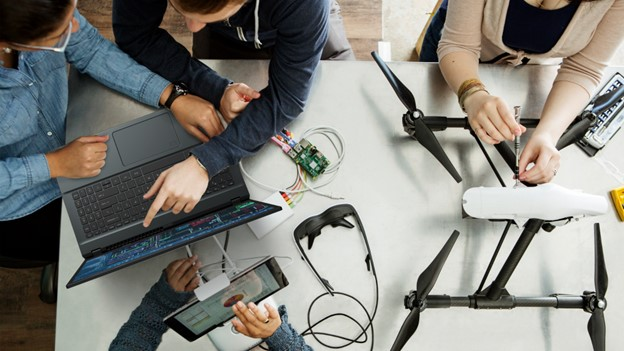 Gaming Aspire 7 users can enjoy clearer and sharper images than ever with the 15.6″ widescreen IPS panel with FHD resolution, ultra-wide viewing angle. More specifically, the screen of this multi-purpose laptop It also possesses a Gaming standard 144Hz refresh rate to help gamers increase their ability to win intense matches, combined with advanced technologies from Acer such as BlueLightShield™ and ExaColor™ to help protect eyesight and display true colors. more real.
2 cooling fans stay cool, enhancing performance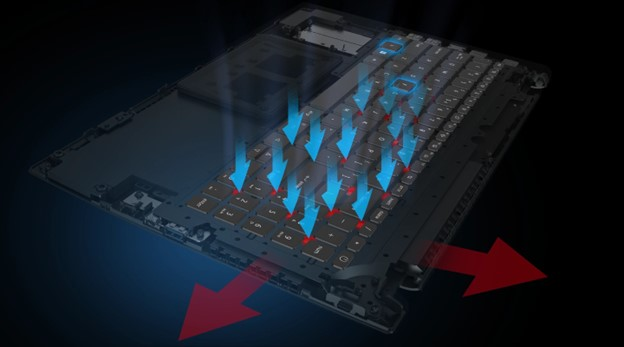 Not only is it powerful, Gaming Aspire 7 is also always cool when equipped with an optimal cooling system with up to 02 fans and 03 full-size copper pipes and giant heatsink. This smart design helps the device avoid overheating of main components, providing stable performance during gaming, studying and working, as well as providing a complete experience for users. Acer Aspire 7 2023 is truly the perfect choice for "heat enthusiasts" when equipped with the leading cooling system in the Gaming Laptop segment under 20 million.
Super fast connection, full ports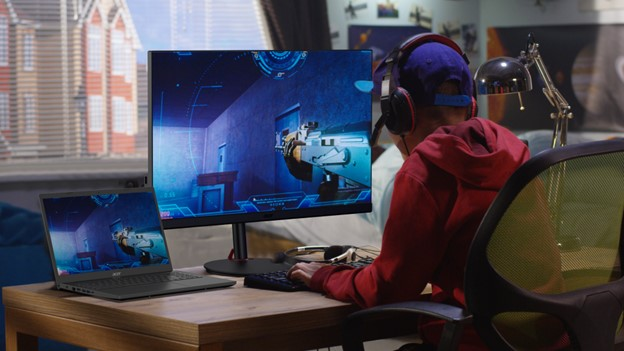 To ensure fast, stable and smooth network connection speed without problems, Gaming Aspire 7 laptop integrates Wifi 6E technology. This allows students to enjoy high speeds when playing games, sharing data or even studying online and livestreaming with 4K resolution.
In addition, Gaming Aspire 7 is also fully equipped with connection ports, bringing maximum convenience to students. With Thunderbolt 4 standard Type-C port, HDMI 2.1 and many other USB ports, you can easily connect to a variety of peripheral devices and accessories as needed. Thanks to this feature, connecting and using other devices on the Acer Gaming Aspire 7 becomes simple and convenient, helping students focus on studying without having to worry about connection problems.
It can be seen that, with stable performance and smooth gaming ability, this gaming standard Gaming Aspire 7 will meet the diverse needs of students, from studying, doing homework, programming to Come play popular games. In particular, the Gaming Aspire 7 provides a perfect balance between performance and price, ensuring that students can make the most of their budget while still getting a powerful and reliable device. Reliable to serve all needs from study to entertainment.
Currently, when owning an Acer Gaming Aspire 7 – Beginner's Tip, users will be eligible for the VIP 3S1 warranty policy: genuine express warranty within 3 days, including Saturdays and Sundays, exceeding 3 days. If the warranty is not completed, Acer will exchange the user for a new device of equal or higher value.