Recently, the final trailer of the anime Alice to Therese no Maboroshi Koujou was released just as the film was about to hit theaters, attracting the attention of fans.
Anime Alice to Therese no Maboroshi Koujou has released its final trailer just ahead of its upcoming premiere on September 15. This Anime Movie is an original work produced by studio MAPPA with Mari Okada in the director's chair.
The film's cast includes Junya Enoki as Kikuiri Masamune, Reina Ueda as Sagami Mutsumi, Misaki Kino as Itsumi, Koji Seto as Akimune and Kento Hayashi as Tokimune Kikuiri. The movie Alice to Therese no Maboroshi Koujou was first announced in June 2021 along with images and a trailer. The film is distributed globally by Warner Bros.
Final trailer of the anime Alice to Therese no Maboroshi Koujou.
Alice to Therese no Maboroshi Koujou revolves around a third-year high school student – ​​Masamune, who lives in a town where time stops because of a sudden explosion at a steel factory that has blocked all entrances and exits to the town. In hopes of one day returning to normal, the town's residents are controlled.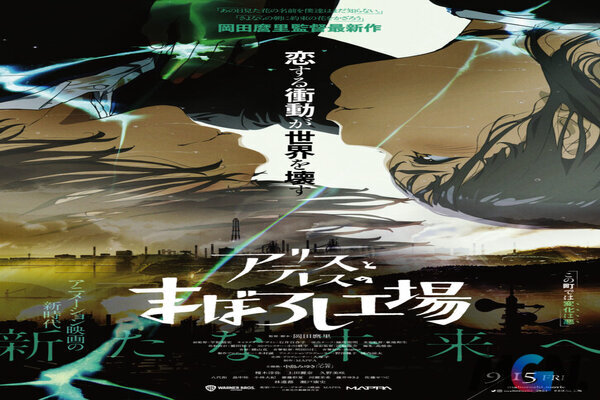 One day, Masamune's mysterious classmate Atsumi leads him to the fifth blast furnace of the steel mill, and there they meet a girl who is as wild as a wolf and cannot talk. The meeting of Masamune and these two girls upset the balance of the world.
Through the final trailer, we have a glimpse of the film's content. The images of the steel factory explosion that caused the phenomenon of stopping time in the film or the meeting between the main characters are shown with extremely vivid and beautiful graphic quality.
In addition, through the trailer we can also see that the special relationship between Masamune and Atsumi and the mysterious girl are shown quite deeply. The relationship of these three characters may be the focus of the film's story. The trailer also shows the characters' boredom when the time freeze makes all their days seem to repeat like a cycle. repeat without escape.
The film's director and screenwriter Mari Okada has previously said that she wanted to recreate the atmosphere she felt as a child watching Japanese movies and anime. The boys will be the main characters in this movie, which will depict the "exciting feeling of youth" instead of being a sour-sweet teen movie. Mari Okada is known for writing stories that depict youth and emotions, but most of them are told from a woman's perspective. So Alice to Therese no Maboroshi Koujou is a different work compared to compared to her other films in being told from a guy's perspective.