On August 22, Metal Slug: Awakening released by VNGGames was officially launched to Vietnamese gamers and some markets in Asia. This is an "auth" mobile version of the classic side-scrolling game Metal Slug developed by TiMi Studio with copyright from SNK.
According to many gamers, Metal Slug: Awakening has successfully completed the task of recreating the legendary arcade game of the 1990s on mobile, while also doing a good job of attracting the younger generation of players with its unique gameplay. colorful and attractive. In particular, the first collaboration between Metal Slug: Awakening x Arena of Valor also made the player community extremely excited. After 1 month of launch, this game recorded a series of impressive numbers, set many new records in the gaming industry and became one of the hottest games of 2023.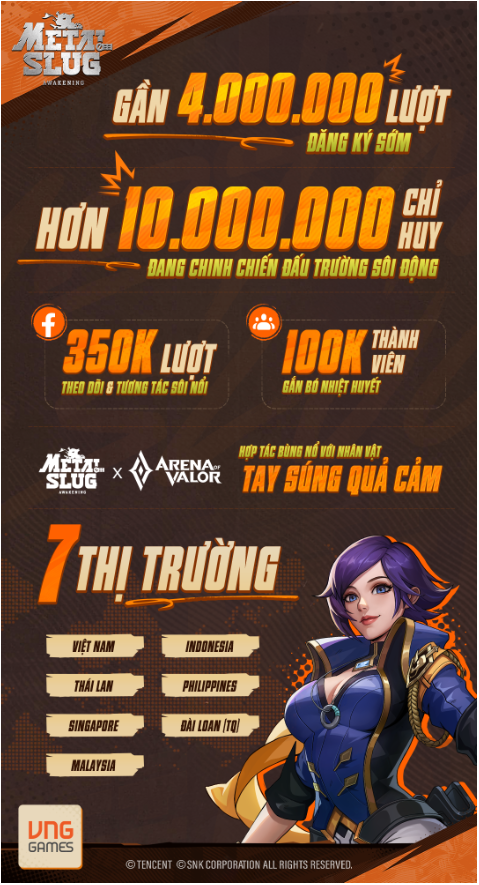 It is known that Metal Slug: Awakening has just released an update called Full Month Edition with many new features: 3V3 Mech Battle, Exploding Star Beast, Red Light Stop Green Light, Sonic Alpaca Appears,… Dong At the same time, this version also brings many new skins for characters: Super Skin Violet – Guardian Dimension, Rare Skin Trevor – Future Soldier, Skin Eri – Thunder Agent.
Immediately update the latest information about Metal Slug: Awakening at:
Home page: https://metalslugawk.vnggames.com/vn/
Fanpage: https://www.facebook.com/MetalslugawakeningVN
Community group: https://www.facebook.com/groups/795177922202898
Discord: https://discord.gg/4ppXvt5nT5
Download game: https://metalslugh5vn.onelink.me/ZnuM/Dvn