In the past few days, the echo of the match between T1 and KT Rolster in the second round of the LCK Spring 2023 playoffs is still lingering in the audience's mind. In terms of professionalism, this match has too many factors to discuss. But in terms of fringe factors, the audience pays more attention. Especially when T1 chose KT, but this opponent caused a lot of difficulties, even almost falling to the losing bracket if it wasn't for the ecstatic situation of the Gumayusi – Keria pair.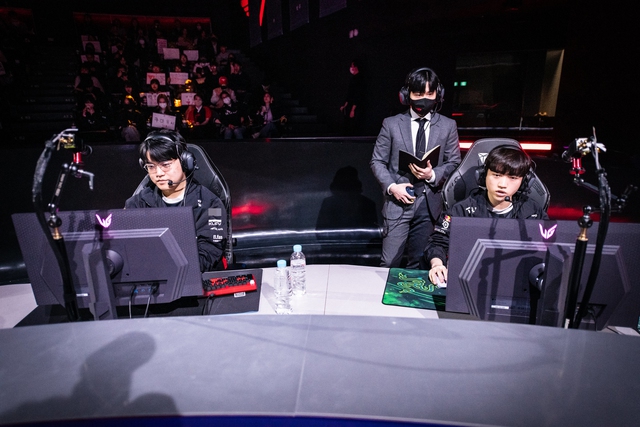 The pair Gumayusi – Keria had a brilliant performance to help T1 win against KT in game 5 – source: LoL Esports
As the underrated team, KT managed to do what even their most optimistic spectators dared not imagine: drag the game to game 5 and almost ended T1's unbeaten streak. According to statistics, the confrontation between T1 and KT still broke many records, creating many new milestones in the 2023 LCK Spring Split.
Accordingly, game 5 of the match saw 60 kills from both teams. This number of kills broke the record of the previous T1 – Gen.G Esports match (only 41 kills). In addition, the match lasted for 54 minutes and 51 seconds and became the longest game in the LCK Spring 2023, counting even the usual games when entering the knockout round.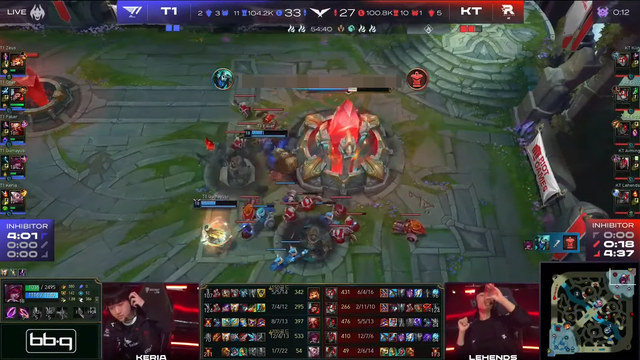 The match was nearly 55 minutes long and had 60 kills – source: YouTube
On the other hand, T1 continues to prove to be the "king of view fishing" of the world LoL village. According to statistics from Esports Chart, the match between T1 and KT reached the highest number of views of more than 1 million people (specifically 1,067,175). This number also surpassed the milestone of 720,712 views that the match T1 – Dplus KIA set. And perhaps the audience has also realized, in both matches, there is the presence of T1.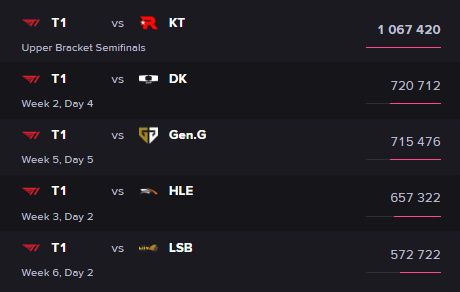 The match between T1 – KT also broke the viewership record – source: Esports Chart
The win against KT has made T1 more comfortable for the rest of the journey in the LCK Spring 2023. However, for KT, they have definitely been motivated. With the attraction that the two teams bring, many viewers are looking forward to KT's reunion with T1 in the upcoming 2023 LCK Spring Split final match.