The upcoming November 12 match between T1 and JD Gaming will definitely be the most watched match. For those who don't know, the match between T1 and LNG Esports broke all records for views for a match in the history of World Championships from the past to present. In particular, this confrontation earned more than 3 million views, not including the Chinese market. The attraction of T1 is nothing to discuss. But from there, the pressure on the T1 stars as well as JDG and their players is extremely large. Especially, when T1 was still "LCK's last hope".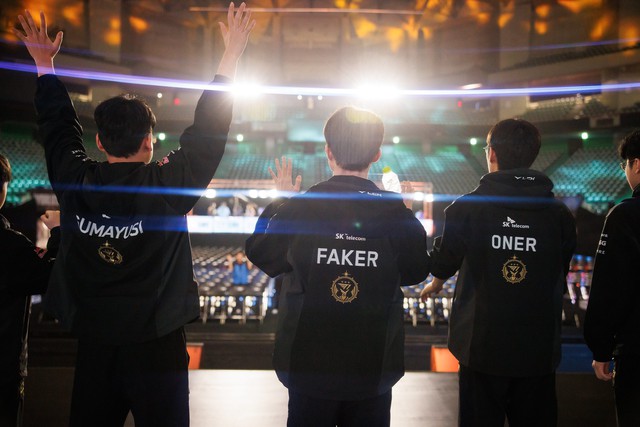 T1 is facing an opportunity but also a huge challenge called JDG at Worlds 2023
As for the T1 players, since before the tournament started, Gumayusi and Oner have mentioned many times that the team's current line-up will have many changes after Worlds 2023 ends. Everyone knows, that is the period right when T1 players' contracts have just expired with names like Gumayusi, Keria and Zeus. These are also three key players, maintaining high performance almost throughout since wearing the T1 shirt.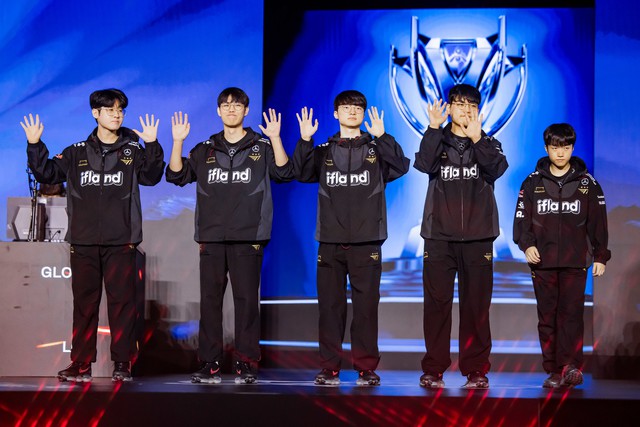 Many T1 players' contracts will expire at the end of this season.
Many opinions believe that everything will be clear after the 2023 World Championship ends, specifically after the final match. However, according to former famous commentator Caedrel, things may come sooner. Caedrel commented: "The T1 – JDG match can decide T1's squad next season. If they win, there will be a huge percentage that T1 will retain this entire squad. And if they win, there will be a huge percentage that T1 will retain this entire squad. If they lose, this will most likely be the most unfortunate squad in the history of League of Legends when they are so strong but end up empty-handed."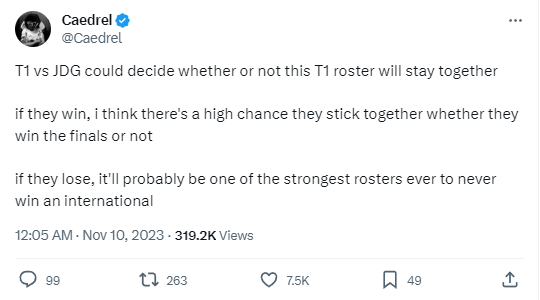 Coach Caedrel comments on the meaning of the upcoming T1 – JDG match
In fact, for all 4 teams in the Semifinals, the upcoming match will likely be their last match of the 2023 season. Therefore, Caedrel's comments are completely reasonable, right after the series of matches. Semi-finals, there will be 2 teams that must end the season immediately. At that time, attention will turn to transfer information.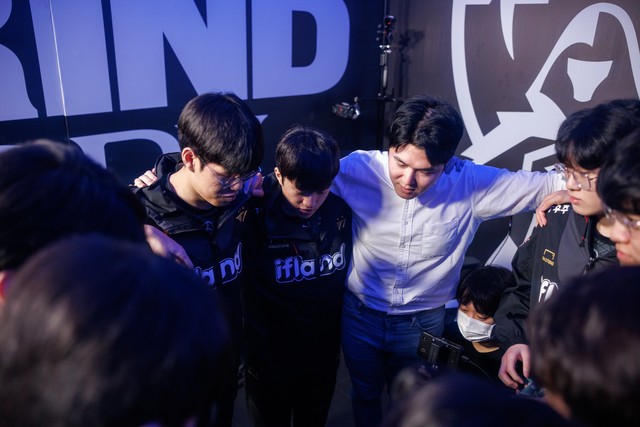 With T1 and the remaining 3 teams, any match could be the last match of the 2023 season.
However, the possibility of T1 retaining the original lineup is very high. T1 has never used foreign soldiers before. Meanwhile, the current players are all very young and have proven that they are truly the best names currently playing in the LCK. Therefore, if you miss this line-up, T1 may never find a squad of such quality again.