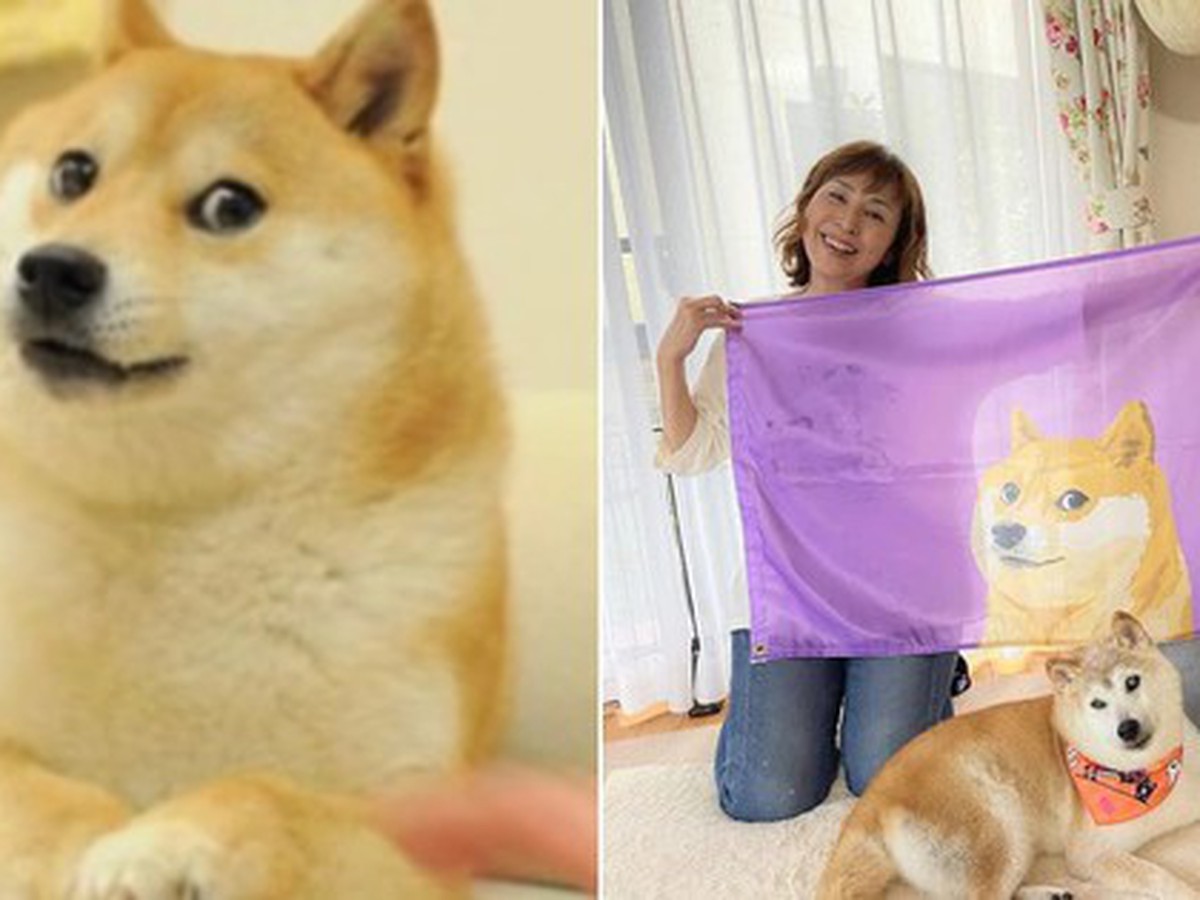 Although you may not know the name of this dog, you must have at least once seen the image of a golden shiba dog appearing in a series of memes (memes) on social networks. Accordingly, this dog has the real name Kabosu but is more commonly known by the name "Cheems".
Original photo of the famous Kabosu dog
According to Know Your Meme, this shiba dog's silly smile mixed with wit is what won the hearts of many netizens. It is known that the origin of the stage name "Cheems" comes from the favorite food of the shiba dog: cheeseburger. To add humor, the meme creators have shortened it to "cheemsburger".
Kabosu's great influence makes this shiba dog one of the most photographed dogs on social media. Even in 2020 and 2021, he is also used by the main accounts of many popular brands such as KFC, Burger King or Twitter and owns up to 444,000 followers on Instagram alone.
A series of memes were born from the image of Kabosu
Besides, this character also appeared in the meme "Swole Doge vs Cheems" (Super Muscle Dog and Cheems), a series of memes that compares any two historical periods or two polar opposites in the series. issue. Even in 2021, an iconic painting of Kabosu is sold for up to 4 million USD.
It's so famous, but few people know that, before being adopted by the current owner in 2008 and becoming famous in 2010, Kabosu went through many ups and downs.
Ever escaped death after being abandoned
Kabosu was born in a rescue dog ranch. After the training camp was closed, Kabosu and 19 other puppies were left behind in a dog shelter, and nearly all of these dogs passed away.
After escaping death, Kabosu was fortunately adopted by a Japanese teacher named Atsuko Sato in 2008 and lived with her owner's two other cats with boundless love.
Kabosu is lucky to be adopted by a 51-year-old teacher and lives with her two other cats
To show her affection for her "housemates", Ms. Atsuko posted articles and pictures about Kabosu on her personal blog and accidentally received a lot of attention.
In it, the image of Kabosu lying on a bench with his front feet crossed and a worried look on his face made a strong impression and became an extremely famous meme worldwide up to now.
"Never could I have imagined the effect my Kabosu photo shoot would have on the internet. The photo has grown and taken on life of its own over the past decade. It has been shared millions of times and created. The whole community loves this image," said Atsuko.
The current life
In late 2022, in a series of Instagram posts, the adorable dog's owner Kabosu said her dog was in a "very dangerous condition" after being diagnosed with chronic leukemia and lymphoma. acute biliary hepatitis. Kabosu couldn't even eat anything.
The owner revealed that Kabosu was seriously ill, causing many people to worry
After a few days, Atsuko posted a picture of Kabosu with the message, "Currently, (Kabosu's) liver condition is very bad, but I hope that taking antibiotics will improve the situation. Kabosu was craving food and drinking water. okay. Thank you very much for everyone's concern."
Atsuko's announcement made many fans of this dog feel worried. Under the recent posts, many fans wish this lovely dog ​​a healthy return soon and bring a lot of joy to the people around.
Everyone hopes Kabosu will get well soon
Source: Know Your Meme, CNET, Instagram NV