Bin remains silent but seems to be hinting at RNG about something far away that no one knows…
In unexpected developments, Bilibili Gaming had tickets to the Demacia Cup 2022 championship match. The reason for saying this is because they are both good and lucky because the reigning Top Esports Champion asked to withdraw at the last minute and did not participate in the competition despite being given a chance to go straight to the Quarterfinals. To fill the void, BLG was chosen to replace TES despite the team being eliminated in Round 2 after losing 1-2 to ThunderTalk Gaming. Without wasting time, Bin and his teammates swept Round 3 to leave Invictus Gaming and Royal Never Give Up respectively with a score of 3-0.
It must also be added that, BLG has been very active in the pre-2323 transfer market to forget about the defeat in 2022 – a time when they are always eliminated early in the LPL Spring & Season play-offs. Summer. The organization only kept Bin as the core and brought in both the coaching staff and the new, well-known players, rich in fighting ability. They include Xun (former IG captain), Yagao (former captain of LPL champion JD Gaming), Elk (Ultra Prime's highly rated AD carry) and ON (nominated in the Best Support category. LPL 2022). With this lineup, BLG only needs an average of 30 minutes per game to destroy IG in the Demacia Cup Quarterfinals.
I thought that BLG would face more challenges when it collided with RNG – the team also easily won Anyone's Legends 3-0 – but no. Thanks to a mature, calculated and proactive play, BLG did not give the second most Demacia Cup winners in history a chance to turn the tide. If games 1 and 3 ended quickly after 31 minutes, game 2 was where the two teams struggled the most. RNG sent players to the top lane to try to silence Bin's Renekton thereby breaking the BLG team's quick-win branching strategy of Nidalee and Taliyah.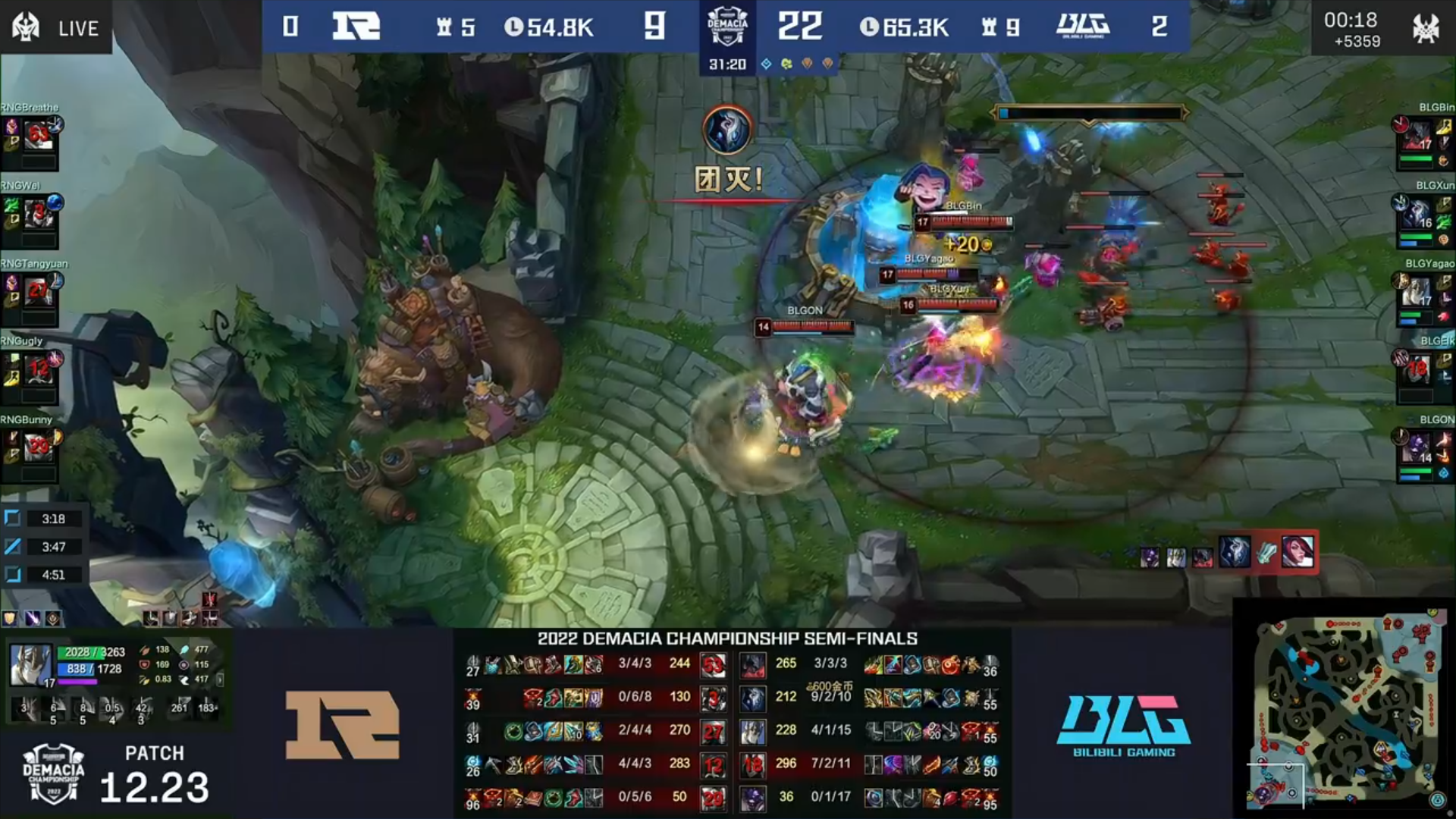 It was somewhat successful as Bin lay down twice in a row after seven minutes and was barely able to resist Fiora's charge at Breathe's hand. But over time, Alistar in ON's hand had successively opened fights that could not be more beautiful to help BLG flip the bet. As the pressure was lifted, Bin and his teammates didn't forget to turn on their Emotes before knocking out RNG's Nexus Town Hall in game 3. It's not clear what the BLG top lane was for, but it made the community rethink the deal. Changing people costs a lot in the middle of the 2022 season.
At that time, Bin had just helped RNG win the LPL Spring and also win the 2022 Mid-Season Invitational (MSI). But RNG still wasn't happy with the deal and was determined to get Breathe from BLG. Fate forced Bin to change his shirt color for the second time in a row within a few months, but he never commented on the transfer.
Although he hasn't won any MVPs in the past six games since the Quarterfinals – Yagao took 5/6 – but Bin's role is extremely clear in the meta that is heavily placed on top lane. And this is the second time in the history of BLG entering the Demacia Cup Finals – the tournament was first introduced in 2013. Before that, they lost to RNG themselves in the decisive match in 2018. If Winning TT this afternoon (December 27), Demacia Cup 2022 will be BLG's first title since they debuted in the professional arena in 2017.
​