GEN destroyed T1 3-0 in the 2023 LCK Summer Finals, Coach Score revealed the advantage of banning when T1 revealed cards.
GEN completely destroyed T1 in the final match of the 2023 LCK Summer Split with a score of 3-0. The performance of the GEN members is really excellent and close to perfect against a team that is not as underestimated as T1. Individual excellence contributed to a great synergy and GEN fully deserved their championship.
You guys got a perfectly overwhelming victory. How are you feeling right now?
Score: Before we stepped onto the stage, I had faith in a 3-0 victory. The players did a great job, so it became a reality. I am very happy to have won 3 consecutive LCK championships with Gen.G.
Doran: I am very happy and happy that we all have worked so hard to achieve such a great achievement.
Peanut: I'm really happy. Now I'm the player with the second most championships in the LCK and that makes me very happy.
Chovy: I feel very happy because we won the championship with a good performance.
Peyz: My teammates have made me comfortable playing, so I'm really happy.
Delight: We've all worked hard for this championship, so I'm happy.
What was the main motivation for you to win three championships in a row? How confident are you for Worlds?
Score: We were able to win three championships in a row because the skills of the players were amazing. They communicate well and understand each other well. I think it would be good if we were considered as one of the strongest teams and received support. We didn't do well in recent international tournaments, but this time, we will prepare and show the best performance.
You banned Azir, Neeko and Xayah in all three games. What is the advantage of banning those champions?
Score: When we watched the playoffs, we thought that T1 was really good with those champions. Bans worked, so we kept picking those champions.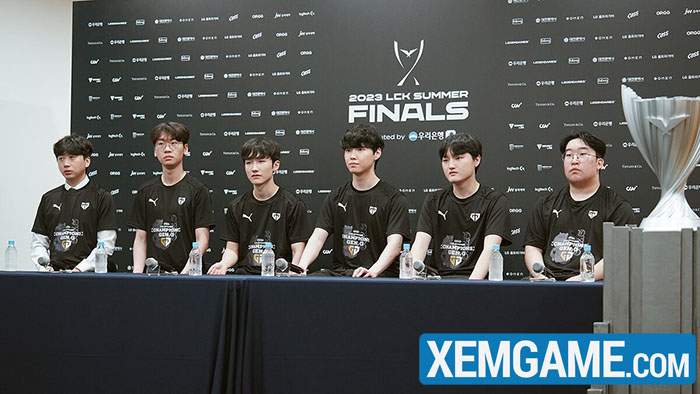 (To Chovy) Now you've won three championships in a row. Do you think you are ushering in a new era?
Chovy: BILLIONI've won three championships in a row, but I don't think it's a new era. I will continue to do my best so that I can be judged as the best player.
(To Delight) At the end of the last game, you said that you carried the whole team. What do you think about MVP?
Delight: I thought I could win the MVP, but I'm really happy about today's match, so for me, whoever wins MVP deserves it.
Chovy: I don't know much about myself being able to get MVP, but after the game, I think I did pretty well, so I was looking forward to it.
(To Peanut) You've won six LCK championships. What are your thoughts on this?
Peanut: When I was at ROX, I played well. I thought I would continue to do well at it, but it was really stupid. After I came back from the LPL, I was in a better shape while playing in the LCK. The most important thing is the mindset and constantly trying to become the best player. That's how I was able to achieve six championships.
(To Chovy and Peanut) Game 3 was really full of ups and downs. How did you approach the game?
Chovy: There were times when we fell behind, but we thought we would win if we killed T1's damage champions early. We were constantly thinking about how we could do that and we found a way through teamfights.
Peanut: Whenever there was a fight, we tried to see if we could destroy their key positions. We thought there would be skirmishes around the targets, so we decided to attack carries in those fights. That's how we can win in teamfights.
You made it to the grand finals and watched T1 vs KT. Does that help with your planning? How is it different from spring?
Score: Since T1 won yesterday, we were able to keep an eye on T1's picks as they were in dire straits, so it was easier for us to approach the games. We can see that they tend to choose Azir and Neeko. Although we have the advantage of participating early in the grand finals, the teams have a large pool of champions, so we are not too worried about the finals.
You predicted a 3-1 win at LCK Media Day. But you said you thought you would win 3-0 today. Is it because you watched the match yesterday?
Score: Actually, when I woke up this morning, I felt full of health and luck. That's why I think we will win 3-0.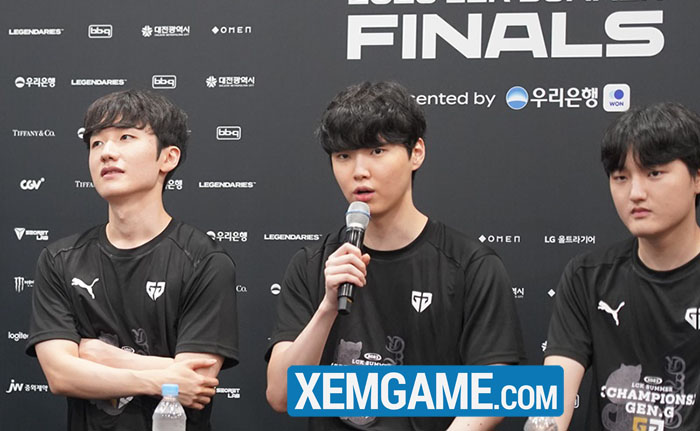 (To Chovy) You played K'Sante, Taliyah and Sylas. Those are champions that don't quite fit into the current meta. Did you pick those champions with confidence? Between you and Doran, who is the better K'Sante player?
Chovy: Because some mid lane champions are banned, the power rankings of mid lane champions have changed. There are ways I can use them if I do it well. Since I practiced K'Sante a lot in solo queue, I'm a better K'Sante player.
Doran: I was going to be modest, but I changed my mind. [Cười] I also play K'Sante a lot in solo queue so I'm very confident going up against Chovy.
(To Doran) This is your third championship, so it must mean more to you. What does this championship mean to you?
Doran: It's a good result, but more than that, I'm really pleased with the process. I believe it will motivate me as I continue to achieve more in my career.
(To Chovy) The Asian Games are coming up. You will be playing in the national team. How will you face the challenge?
Chovy: Obviously I want good results and good mental health. I want to win there and get a gold medal to enhance the reputation of our country. There's really nothing to say other than to say I'll do the best I can.
(To Peanut) In game 2, you successfully performed a mid lane gank early in the game. Was it the plan or was it an instant decision?
Peanut: I thought that Sejuani had the upper hand over Maokai in early game teamfights. When I started Chovy was relatively low health, there was a bit of luck, but luck happens to those who try.
Final opinion?
Score: We've finished three championships in a row, but this year isn't over yet. We still have Worlds, so we'll celebrate quickly and work hard to win Worlds.
Doran: I will not be satisfied with the championship today and prepare well for Worlds.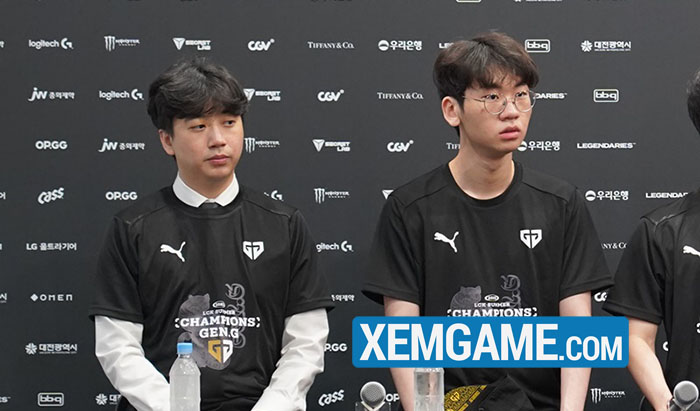 Peanut: The reason we were able to win the championship is because we have fans who are cheering wildly. I want to say thank you to the fans, especially those who came to our place and cheered us on.
Chovy: I will celebrate quickly and since there are many games to go, I will continue to work hard so that we can continue to play well.
Peyz: Thank you to my fans and teammates. Work hard and do well at Worlds!
Delight: Thank you for always cheering for us. This year is not over yet, so I will prepare well to show a good performance in the rest.