In the history of Vietnam's League of Legends village in particular and the world in general, there are probably rare cases like VCS Sunset 2023. A team is having its schedule canceled continuously but has no time. certain time limit to fight back. The announcements of the tournament organizers did not give a specific reason for the cancellation of this team's schedule. And that team, is one of the names with the most fans in VCS: SBTC Esports (SE).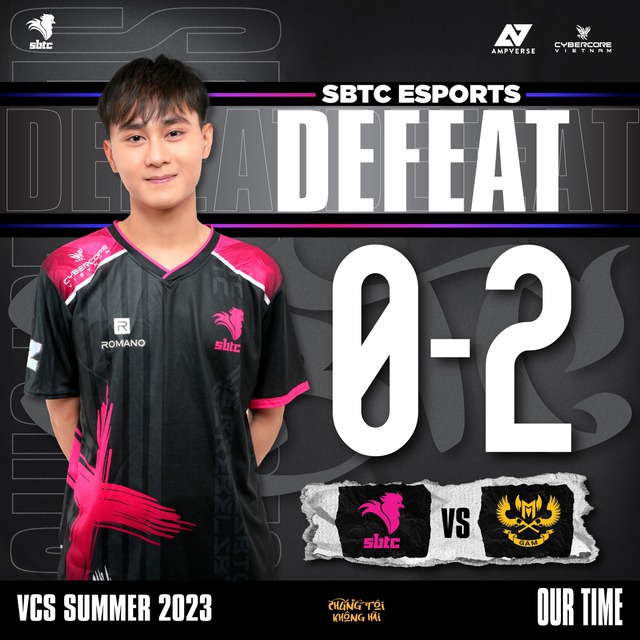 SE's only match at VCS Sunset 2023 up to now is a loss to GAM
Even when the voices in the Vietnamese LoL village began to give their opinions, the audience still did not understand what happened to the team nicknamed "Red Chicken". At the moment, while other teams have played at least 3 games, SE still has only 1 match and that is the loss against GAM Esports. This not only affects SE, but all teams that have and will have a match against SE will also be greatly affected.

SE itself is hard and all the VCS teams are hard too
Recently, on the official page of this team, SE posted a long article directed at BTC VCS as well as Riot. Accordingly, this team said that they have also kept their commitment to absolute silence about the investigation process of relevant issues of the BTC VCS side as well as Riot. However, because the team's match schedule is constantly postponed for unknown reasons, the SE side requires the competent parties to come to a final conclusion soon. According to SE, the cancellation of such a schedule also greatly affects the team because they cannot compete but still have to spend operating costs, taking care of players … Not to mention, according to SE, this thing This also affects the image of the team and the tournament in front of sponsors.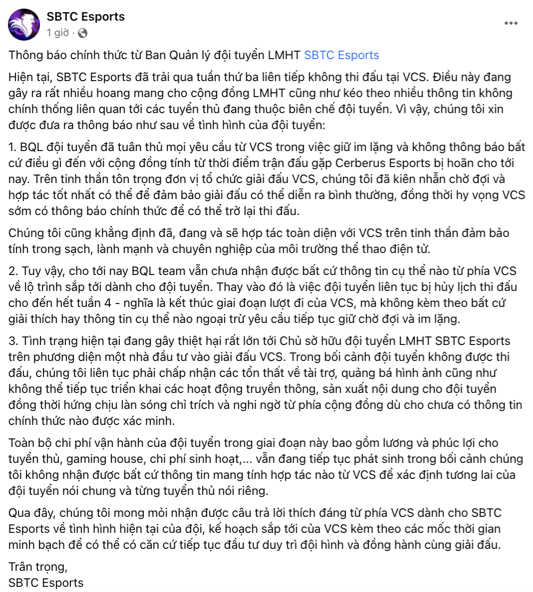 SE's recent post
SE's post attracted great attention from the VCS community. According to many opinions, SE's post will probably be a necessary element, so that the upcoming official announcements will soon reach Vietnamese LoL fans. In addition, with the implications from the recent SE co-owner, the official information of BTC VCS will be a big shock, shaking the Vietnamese League of Legends and possibly spreading to the international arena.