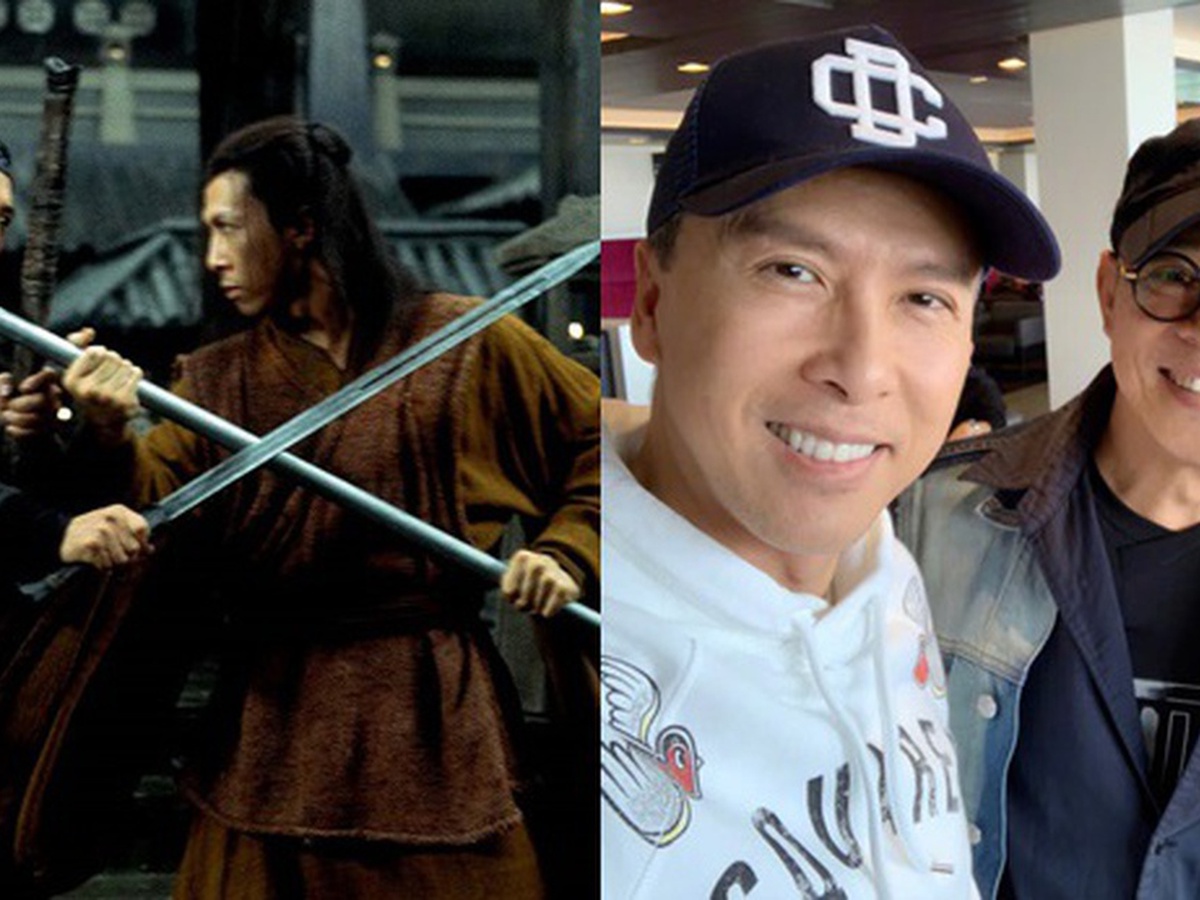 Referring to the Chinese martial arts film series, it is impossible to ignore two famous names, Ly Lien Kiet and Donnie Yen. Both these superstars are known as the "kings of martial arts" on the screen, one of the "four great diamonds" of the Chinese kung fu film village along with Hong Kim Bao and Jackie Chan.
Because there are many similarities such as the same age, the same master, and both have illustrious careers, Ly Lien Kiet and Donnie Yen are often put on the comparison table. From here, countless anecdotes about the animosity between them were spread by the media and the public. In particular, the story of Ly Lien Kiet hitting Donnie Yen and getting injured on the set is the most mentioned. However, recently, the actor surnamed Chan has told the above incident clearly for the first time.
There are many anecdotes surrounding the relationship between Donnie Yen and Jet Li.
Donnie Yen tells the story of being beaten by Ly Lien Kiet twice and almost blinded his eyes
In an interview with GQ magazine, Donnie Yen shared about 2 times "encountering" with Ly Lien Kiet on the set in risky scenes. The first time was in the film Hoang Phi Hong 2: Nam Nhi Tu Cuong directed by Tu Khac, released in 1992. In the film, Donnie Yen plays the villain Nalan Nguyen Thuat, while Jet Li transforms into the character. Wong Fei Hung.
Donnie Yen shared for the first time about two times when Ly Lien Kiet almost blinded his eyes while filming.
The duel between the two is heavily invested in martial arts and is considered a classic scene of the kung fu movie genre. But during the filming, Donnie Yen was beaten by Ly Lien Kiet and almost blinded.
The actor surnamed Chan recounted: "When filming, an accident happened that made me almost blind. That was when Jet Li was hung up high, and I was below, we used a very bamboo pole together. big and heavy to fight.
Jet Li attacked from above, and I had to continuously block. After 30 hits, he suddenly missed his hand, instead of hitting from the top down, he swung sideways, so the pole crossed my eyebrow. At that time, I stepped back eight meters, lowered my hand, blood spurted forward, I am not kidding, like rain."
The fight scene of two martial arts stars in Hoang Phi Hong 2: Nam Nhi Tu Cuong".
After the incident, Donnie Yen was immediately taken to the hospital by an ambulance. Despite having 6-7 stitches, the martial arts star still returned to the set the next day and continued filming.
10 years after Hoang Phi Hong 2: Nam Nhi Tu Cuong, Donnie Yen had the opportunity to reunite with Ly Lien Kiet in Hero – another classic martial arts film of the Chinese screen. This time, the two had thrilling fights on the courtyard of a temple. The scene lasted only a few minutes on the film, but took the crew up to 3 weeks.
"Everything went very smoothly at first. We haven't had a chance to cooperate since Hoang Phi Hong 2: Nam Nhi Tu Cuong. The fight scenes in that movie have become classics. So 10 years later, We all hope to recreate this," Donnie Yen said.
But again, the competition scene between Donnie Yen and Ly Lien Kiet happened again.
Jet Li and Donnie Yen continue to compete in the movie "Hero".
"I remember in that scene, Jet Li was also hung high, he used a sword, even if it was just a sword prop, it was also very sharp. That fight scene was only filmed 1 double, hit continuously from beginning to end. About 50 moves In the 48th and 49th moves, Li Lien Kiet accidentally swung his sword and grazed my face, I took 2 steps back, and Ly Lien Kiet exclaimed: Your face is bleeding!
10 years ago, he hit me on one side of the face, 10 years later he hit the other side. Therefore, I laughed thinking: The first film was a huge success because of an unexpected accident, so this time the box office revenue is definitely positive, "Donnie Yen humorously recounted.
The current relationship of the two martial arts kings
It is the stories behind the scenes of filming that have caused the relationship between Ly Lien Kiet and Donnie Yen to constantly be embroidered, "adding salt miles". From here, many rumors of both discord, even "unlikely" were spread.
However, in a rare occasion, Donnie Yen spoke out about this: "We used to have a past. When I was a teenager, I was eager to win, had clashed with the gangsters, was spoiled, so I was married. My family is depressed and disappointed. But at this age, I understand for myself what are the most important values ​​in life. Family, friends and martial arts – I can't betray these three."
Despite being constantly rumored "with displeasure", but the real relationship of Jet Li and Donnie Yen is not as bad as many people think.
In addition, movie superstar Ip Man has also repeatedly posted close images with Ly Lien Kiet. In the picture of Li Lien Kiet and Ngo Kinh meeting in Hong Kong, he frankly wrote with the caption: "Today, it is more sunny than usual. Three men with a reputation for not getting along have gathered."
Later, when filming the movie Hua Mulan, Donnie Yen continued to take selfies with Ly Lien Kiet and shared them on social networks. He wrote: "Extremely happy to be able to work with Mr. Lee for the fourth time. Although I couldn't start filming on the same day of the same month and year, I was able to finish filming on the same day, month, and year. word charm. Really grateful!".
Through these moves of Donnie Yen, it can be seen that the relationship between him and Ly Lien Kiet is not as bad as many people think. On the contrary, they are all very happy, tolerant and willing to overlook each other's flaws.
Source: HK01, Sohu