Similar to the PC version, Wild Rift is also a "pet" product of Riot and the launch of new game modes is no longer strange. Recently, this publisher has reopened the ARURF mode – one of the most popular and interesting gameplay. However, the time for players to experience ARURF is only 4 days (August 18 – August 22). It is this that has made many gamers feel dissatisfied at the present time.

ARURF is one of the most loved game modes by Wild Rift gamers.
Previously, ARURF also appeared in Wild Rift and was maintained by Riot for 1 week. At the same time, the 1 vs 1 Duel mode, which received less attention, opened for 1 month. It is this difference that has made the Toc Chien community difficult to understand.
However, this time, Riot's time to reopen ARURF is even shorter. Many players, after knowing the news, had to ask the question: "What is the purpose of the publisher?". Explaining Riot's calculations, the leadership team has not given any specific explanation for more than 6 years. Since the time League of Legends players complained about the closure of URF, Riot stated their position in 2017 as follows:
"It is common for a longtime LoL player to quit the game. However, some players love URF and then suddenly quit the game when it ends up being twice as big (NA). This is a situation beyond our imagination…"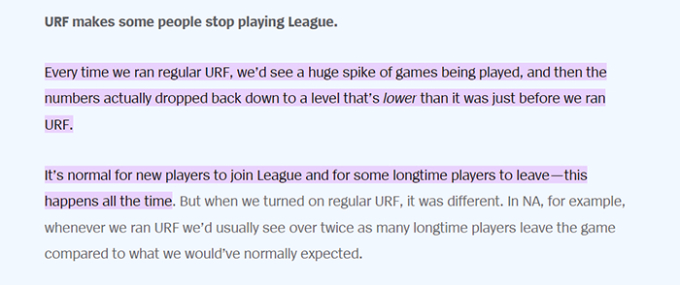 Currently, Riot is facing a lot of complaints from players.
With just a simple explanation, Riot has stuck to this point of view for 6 years now. Until now, there were very few opportunities for players to enjoy the long-term ARURF experience. Even LoL to Wild Rift, this publisher still does not want to change to "retain" players longer in the future.