The huge fields of solar power on Earth may no longer be necessary as scientists at the California Institute of Technology (Caltech Institute) have found another solution to harnessing electricity from the Sun. Instead of being placed on the ground as usual, solar panels will be sent into space to produce electricity and then wirelessly transmit it back to Earth.
In its press release, the Caltech institute said it had succeeded in the wireless transmission of electricity from space to Earth. This experiment is part of Caltech's Space Solar Power Project.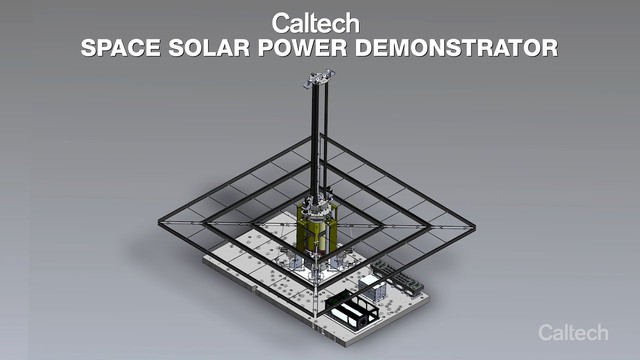 Caltech's unit that transmits energy back to Earth from outer space.
The wireless energy transfer is done using MAPLE – short for Microwave Array for Power-transfer Low-orbit Experiment – one of the three core technologies being tested for the project. this case. However, the last test only used a prototype of the device using this technology.
Encapsulation and deployment of energy-transfer antennas in Caltech's experimental prototype
According to Caltech, MAPLE contains an array of devices that transmit energy in the form of microwaves, controlled by custom chips manufactured on low-cost silicon technologies. This array of energy generating devices allows the transmission of electricity to a specific location. The chips need to be lightweight and flexible enough to fold up into a package and launch it into Earth orbit at the lowest possible cost.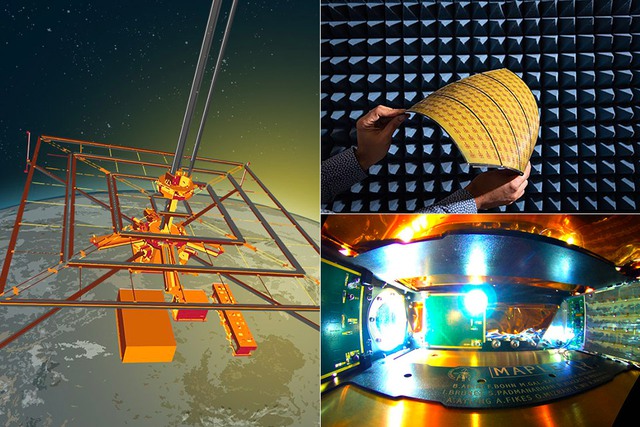 The energy transfer plate is lightweight and can be flexed to fold when launched into space.
By combining signals between individual generators, an array of generators can change the focus and direction of the energy it emits – without moving any parts. This series of generators will use ultra-precise timing components to automatically focus energy to a desired location when combined with electromagnetic waves.
To demonstrate wireless power generation in space, in addition to the generator, MAPLE has two separate arrays of power receivers placed about a foot away from the transmitter. When they receive power, they convert into DC current and light up a pair of LEDs to make people aware of the power transmission.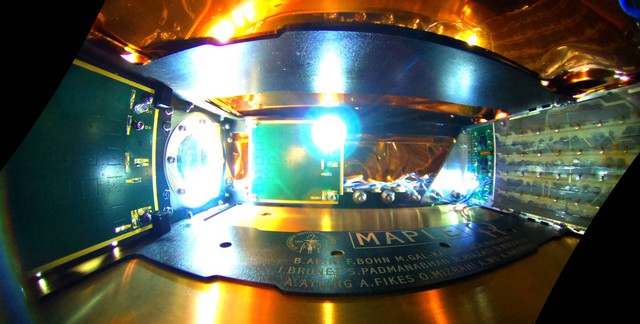 Photo taken inside the MAPLE, with the array of energy transmitting antennas on the right and the left side showing the array of energy collecting antennas.
The system as a whole is also unsealed, so it will be exposed to extreme conditions in space, including temperature fluctuations and solar radiation – challenges to come for other systems. larger system in the future.
In addition, MAPLE is also equipped with a small window so that this device plate can transmit energy back to Earth. This energy will be detected and absorbed by an electrical collector located on the roof of the Gordon and Betty Moore Engineering Laboratory on the Caltech campus in Pasadena.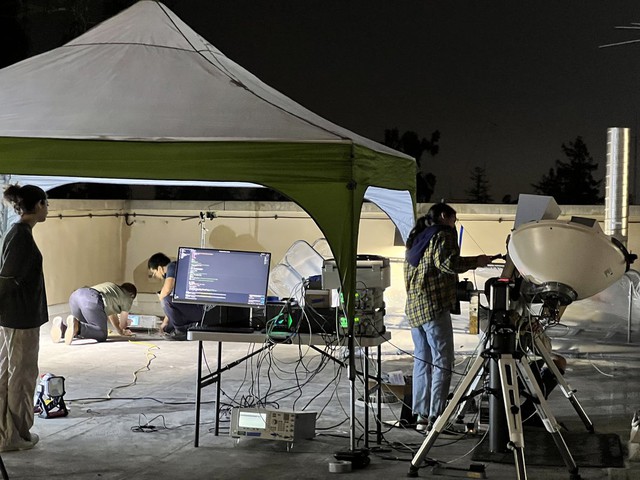 The energy-carrying microwave signal was captured on the roof of the Moore Laboratory.
The recent test not only proved that the prototype device under development could survive launch into Earth orbit, but also functioned as intended by the team. The power transmitting antennas were also divided into different groups so that the team could evaluate the performance of each signal interference pattern and measure the difference in each system.
If successful, the production and transmission of electricity from space will bring a breakthrough in harnessing unlimited energy from the Sun, when the environment in Earth's orbit will not be affected by the effects of solar radiation. factors such as day and night, cloud cover – can deliver 8 times more energy than solar panels placed anywhere on Earth.
When implemented, this project will build a cluster of modular spacecraft that can be coupled together, to collect solar energy, convert it into electricity and convert it into microwaves for wireless transmission to the world. wherever needed – including places where there is no reliable power source.
According to Caltech president, Mr. Thomas F. Rosenbaum, this technology to transmit solar energy from space could be the answer to the challenges of storing and transmitting renewable energy, bringing the world to closer to the transition to green energy.