Nguyen Lac Huy (also known by the nickname "Huy NL") is the founder of Schannel, one of the largest media networks in Vietnam. Schannel is currently home to more than 40 content creators, including a series of "million sub, million view" names such as Duy Tham, Hai Trieu, Dang Thu Ha… on many different platforms such as YouTube, TikTok, Facebook and Instagram.
"Innovate or die"
Right from the moment he joined the CellphoneS phone retail system in 2012 to take on a marketing position, Huy NL made bold decisions. The first decision was to build a YouTube channel specializing in technology, something that few people in Vietnam thought of at that time.
"The early years of the 2010s were the time when smartphones exploded in Vietnam, because new devices were constantly hitting the shelves, each model had unique features, not to mention the price was also increasingly reasonable. The need to buy smartphones increased, but there weren't many Vietnamese-speaking YouTube channels to help Vietnamese people choose the most suitable products. That was the motivation for me to create Schannel", Huy NL shared.
Committing to a completely new field without anyone to "guide", it is not difficult to see Huy NL, then only 22 years old, facing countless difficulties. "At that time, in Vietnam, not many people considered YouTube a serious job, but just a video download site for entertainment purposes. Therefore, to build a YouTube channel at that time from scratch 0 is not easy."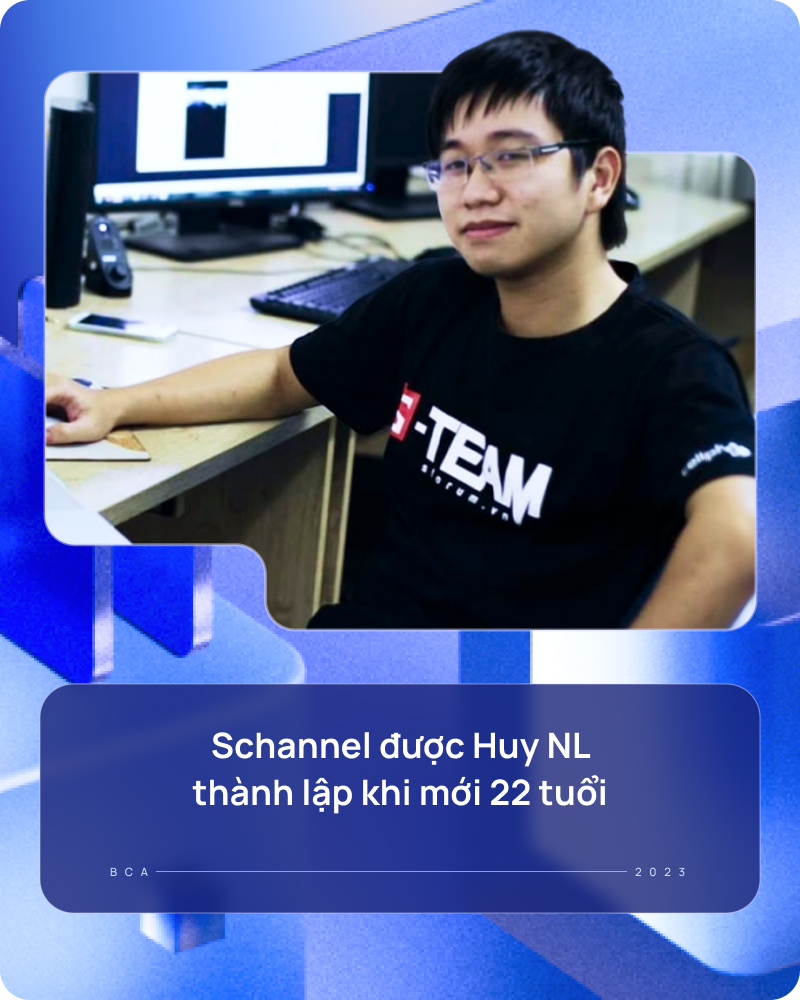 "I have to figure out all the steps myself, from creating content, filming, editing videos to managing channel resources. In addition, operating a YouTube channel also costs time, money, and money. Much more time than other forms. Luckily, CellphoneS's team of directors was ready to create conditions for me to try new things."
The efforts of Huy NL in particular and the Schannel team in general have paid off. From an "anonymous" YouTube channel, Schannel gradually reached tens, then hundreds of thousands of registrations. More importantly, Schannel has created a solid foothold in the hearts of Vietnamese technology lovers with quality, methodical product review videos.
Despite certain success, Huy NL still continues to innovate content for the channel. In 2017, after 5 years of operation, Huy NL decided to take Schannel into areas that he had never had experience with before. Along with familiar technology videos, YouTube channel Schannel began to appear videos about food, movies, fashion, showbiz… From this point on, Schannel officially became a channel about life and entertainment, not pure technology anymore.
It is not difficult to see conflicting opinions constantly appearing. "A lot of people seemed dissatisfied when they saw Schannel change. This is something I predicted before, because Schannel's main audience at that time were technology enthusiasts, so they would not I'm interested in other content. However, in order for Schannel to expand its audience and continue to grow in the long term, this is something I have to do."
In early 2017, Schannel had 500,000 subscribers. However, thanks to changes in strategy, at the end of 2017, Schannel reached 1 million subscribers, double the number at the beginning of the year. Or in other words, Huy NL's new strategy has helped Schannel take less than 1 year to achieve achievements that previously took this YouTube channel 5 years to complete.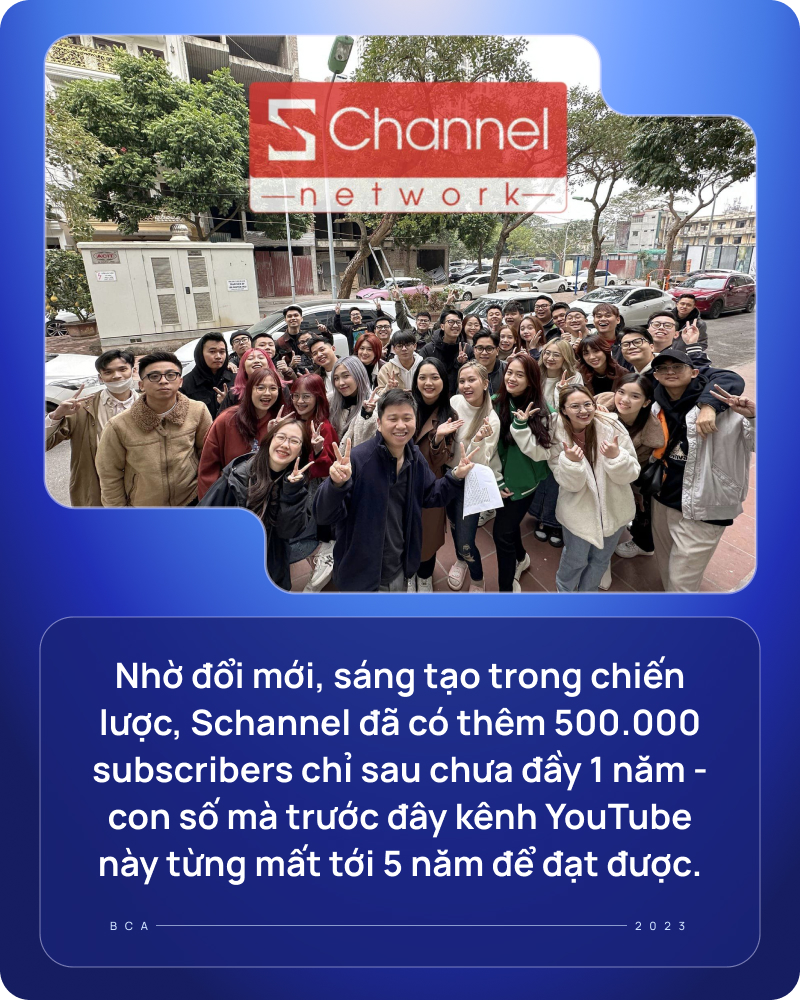 "Innovate or die". As a network of entertainment channels for young people, who are extremely responsive to new trends, Schannel must always be ready to meet the constantly changing tastes of viewers. And, above are just two typical examples among the countless innovative and creative efforts that Schannel has made over the years. Now, despite its position, Schannel is still constantly looking for new opportunities from new platforms, new fields and of course new talents.
"There should be awards like the Better Choice Awards to honor innovation and creativity"
When invited to participate in the Final Evaluation Council of the Better Choice Awards – an award honoring innovative products jointly organized by the National Innovation Center and VCCorp Company, Huy NL appeared very proud. excited. "Compared to other awards, the Better Choice Awards are truly different. As someone who always wants to go beyond the existing framework, I very much welcome innovative awards like the Better Choice Awards."
"Most technology awards are classified based on device categories, then the best device will win the award. Better Choice Awards has its own path when the award categories highlight creativity, innovation and future impact on society, rather than just focusing on the "best" aspect.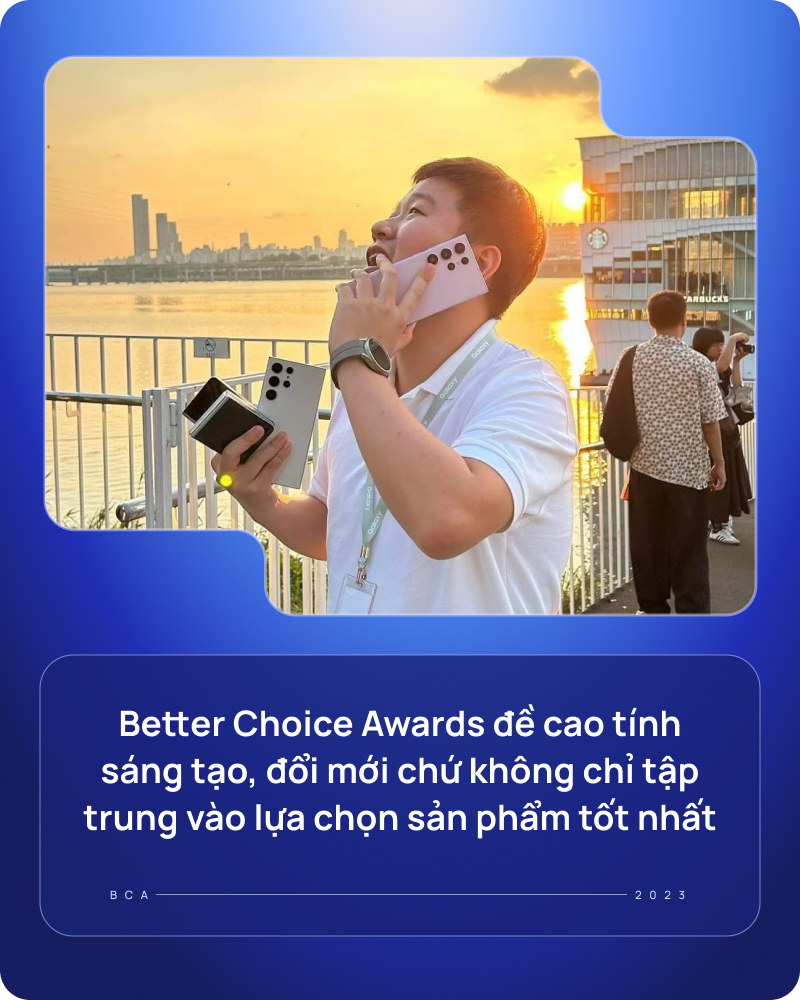 In addition to being famous as a manager of Schannel, Huy NL is also known by many people as a loyal user of Samsung products. When seeing the appearance of Samsung's folding phone models in the nomination list for "Trend-setting technology products", Huy NL felt extremely pleased.
"I am a fan of Samsung phones not only because of the product's features or design, but also because I like their way of thinking. Even though it is the largest smartphone manufacturer in the world, Samsung never relies on into this position. Instead, they always try to overcome existing barriers to pioneer new ideas, even though those ideas may not be successful."
"I still remember when Samsung launched the Galaxy Beam phone with a built-in projector. The technology was very modern but had no practical value, so it was discontinued by the company not long after. However, there are also many crazy ideas. Samsung's madness not only overcame skepticism to gain acceptance, but also became a trend and has now become the "new normal".
Like the Galaxy Note, when it first launched, no one thought they would use a phone that big. But now that's the default size of every phone. Or with folding smartphones, their beginnings were also bumpy, but now they have gradually improved and the number of users is also increasing."
Huy NL gave the example of Samsung to affirm the importance of an award like the Better Choice Awards. According to the head of Schannel, if all awards only focus on "the best", it will be very disadvantageous for innovative and potential ideas in the future.
"I think that along with the "best" awards, we need awards like the Better Choice Awards to create motivation for innovative and creative ideas to have the opportunity to be praised and take off. ."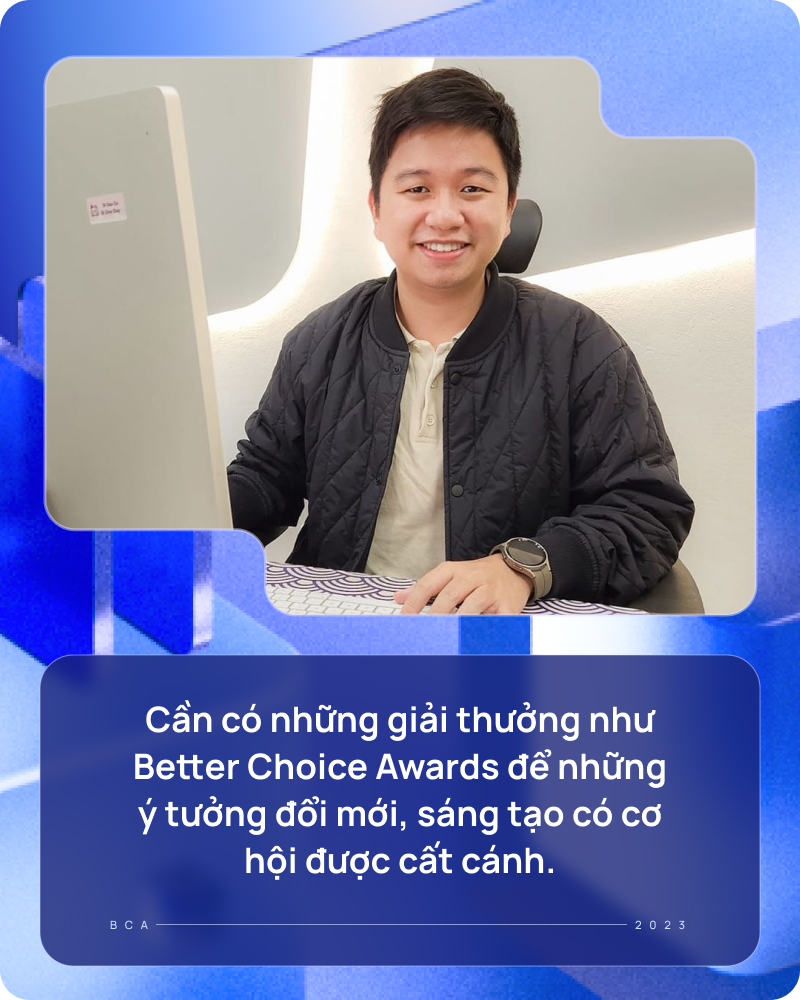 It is expected that the Better Choice Awards 2023 Gala, where the above award categories will be honored, will take place on the evening of October 29, 2023 at the Hoa Lac National Innovation Center, within the framework of the International Exhibition. Vietnam Innovation 2023.