Gladiators are one of the strongest squads in the first version of TFT season 9.5, do you know the strongest teams?
TFT Season 9.5 officially landed on the Vietnamese server last Wednesday. Have you experienced the new season yet or have you started the process of climbing your rank? With new generals, new clans and new equipment, the formations have changed. From combining clans to new generals, it brings new gameplay that is no less interesting after a long time competing in TFT Season 9.
After the first launch day, there are many strong squads in season 9.5 that players use and climb ranks. Highlights include Azir with Shurima and the Strategist who made waves in the previous season 9, Bilgewater and extremely strong variations when combined with a variety of 4-gold generals… In addition, there is a clan with Many interesting lineup variations are being chosen by many gamers in TFT Season 9.5, which is the Gladiators, let's find out together.
overview
Gladiators are not a new race in TFT, having appeared since the first seasons. The Gladiator's effect has remained almost unchanged since its appearance in TFT: increasing the amount of health for the owner. Some seasons are based on the amount of health added directly, other seasons are based on the amount of health of the owner. And the Gladiator of season 9 or 9.5 is no exception.
With a large amount of health, Gladiators often play a resistant role in the squad and a special point is that the gladiator squad often defends blood extremely well in the early stages of the match. As long as you have a 2-star Gladiator frame and some early-game equipment, you can completely finish phase 2 with a good winning streak.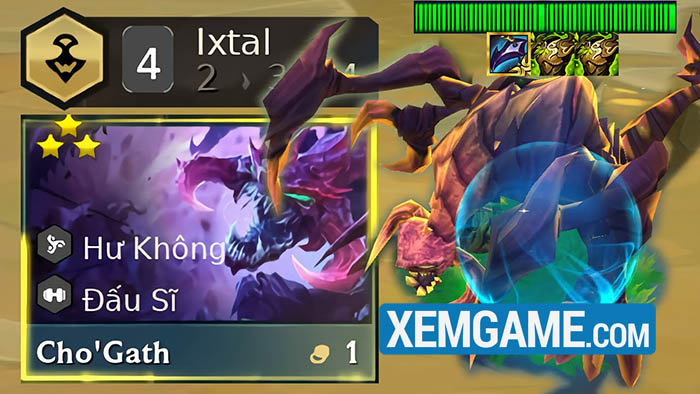 After a not so successful season 9, Gladiators in the first version of season 9.5 are actually much stronger and better. In addition to Rek'Sai, we also have different variations that help the Fighter not only be tanky but also have extremely good carrying ability even into the late stages of the game.
Variations
Cho'Gath Fighter
The first squad and also the most commonly used Gladiator variant in TFT Season 9.5 currently must definitely be Cho'Gath Gladiator with extremely strong resistance. Along with being able to increase his power infinitely with the move Xoi Rei, Cho'Gath can completely take on the responsibility of carrying and crushing the opponent's tank line in a matter of seconds. Of course, we also need to have auxiliary units, dealing damage behind so that Cho'Gath can survive the longest and sweep the opponent's squad.
The Cho'Gath Gladiator lineup also has many variations, but the gameplay will mainly revolve around 1-cost champions and aim for 3-star slow roll. Especially get to 3-star Cho'Gath as soon as possible to accumulate the most stacks possible. After that, you will level up, clip 6 Gladiators and other extra pieces to complete the match.

The first variant will be the Cho'Gath Gladiator clipping Cassiopeia. You will prioritize slow rolling 3-star generals including Cho'Gath, Cassiopeia, Renekton and Milio, Vi, Rek'Sai if possible. After that, you will level up and pick up supporting generals.
Variation number two is almost the same with the combination of Cho'Gath the fighter champions with Malzahar. Slow roll 3 stars will also be given priority like Cassiopeia and instead of clamping Milio, you will level 8 and add Silco to complete the squad.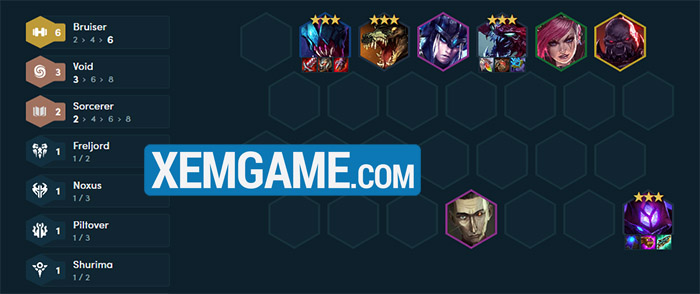 Regarding equipment, Cho'Gath will prioritize the Pendant of Atonement as a must-have equipment. The rest will be purely resistant equipment such as Thorn Armor, Dragon Claw, Stone Armor Statue or Lightning Crossbow to increase damage and is also a good choice. With Cassiopeia or Malzahar, the combo of Blue Talisman, Gemstone Gloves and an AP item will be the most optimal. The remaining equipment will prioritize other AP or the Fighter press.
Rek'Sai Fighter
The second squad and perhaps quite familiar to chess players in TFT Season 9 is Rek'Sai Fighters. However, Rek'Sai has also had changes when possessing the Butcher system, helping this general have more damage and better carry ability.

Still with the familiar Gladiator card frame, the Rek'Sai Gladiator lineup will prioritize slow rolling 3-star Cho'Gath and Renekton before going up to 7 or 8 to roll 3-star Rek'Sai. This will be a bit counterintuitive, but having a 3-star Cho'Gath early holding tanky items will be much stronger than having Rek'Sai carrying alone in the current version. After that, it will be customized to sandwich the squad. If you can't get out of Sion early, prioritize 4 Gladiators, 4 Butchers and Ixtal or Noxus, otherwise it will be 6 Gladiators sandwiched with Ashe and Kai'Sa to add extra damage. become a card game.
The pages for Cho'Gath are the same as above while Rek'Sai will be Bloodblade, Colossal Power and Sterak's Claw. Wishing you effective rankings climb.