Although Gumayusi is the most stable player in T1 currently, the former LS coach still thinks that this AD carry made many mistakes in the defeat to OKSavingsBank BRION.
On the day Faker was still unable to return to the competition, T1 continued to have an extremely difficult match against BRO. After letting the opponent take the lead in game 1, Gumayusi and his teammates quickly made adjustments to equalize the score. However, that was not enough when BRO was still the better team in the deciding game and won 2-1 in the end.
The community continued to point out the familiar weaknesses of a T1-no-Faker in this match. From Poby's inexperienced movement, Oner's lack of mutation to Keria and Zeus' lack of confidence.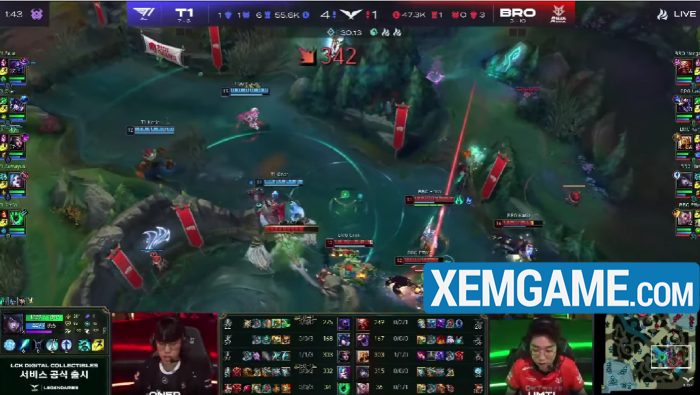 T1 lost the fight despite leading 8 thousand gold
However, the former LS coach pointed out another key point in this defeat of T1. From an expert's point of view, LS thinks that Gumayusi's way of equipping in this match has many unreasonable points, thereby not being able to promote the full effect of the champion's quality.
"Gumayusi really did troll in this game without buying Runaan's Rage. Enemy lineups are always clustered together but he buys Lifesteal even when he doesn't take damage from his opponent." LS commented after game 1.
"The opponent has 3 melee champions, while the T1 lineup is more of a poke with Gangplank, Jayce, Maokai. This is also what counters Xayah, Azir. But in the end Gumayusi chose Guinsoo's Rageblade instead of Liandry's Mask of Sorrow." LS's comments on game 3.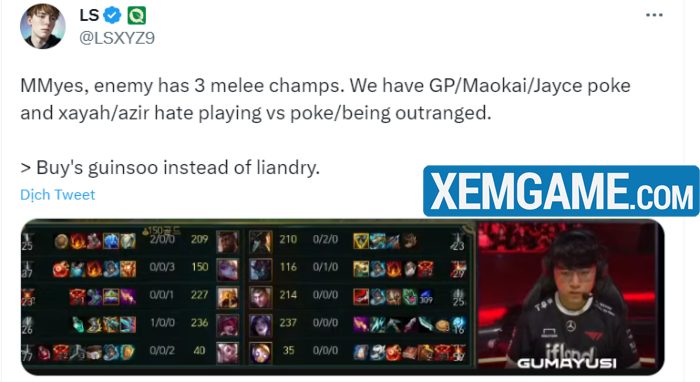 LS thinks that Gumayusi should build Kai'Sa in the direction of full teasing
As someone who always has a different perspective on matches, especially the way players equip, LS thinks that the T1 ADC is too mechanical in these games. Gumayusi picked up safety equipment (game 1) and lessons (game 3) without paying attention to the situation. This is partly affecting the team's fighting strength.
Of course, these opinions continue to cause controversy in the community. But this time, many of them lean towards LS. Obviously, the fact that the T1 players are not in a good mood has made them no longer wise in key situations, especially issues with equipment.