It's been a long time since the game Genshin Impact released a 5-star female attacker in a new version. That's why the appearance of Navia – the great lady of Spina di Rosula – has caused a stir in the gaming community. Not only does she have a cute and attractive appearance, she also impresses with her generous personality and noble spirit, always pursuing true justice.
An important character in Fontaine's storyline, Navia is expected to be released by miHoYo in the upcoming version 4.3. Although currently, the game has only been updated to version 4.2, but Navia's combat destiny has been revealed quite specifically.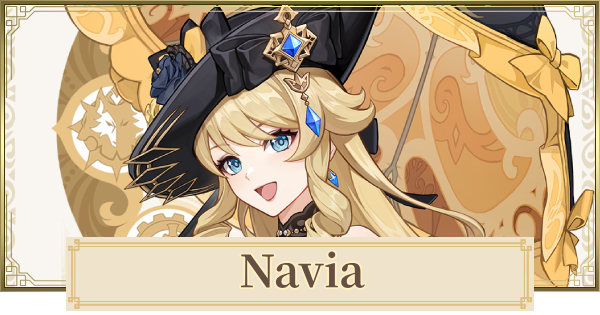 Navia is a name sought after by many Genshin gamers.
Originally a DPS of the Rock type, this female character's fighting style depends heavily on crystallization reactions. According to the source, Navia will use a hammer to attack and has the ability to buff extremely powerful damage. In particular, Navia's E move helps convert all damage sources to the Rock system, while increasing stats up to 40% for 4 seconds. In addition, if the squad has the elements Ice, Water, Lightning or Fire, her basic attack index will also increase by 40%.
At destiny 1, Navia can absorb crystallized fragments from move E to replenish energy and reduce skill CD. Destiny 2 helps her increase her critical index, upgrade her ultimate skills and add new damage mechanisms. In addition, gamers can turn to take destiny 4 to reduce resistance to Nham and destiny 6 to add elemental damage again up to 35%.
In general, for F2P (Free to play) gamers, having Navia C2 is extremely necessary. Because only when this milestone is reached, rage skills will be upgraded and many powerful effects will be added.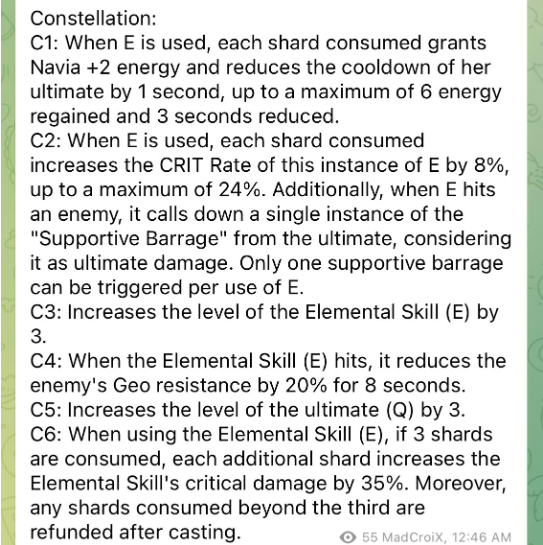 Navia's destiny has been revealed in the past few hours. (Source: MadCroiX)
Overall, it can be affirmed that this will be a prestigious character, possessing the greatest amount of damage that Genshin will release in the future. Specific details about Navia will continue to be updated in new articles, helping readers have a more complete view of the "big lady" before her debut.