After 6 years of operation, Honkai Impact 3 (Campaign 3) is still an inspiring game, well received and strongly supported in the Southeast Asian market. Therefore, on this anniversary, publisher miHoYo specially opens a series of events to express gratitude to players!
Event Log in to the year round celebration to receive great rewards
Accordingly, starting from October 20, when participating in the login event, Captains can receive x10 Supply Cards-C and the Year Anniversary Stigma.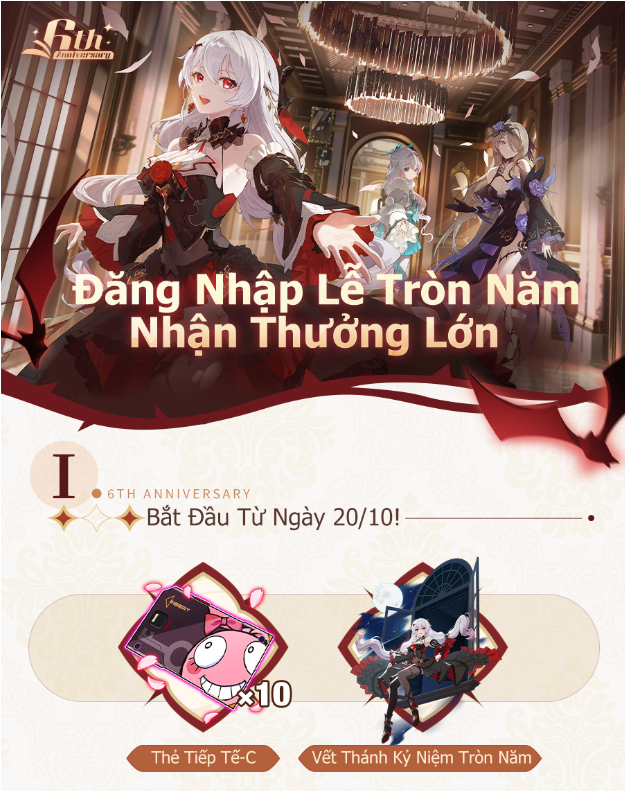 After updating version 7.0, when logging in, Captains will have the opportunity to receive the Anniversary Medal, S-class character of their choice, Supply Card of their choice or Crystals! When withdrawing the Lunar Vow: Crimson Love recommended equipment Supply, the Captain will continue to receive the first 10 consecutive draws for free!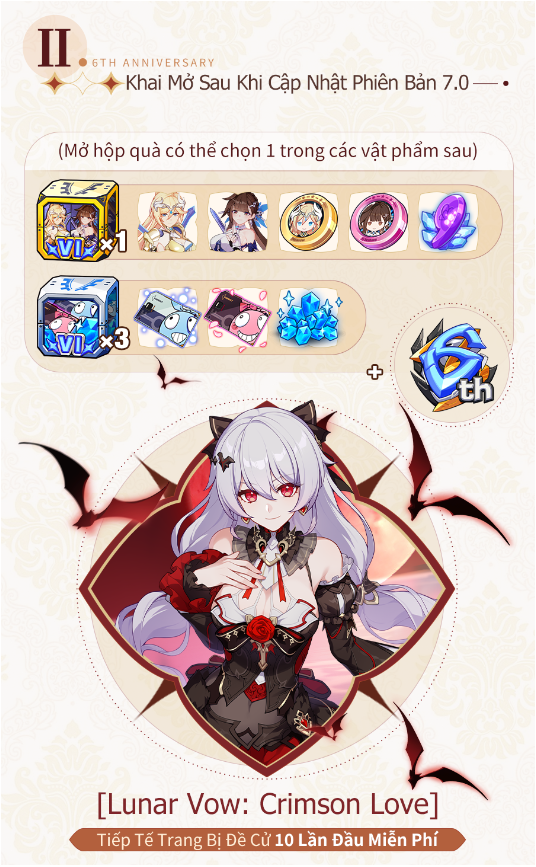 Accumulated login for 2100 days, there is also a Supply Card waiting for you to receive~
Special event to celebrate the year anniversary
Participating in the event version, the Captain can receive Crystals, Dea Anchora's new outfit, Event 4★ Stigma, Shining Moon and Stars Commemorative Belt, also the Ancient Echo Gift Box, Maiden's Mind Gift Box , open to receive a large amount of ingredients!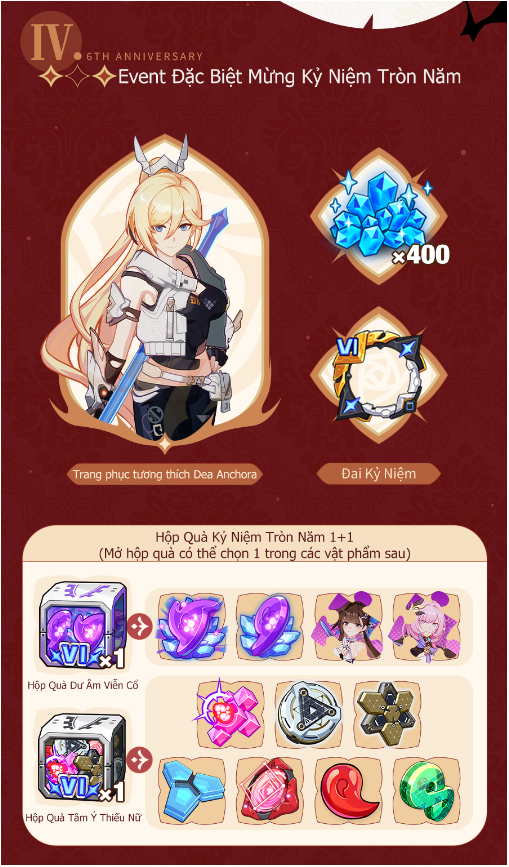 Spending is back for this anniversary celebration, unlocking a new outfit for Bronya, the new Silver Winged Creature [Thái Độ Phi Phàm]surely Captains who love Bronya will not be able to miss it.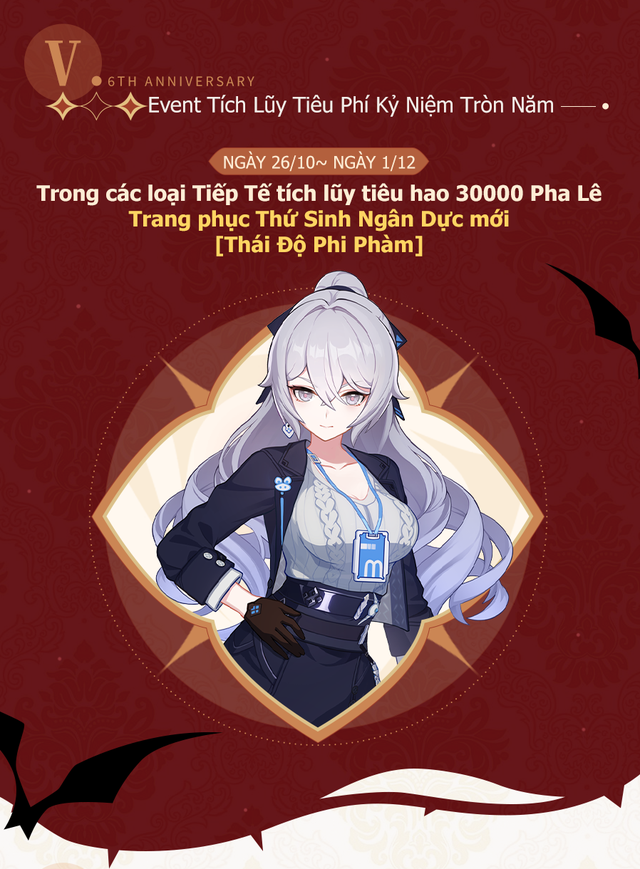 Introducing the new S-rank character Lunar Vow: Crimson Love

Teri Teri is back! After the final event in the previous edition, Teresa returned to meet the Captain in a completely new armor.
Lunar Vow: Crimson Love is a character that attacks ST Lightning with the attribute of Power and has the trait of Hemorrhage. To save the most important person to her, she picked up a chainsaw full of sharp serrations and chased the enemy under the blood moon.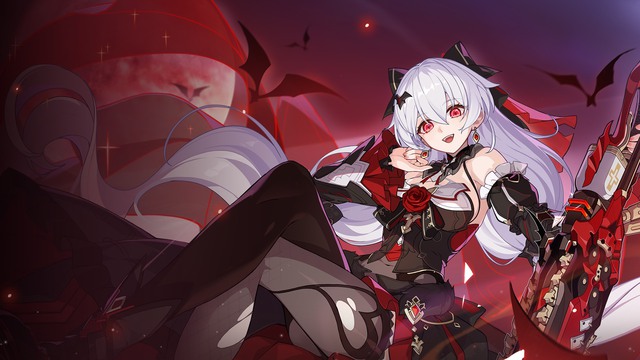 Especially with Lightning ST combined with the Hemorrhagic trait, [Lunar Vow: Crimson Love] Being able to take on both the DPS position as well as the support position for current multi-purpose squads well, it will definitely be a card that Captains cannot miss in this new version.
To celebrate the 6th Anniversary of Honkai Impact 3, a series of large LED screens in Ho Chi Minh City and Hanoi will simultaneously broadcast the latest TVC of this game. In Hanoi, Captains can see images of Honkai Impact 3 on Ba Trieu LED screen, Parabolic curved screen at Times City Urban Area, and in Ho Chi Minh City, TVC will be shown on LED screens. 3D at Landmark 81 and Nguyen Hue walking street and a system of 4 LED screens at Hang Xanh. At the same time, fast food restaurants and major universities in Ho Chi Minh City and Hanoi will also show Honkai's videos to celebrate this special Anniversary.
Home page: https://honkaiimpact3.hoyoverse.com/asia/en-us/fab
Fanpage: https://www.facebook.com/honkai3rd.vn