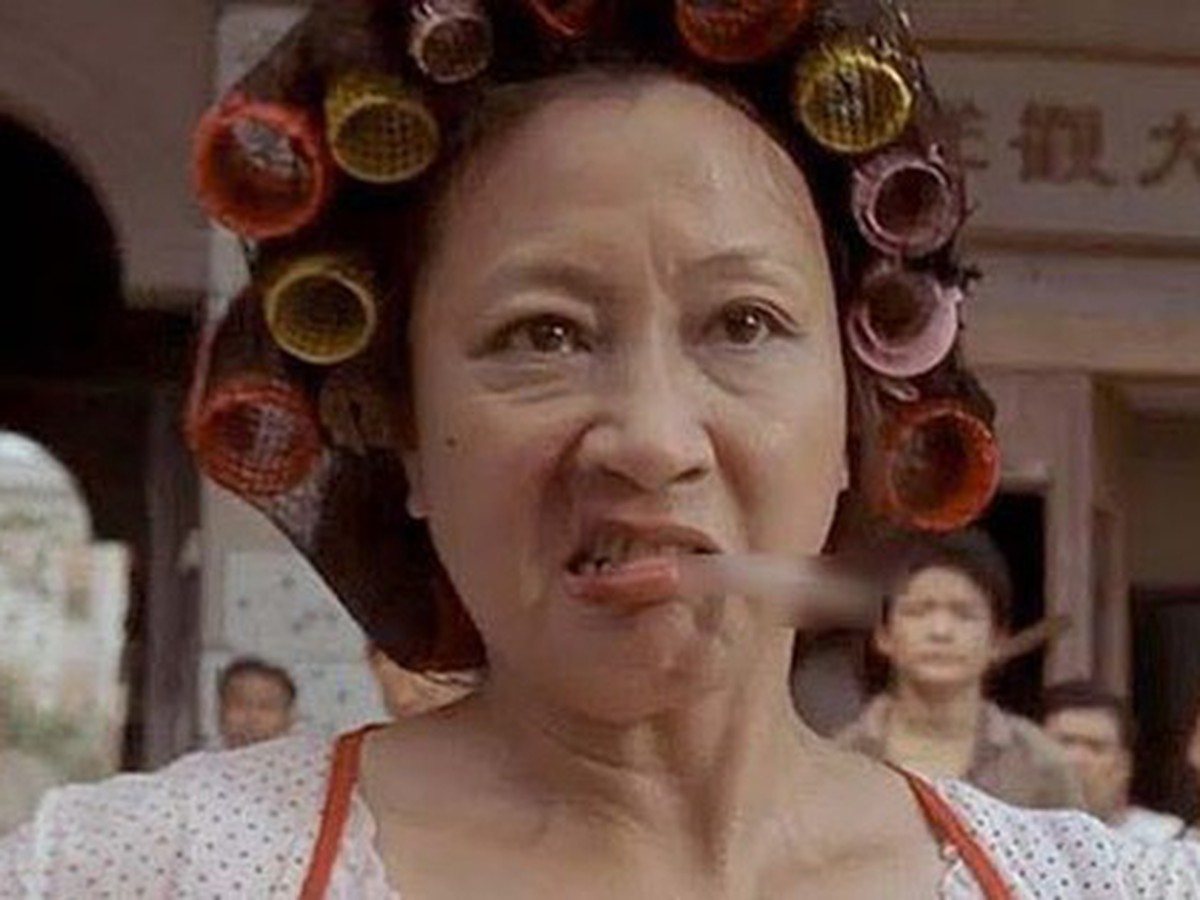 Although actress Nguyen Thu hasn't seen much of the screen in recent years, many viewers still remember her as the Roaring Lion in Chow's 2004 classic comedy Kungfu Kung Fu.
According to 8Days, Nguyen Thu recently attended the 100-day ceremony for actress Van Tuyet Nhi's grandchildren with relatives and friends. Many viewers were surprised when it had been a long time since they had seen the Kung Fu star of the Great Peak appear. "She seems to have lost a lot of weight after filming "Excellent Kungfu", she doesn't look like a hot-tempered mistress", "She looks so gentle"… Viewers left comments.
Nguyen Thu (second from the right) at the 100-day celebration of the grandson of actress Van Tuyet Nhi.
The image of the owner Bao To Ba of the pig house inn, played by actress Nguyen Thu, often wears a nightgown, smokes a cigarette and rolls her hair, leaving a deep impression on the audience's mind. Bao To Ba makes every tenant have a bit of aversion, shyly greeting her because she always looks fierce. Few people know that the landlady who was once a master in the martial arts has now disappeared into hiding, once known by the nickname "Tieu Long Nu".
In the film, the owner of the Pig Cage successfully practices the famous martial art "Lion's Roar" – a technique that uses internal gong and qigong, emitting sound to attack the opponent.
Born in 1948, Nguyen Thu studied martial arts since childhood. Thanks to her hard work, she joined the group "That Tieu Phuc" taught by Master Vu Chiem Nguyen and is the only female member in the group.
That year, That Tieu Phuc gathered many famous names, including Nguyen Long (Hong Kim Bao), Nguyen Lau (Jackie Chan), Nguyen Biao, Nguyen Khue, Nguyen Hoa and Nguyen Thu. They took the stage name with the word "Nguyen" at the beginning to show their gratitude to their master.
Career is on the rise, Nguyen Thu suddenly announced her retirement to focus on taking care of her family. The female artist married an ordinary office worker and held the wedding in silence. According to her, women who are good at martial arts, no matter how strong they are, need a family home.
After having two children, a boy and a girl, Nguyen Thu's marriage came to the brink of breakdown. There is news that the actor's husband has an affair, leading to an irreparable love story. The actress won custody of the children after filing for divorce but at the same time was under economic pressure.
Facing ups and downs in life, Chau Tinh Tri suddenly appeared and invited Nguyen Thu to participate in his film. To receive Nguyen Thu's nod made Chau Tinh Tri face many difficulties.
The famous director many times personally met and persuaded but were unsuccessful. The reason she was hesitant was because she had 18 years of "hiding" not participating in movies. After all, "Hong Kong Comedy King" has enough prestige and trust to convince seniors.
Brand image of Nguyen Thu in "Excellent Kungfu". Photo: QQ.
Before filming the kung fu masterpiece, Chau Tinh Tri asked Nguyen Thu to gain weight to play the role of the innkeeper. Within two months, Nguyen Thu successfully gained 15 kg and turned Tinh Gia's ideas into reality.
"He put his trust in me even though I refused. I have left the profession for too long, everyone knows how strict Chow is on the set, I am afraid that I do not do well enough. Because I am worried. , I made a contract that he wouldn't scold me, if he scolded that person, it must be me. It's crazy to say that, but he did not expect him to agree" – Nguyen Thu shared.
Thanks to the success of Kungfu Kung Fu, Nguyen Thu won the Best Supporting Actress award for her role as "The Roaring Lion" at the 2005 Hundred Flowers and Golden Horse Awards.
At the age of 73, Nguyen Thu lives alone, but there is comfort when her two children grow up to be successful and filial. According to ET Today, her daughter manages the bank while her son works at the Department of Home Affairs.