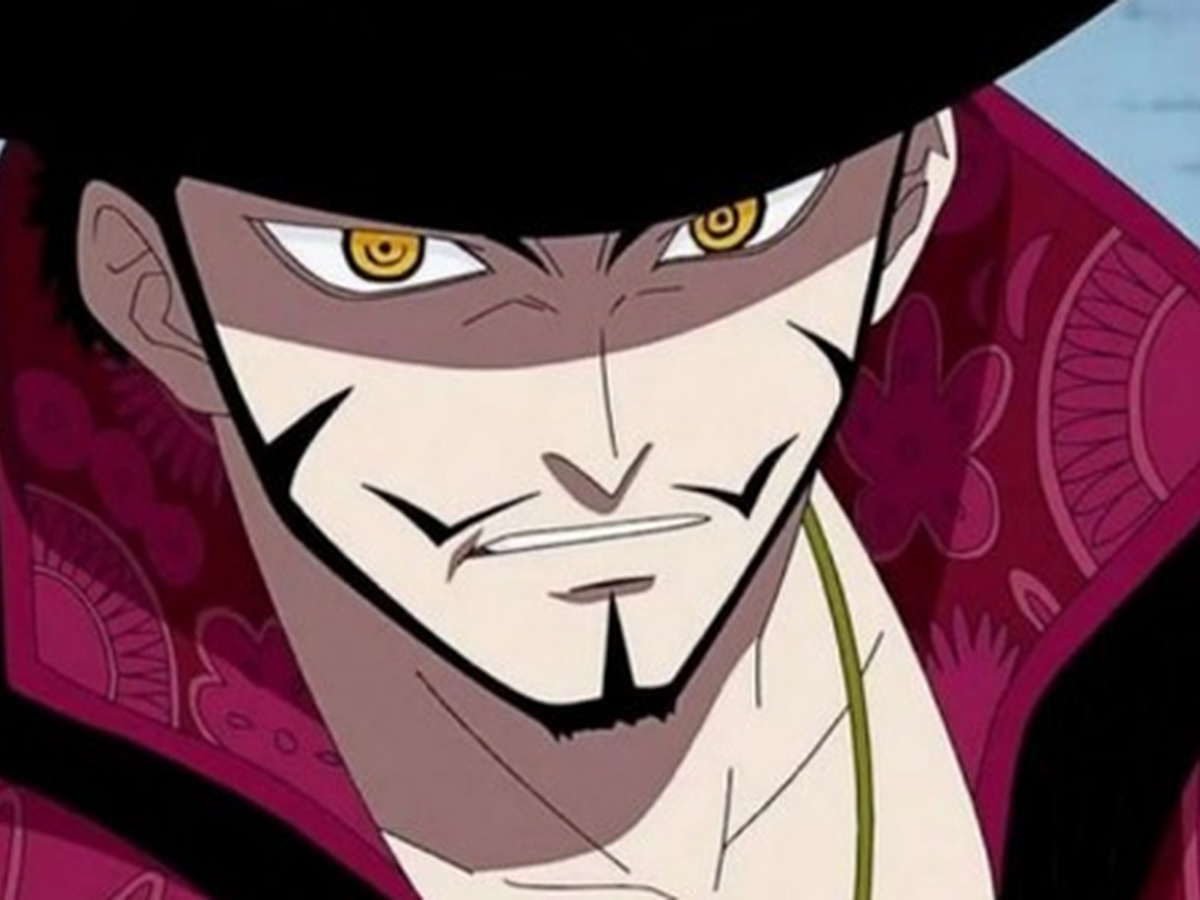 Dracule Mihawk is one of the strongest characters in One Piece. But how strong is he really?
1. In a world with many powerful swordsmen, Dracule Mihawk is called "The Greatest Swordsman in the World"
There are many powerful swordsmen in One Piece. Even Shanks, a mighty Yonko, is a sword-wielding user. Or Shadow King Silvers Rayleigh was also a skilled swordsman.
However, the one who got the title of "World's Greatest Swordsman" was Mihawk. That alone is enough to show that Mihawk's ability is extraordinary.
2. Mihawk's sword swing power is great
Mihawk cuts through the frozen tsunami
There was a moment in Marineford, when Mihawk missed Luffy, a frozen tsunami behind Luffy was severed by the blow. As you know, the size of the frozen tsunami is actually quite large. It also means that Mihawk's sword power is unquestionable.
3. Duel with Shanks
Shanks and Mihawk in the game One Piece Treasure Cruise
In the past, Shanks and Mihawk have fought many times, but it is not clear who won.
Even so, even someone like Whitebeard when talking to Shanks in chapter 434, said that Mihawk's battle with Shanks was still fresh in his mind. This proves that their battle must be very epic, to make Whitebeard so impressed.
4. According to Brannew, Mihawk's swordsmanship is superior to Shanks
When Brannew explains the Cross Guild members in chapter 1058, he says Mihawk's swordsmanship surpasses Shanks. Of course, that doesn't mean Mihawk is stronger than Shanks.
It is possible that although Mihawk's sword skills are superior, Shanks is superior to Mihawk in other respects such as Haki. But if it is true that Mihawk's swordsmanship surpasses Shanks's, then it is no wonder that Mihawk is called the "World's Greatest Swordsman".
5. There are only two known Black Swords in One Piece, Mihawk's Yoru being one of them
There are only two known Black Swords in One Piece. The first is Shusui, the second is Yoru. Their owners are all excellent swordsmen.
It is known that Shusui became the Black Sword after going through many battles with its owner Ryuma. So what about Yoru? This has not been revealed, but it is possible that Yoru also went through a similar process.
It should be noted, however, that even powerful swordsmen such as Gol D. Roger, Silvers Rayleigh, Shanks and even Kozuki Oden have so far not been able to transform their swords into Black Swords.
Therefore, in order to achieve the black sword, perhaps the sword user must have reached the skill level of Mihawk or Ryuma.
6. Even though Mihawk is not the Yonko, his bounty is still higher than Buggy and Luffy
After the Shichibukai disbanded, Mihawk's bounty was set at 3,590,000,000 Belly. Interestingly, the "World's Greatest Swordsman" bounty is even higher than Buggy's (3,189,000,000 Belly), even though Buggy is mistaken for the leader of the Cross Guild. Of course it is also taller than Yonko Luffy (about 3 billion Belly).
7. Mihawk was famous before the era of pirates started
Young Mihawk was present at the execution of Pirate King Roger
The Vivre Card Databook about Mihawk mentions that he became world famous before the Great Pirate Era began.
The Great Pirate Era began after the execution of Gol D. Roger. Mihawk was famous when he was still young, which means he was very dangerous at that time.
8. Used to be called "Sea Hunter"
According to Crocodile in chapter 1058, Mihawk was once called "Sea Hunter". So it looks like Mihawk once hunted and defeated the Marines as well. Yet he also became the Shichibukai (an organization of seven powerful and notorious pirates allied with the World Government).
9. So how strong is Dracule Mihawk really?
Based on the known information, it was clear that Mihawk's sword skill was really high. Considering Hawkeye has a black sword while Roger, Rayleigh, Oden, and Shanks all don't, it can be doubted that Mihawk's sword skills really surpass them all. He was still waiting for a swordsman capable of surpassing his opponents, including the red-haired Shanks.
In the past, Mihawk was an equal opponent with Shanks. He often goes to Shanks to compete, and their matches have rocked the Grand Line. However, 12 years ago after learning that Shanks had lost his arm, Mihawk lost interest in Shanks and no longer came to compete with him.
From here, it can be assumed that Mihawk's strength is close to Shanks', or that Mihawk can compete with the Yonko.