In the context of the Three Kingdoms general card genre showing signs of saturation, Three Kingdoms Chess has brought a new style, easily impressing thanks to a subtle combination of some characteristics of the attractive "chess of dignity" genre. guide. Up to now, the game still regularly appears on the Top of the App Store and CH Play charts.
Download game: https://tqchess.onelink.me/RCHt/PR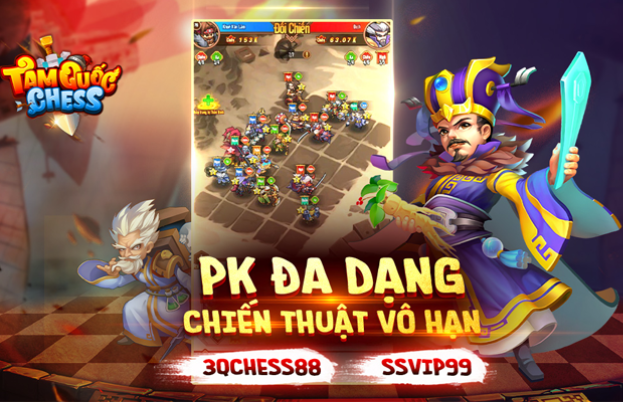 With the number of new players pouring in continuously, the topics of discussion about the first week experience for new players are always "hot" in the Three Kingdoms Chess group. At this stage, early possession of a squad frame with a multi-star main champion is what everyone will aim for. Fortunately, Three Kingdoms Chess is a pretty cool game in terms of gift giving as well as the rate of champion, just follow the basic steps below, any newbie can get a quick pass squad. very strong on the first day.
First Unlimited Spins Card
After the first few levels, Three Kingdoms Chess will give you an Infinite Spin Ticket item, this is the most important point so that we can own a main champion to 6 stars as soon as possible on the first day. With this ticket, gamers will be able to spin the champion at will, infinitely choose again, turn until the champion they need, then receive.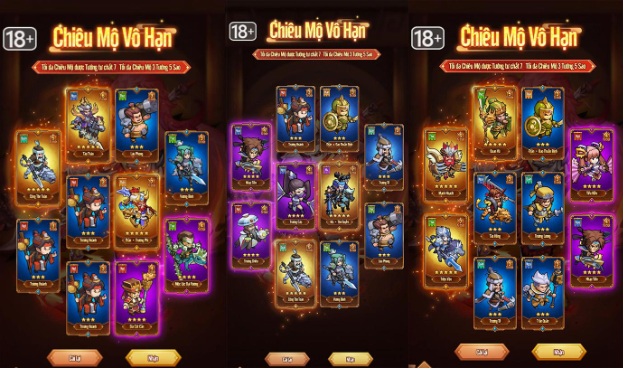 Rotate the champion freely until you have 1 Tu Chat 7 champion and any Tu Chat 5 or higher champion from the same country as that Tu Chat 7 champion. Most people will prioritize Trieu Van, Lu Bo, Truong Phi – the 3 generals in the early stages of going to the battlefield or taking damage for the squad are all very stable.
Don't Skip Giftcode
Three Kingdoms Chess always has new gift codes from time to time, use them to get more resources and immediately useable equipment for the main champion, helping to climb the ladder effectively and quickly to level 34.
Some new gift codes: CHESSQUOC, TOPCO88, VIPCHESS99.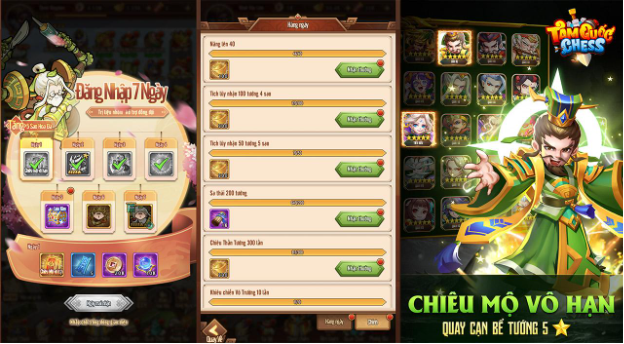 Monday Unlimited Spins
When reaching level 34 and passing the required mainline, gamers will receive the 2nd Unlimited Spin Ticket. Similar to the 1st time, we will try to open a key 7 Quality card with 1 to 2 cards. Quality 5 and country according to dignity.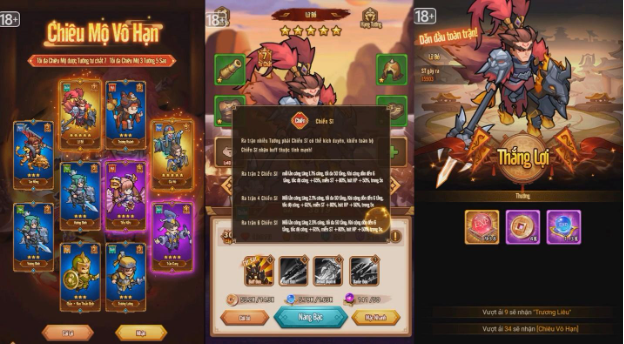 At this point, you have 2 to 3 sub-champions. To raise the main general Tu Chat 7 to 6 stars, you need 1 main embryo and 4 auxiliary embryos. When you enter enough Giftcode, you will get a random orange piece, if you are lucky enough to open the right country, enough extra embryos will raise the main champion to 6 stars. If you still don't have enough embryos, please go to the store or buy Command Points in activities. Then go to the General Station to recruit the right country you need.
After that, gamers go to Bai General Dai to raise the general star. So you already own the 6-star general Tu Chat 7 on the first day.
Some Notes for Later Stages
As for the store, give priority to using KNB to buy Than General Lenh, Astrologer, and Lam Tinh Phu because after 7 days there will be an event to turn the champion and hit the milestone. At that time, gamers will get more luxury items.
KNB is easy to earn at first, but the more you need it later, the more you need to spend it rationally and only on the necessary things. Three Kingdoms Chess will give away a lot of tickets to spin every day, recommending that gamers do not need to buy a turn with KNB.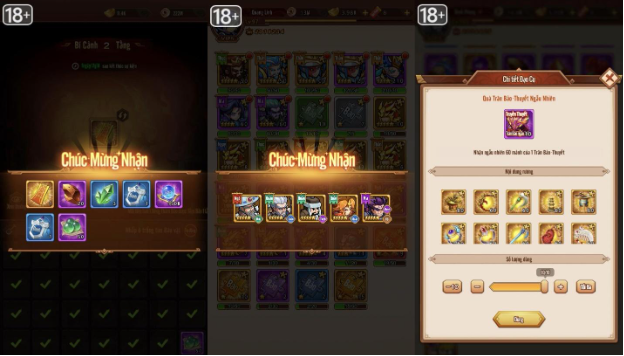 As for the expedition, passing all levels at 3 stars will open a generous reward, choose the right buff for the main champion. If you can't pass the 3-star stage, refresh it to randomly spawn weaker enemies.
As for the legion, gamers should contribute 300 KNB to get points and then go to the Legion Training, which will provide options to upgrade skills for the main force, increasing a lot of power.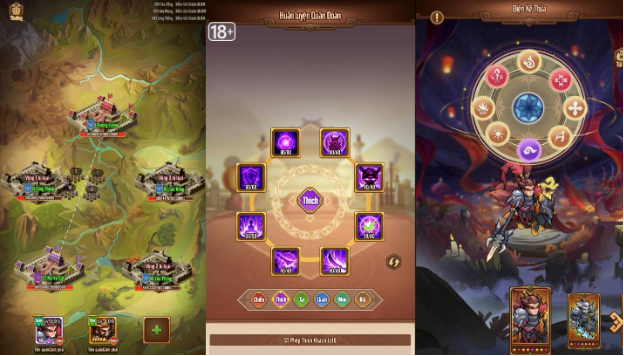 According to Three Kingdoms Chess gamers, players should invest in a top-loading package, only 20K, but can own General Quan Vu at the beginning of the game, go very well, later upgrade to 9 stars as an embryo for main use as well. very effective. In addition, the Regular Monthly Card, Super Monthly Card, and Privilege Gift Package are packages that should be purchased, used for a long time, providing abundant resources.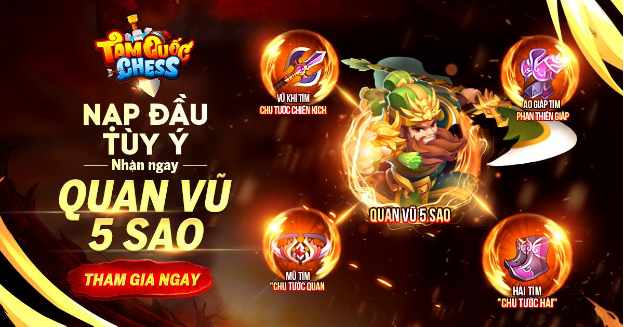 Above are tips to make the early stages of the Three Kingdoms Chess game easier and smoother, avoiding wasting resources or jumping servers unnecessarily. Then, depending on the meta situation, the player can follow many different types of formations or build different champions according to the Clan/Type.
There will be many exciting activities waiting for players in Three Kingdoms Chess. Experience today and build the strongest squads!