With outstanding improvements, the HP OMEN 16 and HP Victus 16 laptop duo have left an impression and are considered "effective assistants" for students' active lives. Returning with increased power and performance, HP OMEN 16 and HP Victus 16 new versions 2023 bring flexibility for young people, especially students, to comfortably study, work or entertain with friends. popular game titles.
New generation companion – Learn and play for real
For students who want to both study and have fun, owning a laptop can complete learning tasks quickly and is also "powerful" enough to be able to experience the latest games and prizes. Intensive concentration after stressful classes is extremely necessary. The two lines of personal computers HP OMEN 16 and HP Victus 16 2023 are equipped with 13th generation Intel® Core™ processors, with outstanding performance, both designed with a mixed structure to enhance performance, using Uses 2 types of cores (performance core and efficiency core) for optimal performance. All focus on creating multitasking tools for learning and creative work while still being strong enough to "balance" all tasks from studying to playing.
HP OMEN 16, with Intel® Core™ i9 and HP Victus 16 processors and new 13th generation Intel® Core™ i7 processors with NVIDIA® GeForce RTX™ 4000 series GPU image processing graphics, delivers performance peak productivity, from studying to working creatively. With the companionship of OMEN 16 and Victus 16, you will not need to worry about the ability to beat deadlines and can carry out projects more effectively than ever.
In addition, both models have high-quality screens and sound compatible with Dolby Atmos technology, not only providing a great online teaching and introduction experience, but also helping you grasp knowledge. a better way and enjoy the learning process. Designed with thin, sharp edges, HP OMEN 16 and HP Victus 16 bring minimalism but still personality, suitable to accompany and become an "integrated" part of the lifestyle of young people, especially are men who love technology and games.
Peak Experience – Connecting the community with young people
Young people's lives are certainly indispensable for interesting entertainment moments. Every moment that passes in games or hours of entertainment will be "wonderful" if the laptop can provide perfect listening and viewing.
HP OMEN and HP Victus 2023 are upgraded to provide the ultimate entertainment experience. OMEN 16's 16.1-inch QHD screen with 240Hz refresh rate immerses all your senses in the gaming world. 100% sRGB color coverage ensures that color rendering is accurate and vivid. With the HP Victus 16, the IPS screen allows you to see images very clearly and without worrying about eye strain. This is probably important when users participate in virtual worlds or do work that focuses on images and colors such as video editing, photoshop,…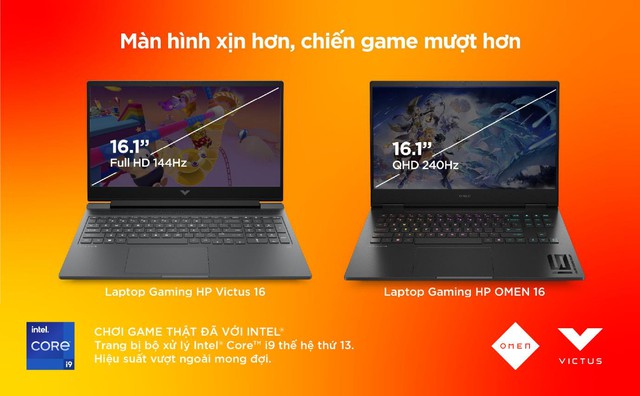 High quality screen on HP OMEN 16 2023 and HP Victus 16 2023
Besides, connection is also a need of students. HP OMEN 16 and HP Victus 16 are not only learning and entertainment tools but also a bridge to the social world. HP's 2 "war horses" are both integrated with OMEN Gaming Hub – a breakthrough in HP's gaming laptop line. Among them, the Live Oasis feature in the OMEN Gaming Hub solution set – a platform to connect users in games and entertainment to connect with young people more and be more active. Besides, users are allowed to customize a variety of performance, space, and equipment, proactively control and optimize the machine's performance.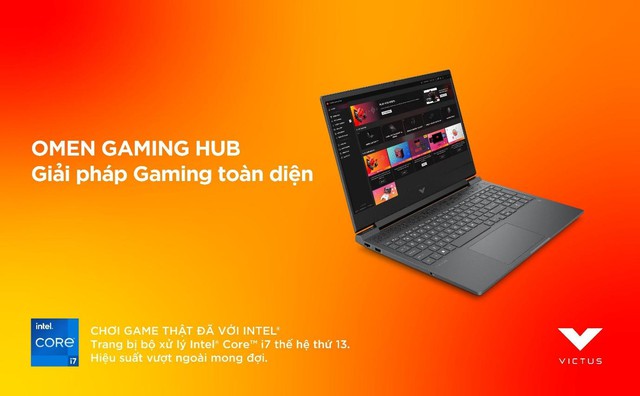 OMEN Gaming Hub on HP gaming laptops
In addition to the above improvements, the HP OMEN 16 is also equipped with an RGB mechanical LED keyboard that changes color to four zones. Meanwhile, the improvement on the HP Victus 16 is the 1-zone color-changing RGB keyboard, helping young people easily find a style that suits their personality. The product is also designed so that user data and workflows are always kept safe and secure.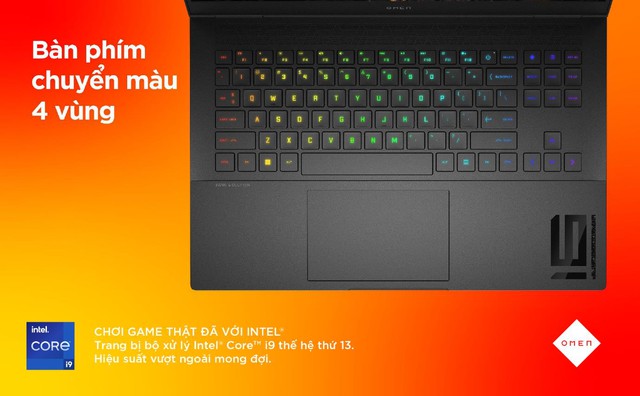 HP OMEN 16 2023 4-zone color changing keyboard
In the Vietnamese market, the HP OMEN 16 2023 laptop model has a starting price of 58,990,000 VND, the HP Victus 16 2023 laptop has a starting price of 26,990,000 VND. When purchasing two laptop products, HP OMEN 16 and HP Victus 16, customers will receive 1-year home warranty support.