T1- The world's top Esports team
HP Victus is the official 2023 PC gaming partner of the T1 team.
Possessing many remarkable achievements in most of the famous Esports titles, T1 left a big mark in the hearts of fans and gaming communities around the world. In 2023, this top team will partner with the gaming laptop brand from HP, marking a monumental start.
The cooperation between HP and T1 is not random
Nothing is random, all combinations are derived from homologous associations, so are HP and T1. Along with the brave and enthusiastic T1 team, the HP brand brings a generation of computers with strong performance, supporting many gameplay. In particular, the HP Victus 15 gaming laptop is considered a device with many impressive points for gamers with active gameplay and always giving their best, like the way T1 shows in matches.
HP Victus – the perfect companion of gamers
Entertainment with your favorite game is a must for game enthusiasts after a day of studying and working. Of course, the fun doubles when you win. But, more than just winning, focus on developing your skills! A powerful gaming laptop with a 12th Gen Intel® Core™ i7 processor and NVIDIA® GeForce RTX™ 3050 Ti graphics like the Victus 15 Laptop gives you the confidence to work with precision.
Talking about the power of 12th Gen Intel® Core™ processors, it is impossible not to mention Intel® Thread Director – intelligently redirecting and dividing work streams to the appropriate processor cores on the CPU. Accordingly, eight Performance-cores (P-cores) will be tasked with handling advanced tasks and multitasking, eight Efficient-cores (E-cores) will support handling light tasks, help save energy of the device. This is a driver built into the hardware of 12th Gen Intel® Core™ processors, its features and functionality may vary more or less depending on the operating system the user is using. .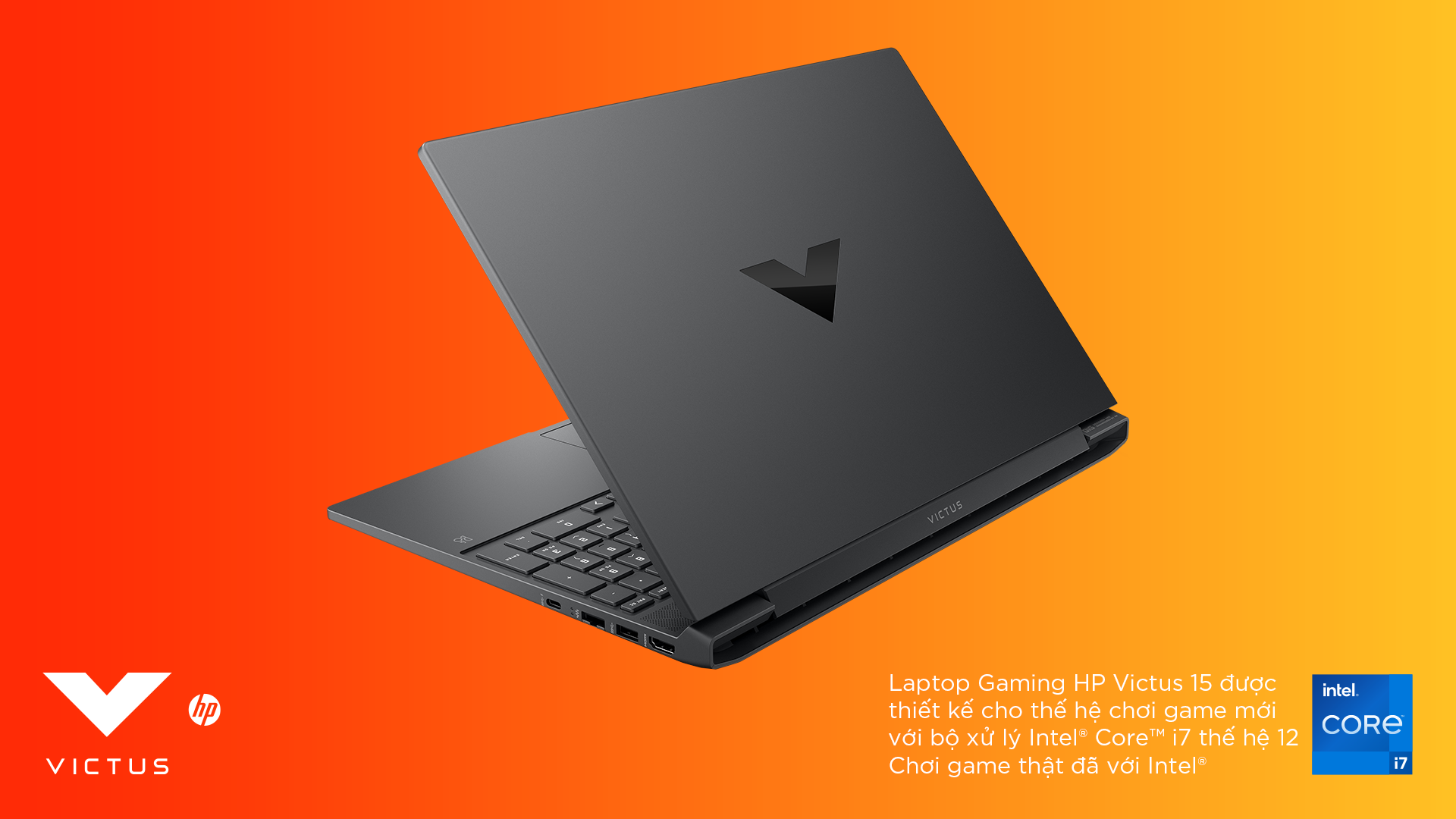 Victus 15 Laptop owns a terrible configuration, impressive performance that supports all gameplay.
Get rid of the temporary aggression, apply the move to take one step back, take three steps forward to distract the opponent and observe the whole game. At this time, the large 15.6-inch 144Hz screen of the Victus 15 Laptop will provide a panoramic view, giving players a clear opportunity to fight. Wi-Fi 6E supports smooth, uninterrupted gameplay, allowing you to fight for a long time with "big hands" gamers, thereby gaining experience in controlling troubles and mastering gameplay.
Taking risks to set up a position is also a special skill, be ready to face the risky situation long enough to deliver a fatal series of blows. And the advanced cooling system of Victus 15 Laptop is very suitable for you to "try" this tactic. The two cooling fans are brought to the same side with a significantly increased number of blades, along with the area of ​​the bottom air intake and the rear side of the machine is enlarged to allow increased airflow. Improves heat dissipation efficiency, making everything run stably so you can focus on competing with your opponents.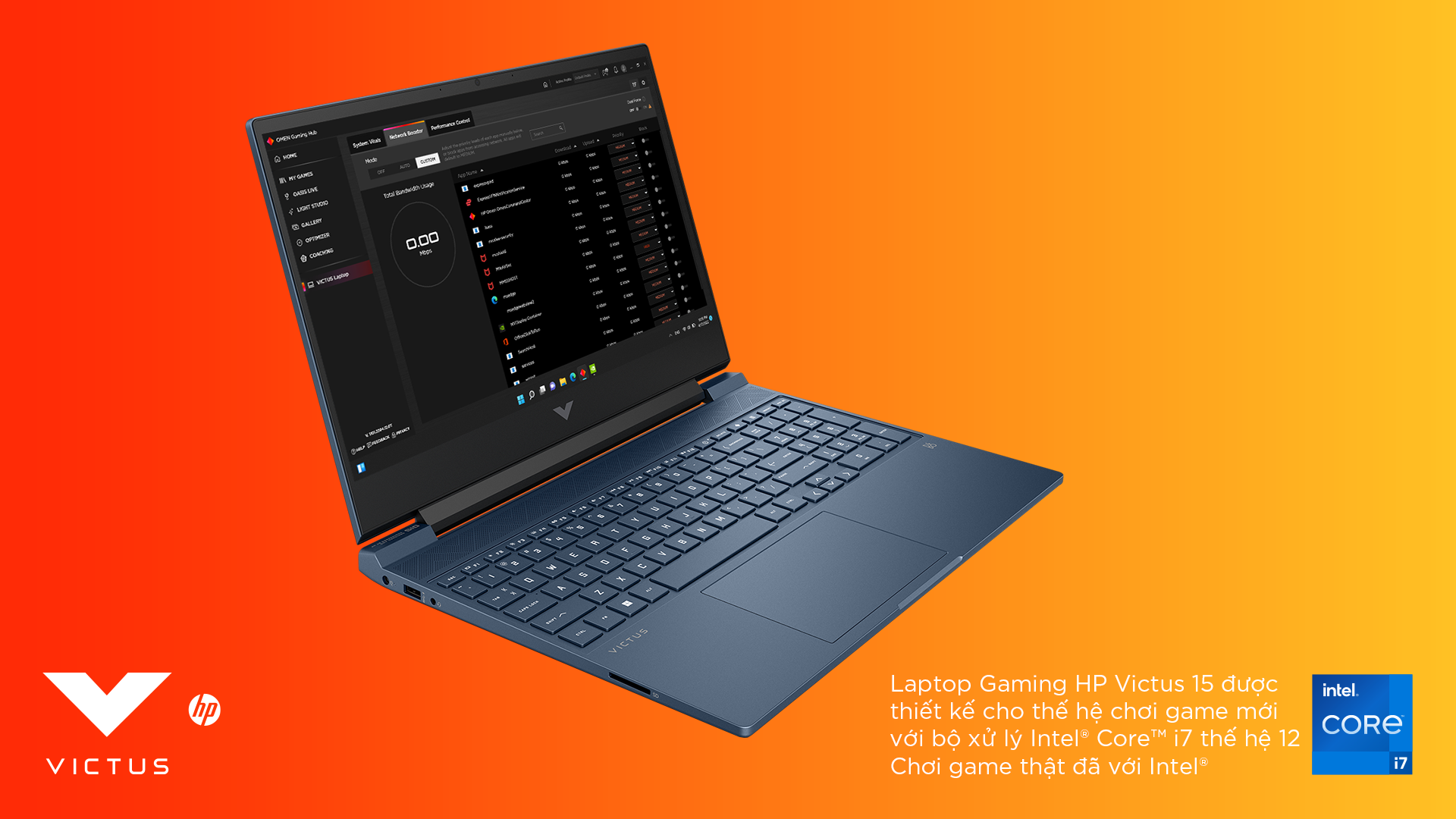 Victus 15 Laptop is integrated with OMEN Gaming Hub solution to help optimize game performance.
Using different gameplay to change the game is not difficult. HP's OMEN Gaming Hub solution has your back! In particular, Optimizer is a tool to help optimize the performance of your computer, providing customization options for you to adjust the most suitable settings for each game. In addition, the System Vitals feature allows monitoring and monitoring of device performance parameters, ensuring stable system operation, and preventing problems causing stuttering and lag when playing games. In particular, OMEN Gaming Hub's Network Booster tool optimizes network settings, minimizing gaming latency by prioritizing network traffic for games.
Victus 15 Laptop – Effective equipment for game lovers.
With the spirit of playing hard, fighting hard, committing to the fullest, the game lovers will definitely need their friend Victus 15 Laptop to accompany their journey to make a breakthrough. This state-of-the-art laptop is ready to fully meet your entertainment needs and train your gaming skills. Learn more about the product here or search for the product with the keyword "Victus 15-fa".