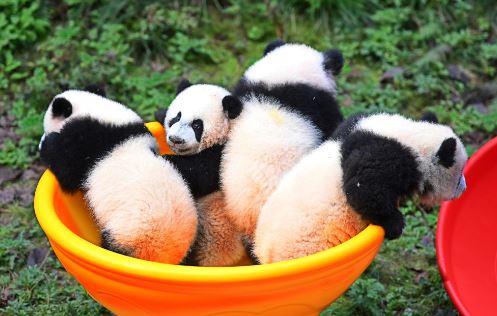 6 month old baby panda at Chongqing Zoo. Photo: Xinhua
Speaking to Modern Express, a representative of Nanshan Mountain Tourist Area in Jiangsu province said that recruiting panda caretakers has become a "headache" for many years. They cannot hire enough staff because of lack of qualifications.
There is a 1,000 square meter area for keeping pandas with an undisclosed number of individuals.
A manager at the resort said that caring for pandas is more complicated than people think, not simply feeding and playing with them. He added that this job requires a lot of professionalism, personality and observation skills.
During the process of raising pandas, caretakers also have to weigh their droppings, monitor their moods and feed them with bamboo plants by placing them vertically around.
"Perhaps because the requirements are so high, we see very few candidates meet. So far, none of them have been accepted," said the unnamed manager.
Nanshan Mountain Resort wants panda caretakers to have a degree in animal husbandry or veterinary medicine, and the manager insists it wants panda owners to have a degree in animal husbandry or veterinary medicine. In addition, they also need patience and a sense of responsibility.
"They have to love animals. Having experience raising animals in zoos is an advantage," said the manager.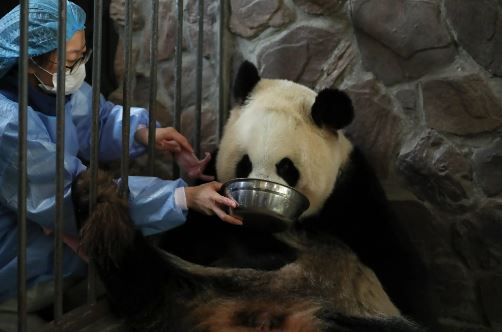 Staff feed pandas at the Panda Conservation and Research Center in Chengdu. Photo: Xinhua
Netizens in China are buzzing about the recruitment issue of this panda sanctuary. One joked: "The hardest job in the world with unattainable demands is actually taking care of pandas."
"I think zoos should value a panda caretaker's love and patience more than his qualifications," another said.
Ma Tao, a panda caretaker with more than three decades of experience at the Beijing Zoo, says his work requires both courage and concentration.
"Animals can't talk. Only through the careful observation of their keepers can we find out what they want," Ma told the Shanghai Morning Post.
The caretaker plays the role of reading the panda's language. From the animal's response, the caretaker can sense its state: scared, alert, or relaxed.
However, Mr. Ma said there are risks to being around pandas. He said cute photos of a panda hugging a caregiver's leg that went viral recently on social media represent a potentially dangerous situation. "It can bite you. Its teeth are small, but it bites very hard," said Mr. Ma.
According to China's National Forestry and Grassland Administration, there are 673 pandas living in captivity around the world, most of them in China. Experts estimate that the number of pandas living in the wild is about 1,800.
Pandas were discovered 150 years ago. It is still one of the most endangered animals in the world. Panda has won the love of many people because of its cute appearance and round body.