Sniper squads still have a lot of room to play in TFT Season 9.5 with many different main forces, in which the squad revolving around Jinx is also very powerful when given the conditions to develop.
Graves and Jayce are hot Sniper champions in TFT Season 9.5 with the ability to deal explosive damage when reaching the 3-star mark. However, Jinx also has similar potential but needs a few more conditions than the two generals of the same Clan.
Accordingly, Jinx needs the addition of the effect of Zaun's "Robot Arm" equipment to be able to deal good damage from the beginning to the end of the match. Therefore, if "Robot Arm" appears at mark 2 Zaun, the new player should deploy a squad around Jinx.
How to build
This is a 2-gold general reroll squad, so the best roll level is of course 6. Therefore, in the early stages of the game, players should still accumulate money as usual, trying to activate Sniper and Zaun as soon as possible.
When reaching level 6, you can add Courage, Courage… to supplement the resistance of the previous group, while Jinx and another Sniper general are enough damage during this stage.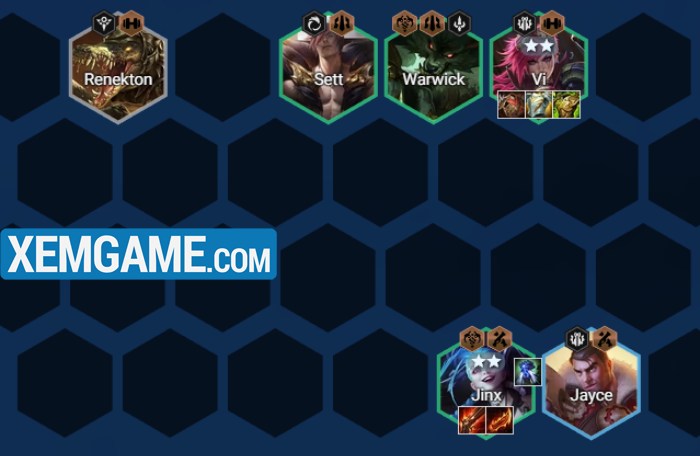 Team framework at level 6
Prioritize early pairing and equipment for Jinx as well as the main tank champion. Start the process of slowrolling a series of 2-gold champions at level 6 with Jinx priority order
After reaching 3 stars, level up and continue to clip 2 more Snipers to have a new strength threshold at level 8, from which you can compete with other squads in the late game.
Optimal squad at level 8: Jinx, Jayce, Aphelios, Gangplank, Vi, Warwick, Sett, Sejuani.
Necessary equipment
Jinx: Guinsoo's Rage Blade, Giant Slayer, Rapid Fire Cannon/Infinity Sword