Vietnam ICTComm 2023 – The 8th International Telecommunication, Information Technology & Communication Exhibition is the most anticipated annual event of the year of the information technology industry. This is an opportunity to update the latest technology trends, scientific and technical applications in the field of information technology, telecommunications, radio, television & electronics… where businesses meet and exchange finding partners, expanding markets, creating opportunities for technology transfer, developing services, enhancing investment cooperation, contributing to improving the competitiveness of enterprises.

VIETNAM ICTCOMM 2023 will exhibit a variety of fields such as:
Information and Communication Technology (ICT): Artificial Intelligence (AI); Augmented Reality (AR)/Virtual Reality (VR); Big Data; Blockchain; Cloud computing; Network security; Data analysis; Technology application in education (EduTech); Fintech (Fintech); Internet of Things (IoT); Smart home; 5G/4G/LTE; Broadband (Broadband); Connection device; Vehicle connected technology; Content Delivery Network (CDN); Embedded technology; FTTX/Photonics,…
Information Technology Solutions: Managing and storing digital media resources; Software and solutions for businesses; Software and workflow solutions; IT network infrastructure and security; IP Infrastructure & File Formats; Data management and processing; Online payment technology solutions; Barcode scanners; Comprehensive cloud solutions; Database management system (CMS); Software solutions; Providing Digital Content; VioT application; Intelligent intercom system; Call Center Service; SMS service; Security and control systems; Customer care,…
Broadcasting: Broadcast Technology; Satellite; Digital television; HDTV; Interactive multimedia communication; Cable; Encryption technology; Cloud-based video management; Cross-platform interaction (TV/Web/Mobile); Multi-content TV/Video management,…
Telecommunications: FTTH and fiber optic cables; Fiber optic cable; Fiber optic splitter box; PLC fiber optic splitter; Cable transmission box; Satellite connection; Screen; 3G/4G/5G; Wireless communication equipment; Optical transceiver network; Semiconductors; Optical Accessories and Optical Transceivers,…
Electronics: Connecting accessories: connector, connecting wire, jumper wire, connector and connecting wire, splitter, attenuator, splitter; Bluetooth speakers, smart wifi speakers, noise-cancelling headphones; Mobile phone accessories: wireless charger, charging tool, USB, …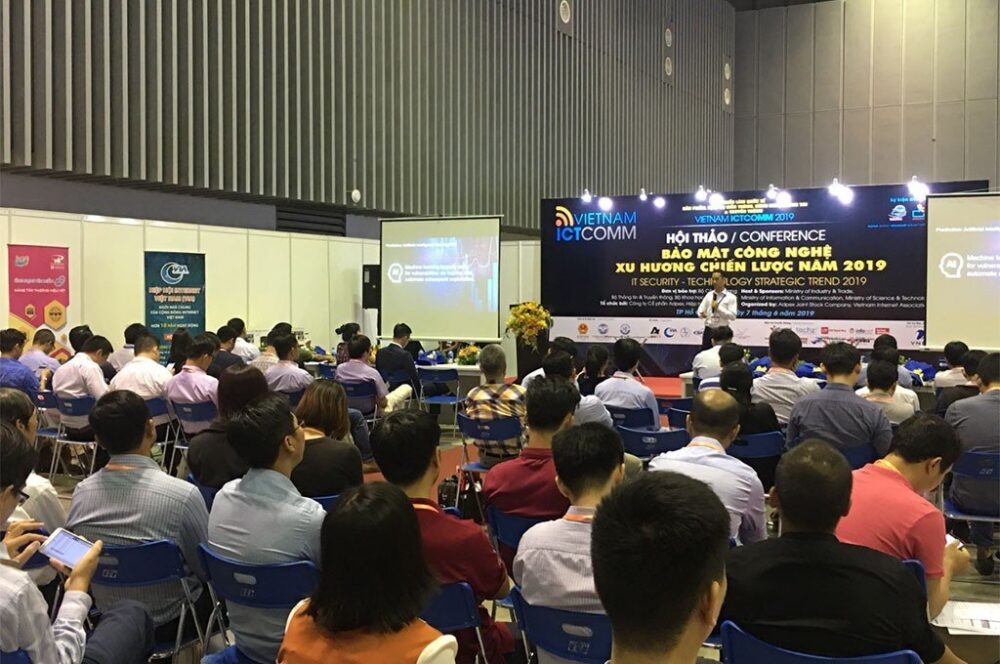 In addition, the opportunity to experience the modern game industry market trend with the appearance of a series of "blockbuster" game technology equipment nationwide gathered only at GAMING VIETNAM 2023 – an event parallel to ICTCOMM
In addition, the program "Technology Trade Day" was held between Vietnamese and international businesses, connecting pre-arranged meetings with 450 exhibitors from 15 countries. countries and territories. In parallel, there was a specialized seminar attended by representatives of agencies and sectors and more than 450 businesses and experts in the field of information and communication technology.
International Exhibition on Telecommunication, Information Technology & Communication – VIETNAM ICTCOMM 2023 will take place from June 8 to 10, 2023 (Thursday – Saturday) at Saigon Exhibition Center (SECC), City Ho Chi Minh.
Register for a booth: https://ictcomm.vn/exhibitors/book-a-stand
Register to visit the exhibition: https://ictcomm.vn/visitors/visitor-registration
List of exhibitors attending 2023: https://ictcomm.vn/exhibitors/exhibitors-list