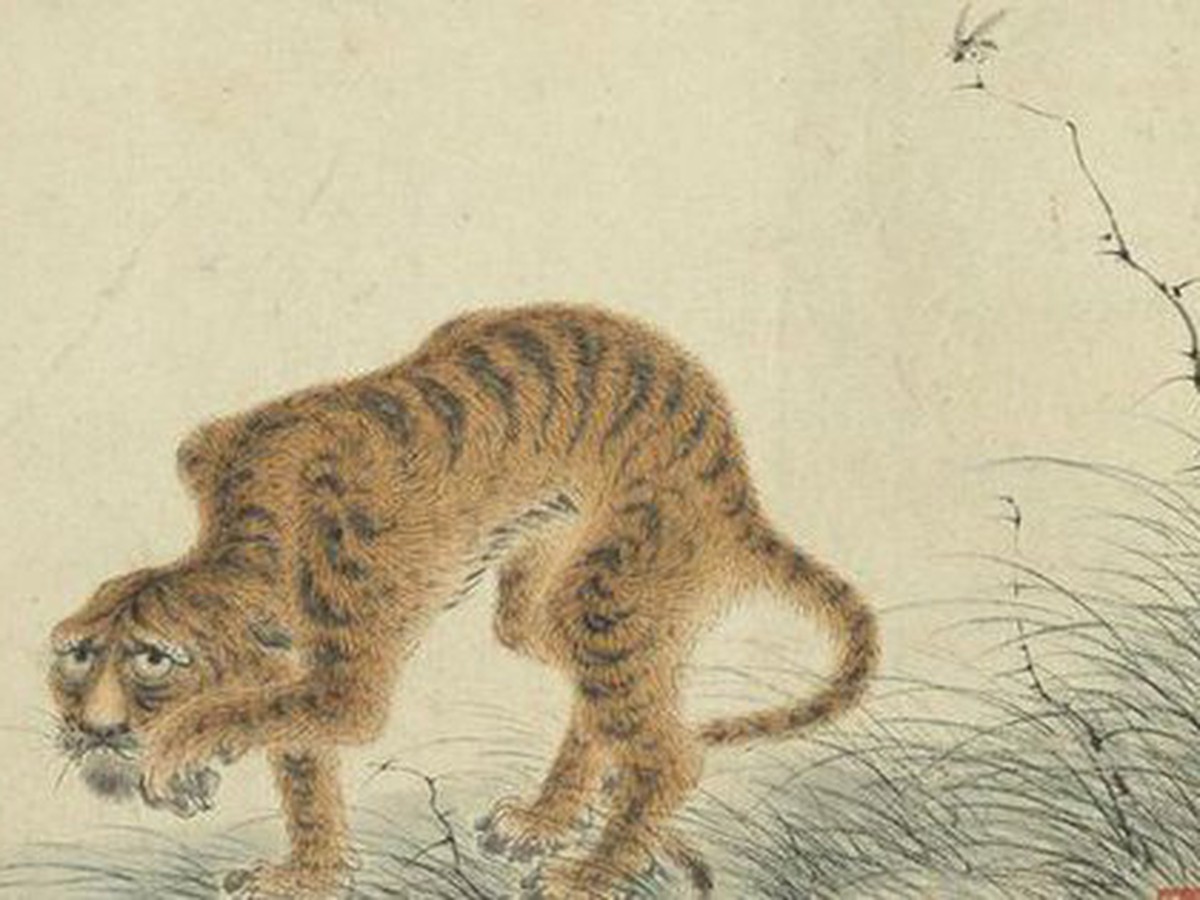 It is known that the author of the painting is Hua Yan (1682 – 1756), from Fujian province. He was a famous painter during the Qing Dynasty.
"Bee and tiger" – Strange painting controversial for centuries
The painting "Bees and tigers" in the Forbidden City has a history of nearly 300 years since it was created. However, there are still many controversies and doubts about the content surrounding the picture.
Initially, the painting was not a work of art that was taken seriously by everyone. It was even considered a silly, odd work when it was discovered in the early 18th century.
By the early 19th century, "Bees and Tigers" began to attract attention. During this period, some scholars studied to find the mysterious content behind. In particular, the image of the tiger in the picture is a matter of discussion and dissection.
In Chinese literature, art and religion, the tiger is an animal that represents strength and authority. Tiger is considered an invulnerable spirit animal, a symbol against evil, protecting good. Tigers often appear with a proud stance, sharp eyes, thick and smooth fur, and brave activities such as: pouncing, hunting, frolicking, etc.
However, in the picture "Bees and tigers", the tiger appears very strange. Tigers do not have a fierce gait but head bowed forward, claws have thick pads like a cat. Without the characteristic striped coat, many people mistakenly think this is a sick cat. The tiger in the painting "Bee and tiger" has fearful, timid eyes; claws inward. It looks both pitiful and funny!
The painting "Bee and tiger" in the Forbidden City used to be a controversial topic
Scholars say that the tiger in the picture does not obey the laws of nature. But many other experts say that this tiger is a product of imagination. Therefore, Hua Yan does not need to obey the laws of nature. They also think that because it is an improvised painting, of course it does not contain any deep meaning.
However, there is a special thing that people discovered only later, that is a bee behind the tiger. At first, people thought that maybe because it was circulated for so long, the picture was old, and there was a small black dot. But it's not a stain, a mold stain. When taking it to be restored, they magnified the picture 10 times and discovered it was a small bee. At this time, the painting is really complete and people are extremely admired by the ingenuity of artist Hua Yan.
Behind the picture is the author's unjust life
Many people believe that, through the image of a tiger, Hua Yan is implying herself. Obviously he is a talented man but still has to sell paintings to make a living. He endured many hardships, was despised by people, and the tiger in the painting is Hua Yan's inner expression.
However, in the picture, the tiger and the bee face each other and struggle endlessly. This shows a tenacious and indomitable spirit of life. At the same time, showing courage and perseverance in the face of all difficulties and challenges.
Author Hua Yan was born into a poor family in Fujian province (China). His parents were farmers and worked as a paper maker. Although his family was not well off, his parents still let him finish primary school. Later, when his father died, he had to drop out of school midway and return home to work as a paper maker with his uncle.
Since childhood, Hua Yan has loved painting and literature. He started painting very early. Even when he was working, he would paint anywhere such as on the ground, the wall or the sand.
On one occasion while scribbling on the wall, an artist passing by saw it and was very surprised. After that, the artist accepted Hua Yan as a student and invested in him to learn how to draw properly. Thanks to that, his painting skills improved. Hua Yan quickly became a famous painter. His works resonated at that time. Hua Yan was also highly regarded by Emperor Kangxi and he became one of the painters serving in the court.
Hua Yan has many famous paintings
After Hua Yan's name became widely known, his paintings sold very well. But in the 12th year of Kangxi, a family in Zhejiang province invited Hua Yan to paint four large paintings on the wall of the ancestral church.
However, due to his commoner background, they later refused outright. Instead, they invited an artist surnamed Truong to paint. This made him feel ashamed. Unable to bear it, in the middle of the night, Hua Yan took a torch and painted 4 pictures on the 4 walls of the ancestral house.
Hua Yan knew that this action was illegal and could lead to disaster, so he fled, leaving his hometown. Hua Yan decided to go to Hangzhou to look for better development opportunities. At this time, he was no longer young. But thanks to his talent, he made friends with many famous people in the art world.
Under the influence and encouragement of friends, Hua Yan began to turn to the study of poetry. He aspired to become as talented as them. But unfortunately, he did not succeed despite his efforts and hard work. Later, in order to make a living, he was forced to sell his old paintings on the street at a cheap price.
As can be seen, the painting "Bee and Tiger" is an extremely valuable cultural relic, making a great contribution to ancient Chinese painting. The charm and uniqueness that art brings along with its profound ideological content seems to open a mysterious door through time and space, helping us to feel many interesting things.