Recently, Riot launched Teamfight Tactics season 9.5 with many changes, additions and subtractions as well as new elements just added. And in just a short time, gamers have pointed out the strongest card today, which is the 7 Bilgewater squad. This clan is one of the newly added elements of season 9.5 and has quickly proven its strength.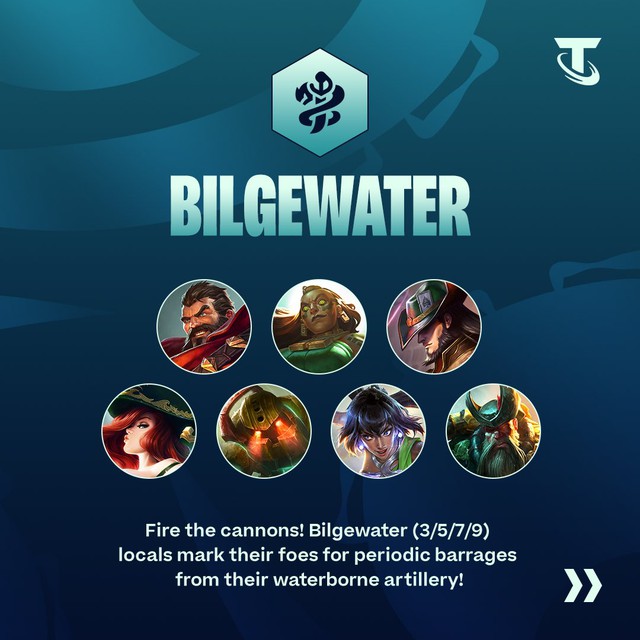 The Bilgewater clan is one of the new elements added in TFT season 9.5
Each general in the Bilgewater group possesses a very strong skill set, suitable for many different types of squads. For example, Miss Fortune has a wide area skill, Twisted Fate can put a large amount of damage on a single target, Nautilus has a control skill while Nilah has both a lot of damage and mobility. In particular, Gangplank is a 5-gold general and has a skill set that has both damage and wide area control.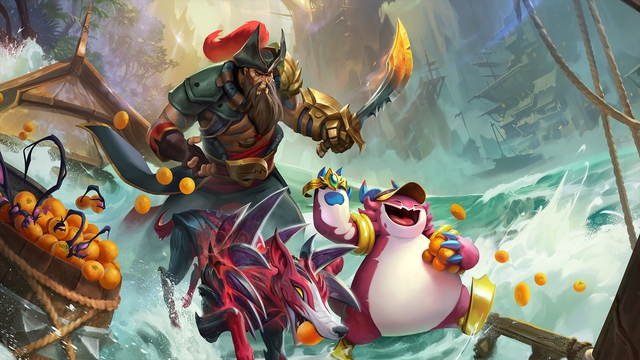 Gangplank is a 5-cost champion with a skill set that can destroy the entire enemy team
But precisely because Bilgewater is so strong, other clans have almost no chance to defend. Bilgewater also has a major advantage in that it does not need clan seals or Golden Shovels to reach high clan milestones. Players only need to activate at level 7 to be at the top. If you arrange the secondary pieces properly, the top 1 position is completely within your reach. That's why Bilgewater is currently very popular. In the top 7 squads rated tier S, the squad revolving around 7 Bilgewaters occupies all 4 positions. Among them, 7 Bilgewater – 2 Conquest has a top 1 rate of 28.7% and a top 4 rate of up to 80.9%.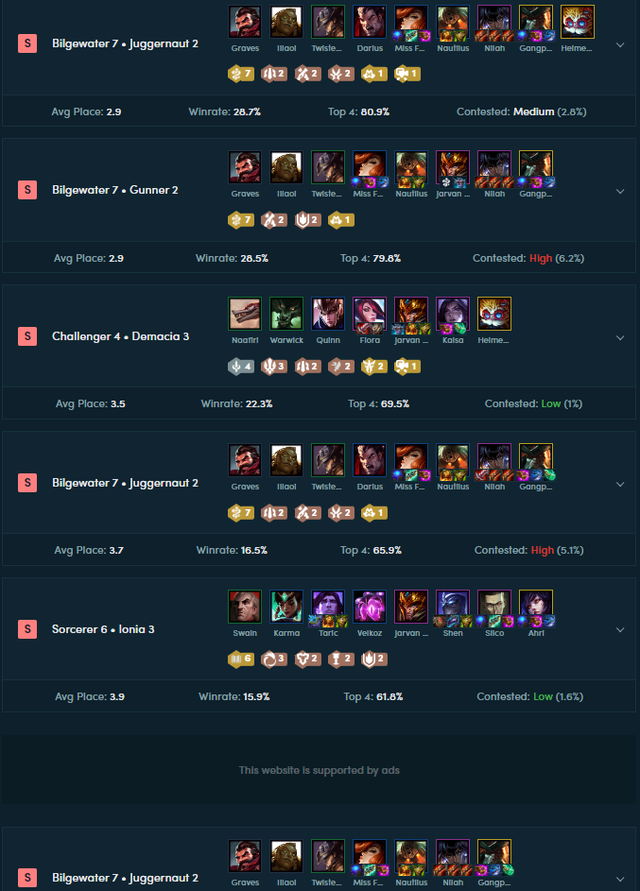 The squad revolving around 7 Bilgewater is raging TFT season 9.5 even though it has only been released for a few days
The TFT community believes that it is Riot's champion design habits that have led to the current situation. Those who have played League of Legends for a long time are not too familiar with Riot's style of launching new champions/new clans: a new name that is exceptionally strong -> the community uses it too much -> reduces the power of that name – > that champion/race disappears from the meta -> gains strength again. Names like Viego, Zeri, Xayah in League of Legends or Warwick 3 Fury Blade, Vayne Thien Xa… were typical examples in the past.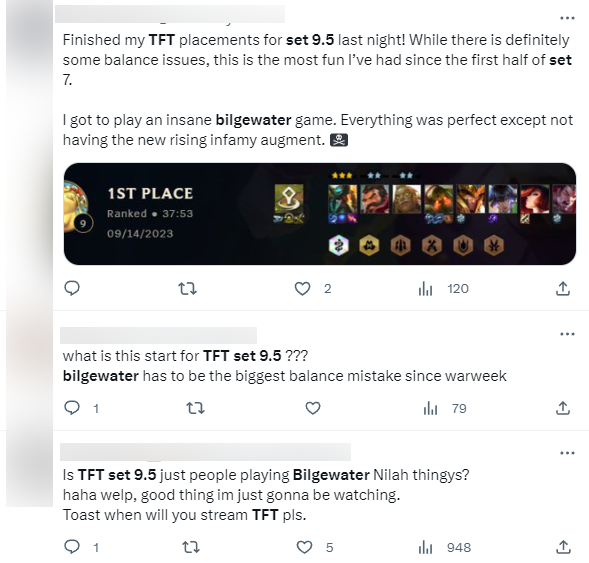 The Bilgewater "spam" situation made many people think of Warwick before

Players complain about Bilgewater being too strong
Of course, players only need to see which clan is strong and effective and will use it a lot. And the phenomenon of 8 players and 5 or 6 players using the same team is no longer something strange. The responsibility belongs to Riot because after many seasons, this publisher still allows the phenomenon of "spam" of cards to stir up TFT, causing creativity (which is the element that Riot wants to aim for) to be completely eliminated.