As the protagonist of Kimetsu no Yaiba, Tanjiro is not as 'simple' as many are seeing. There are many interesting facts but few know about this character.
It's an exaggeration to say that Kimetsu no Yaiba is one of the biggest hits in the history of Shounen Anime. In there, main character Tanjiro Although not the most unique, it is very attractive. As the 'main' of the series, Tanjiro is not as 'simple' as many are seeing. There are many interesting facts but few know about this character.
>> MORE: Kimetsu no Yaiba: 5 reasons why Tanjiro is still far behind Yoriichi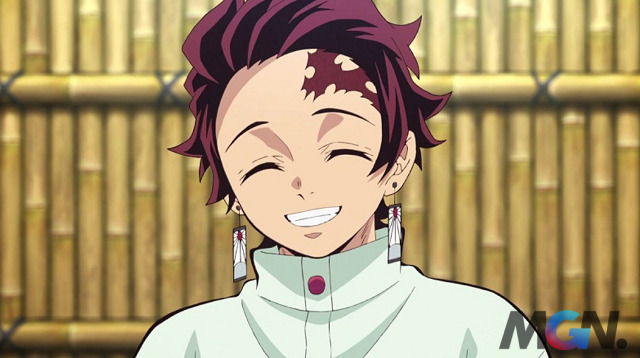 Tanjiro Kamado inherited his mother's tough forehead
The audience can easily see that Tanjiro's forehead is very hard, as evidenced by his 'head-butting' despite hitting a lot of people, even being seen as a surprise weapon but of course it is mainly used for purposes. humorous purpose.
It seems that Tanjiro's stiff forehead is hereditary. This trait comes from his mother, in other words, somewhere in Tanjiro is his mother.
Tanjiro can 'communicate' with birds
Tanjiro Kamado loves peace and loves the Earth. Tanjiro's enthusiastic personality is enough to make anyone around him who comes in contact with him quickly fall in love. In fact, Tanjiro has such a pure heart that he can even understand what the birds around him are saying!
His keen sense of smell allows Tanjiro to search for missing people
Tanjiro has a sharp nose that allows him to identify threats through scent. This 'skill' is also quickly recognized by the people around him and makes Tanjiro a 'local detective' who can use his keen sense of smell to find anyone missing in the village.
Tanjiro has seen his family members die more than once
The first episode quickly haunts viewers with bloodthirsty demons, as Tanjiro returns home to witness his entire family being murdered. However, this is not the first time Tanjiro has encountered such a tragedy
Tanjiro Kamado was the first to discover that his father and grandmother in the past were on the verge of death. He also managed to inform another house in the village that one of his family members was also dying!
Tanjiro's earrings are censored in China and Korea
Tanjiro's character design is extremely iconic, with his remarkable sunrise earrings. However, the design of these earrings is banned in places like China and Korea.
That's because the rising sun symbol is still associated with the atrocities the Japanese committed during the World War.
Can't keep face straight when lying
Tanjiro Kamado's pure heart does not allow him to lie, even to his enemies. That's why he always refuses to lie whenever problems arise.
In fact, Tanjiro is nervous about lying because it's simply not who he really is. Many people around even exploited this weakness to overcome Tanjiro. But overall, Tanjiro's stubborn nature and unwavering morality make up for this lack of intelligence.
Finally, don't forget to follow Game8Z regularly to keep up to date with the latest news about the best anime/manga series!