The 2024 VCS promotion round is expected to kick off in the second half of November, with the participation of 6 teams, including many notable names.
The Vietnam Championship Series tournament has officially opened registration for the Promotion Round for League of Legends teams in Vietnam from October 4. After the registration period expires, the organizing committee will select the most worthy representatives to participate in the tournament with MBE Esports.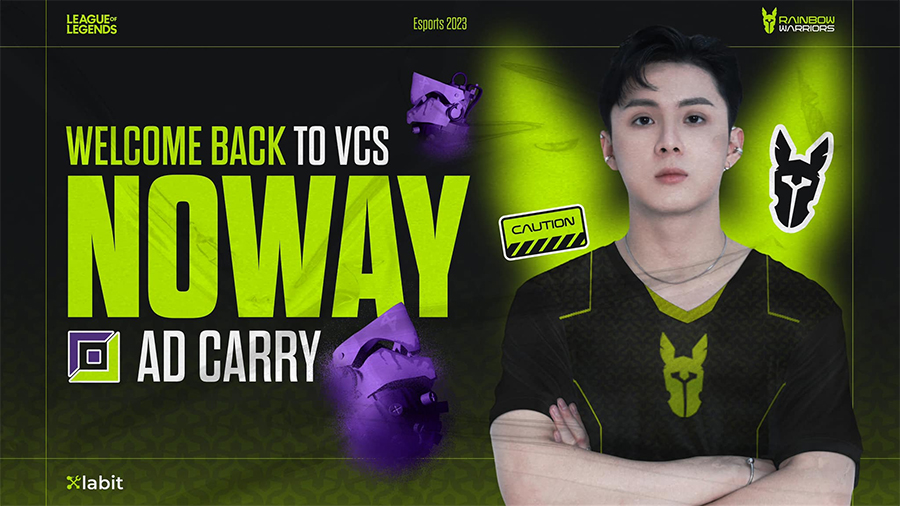 Noway will join Rainbow Warriors to participate in the 2024 VCS promotion round
In recent days, many potential teams and players with experience competing at VCS have registered to participate in the tournament. The most notable is Jack Joker Esports with the participation of a series of former VCS players such as Teacher Ba, Celeberity, Petland, Divkid and Potm.
Besides, other familiar names that have appeared at VCSB such as AS Esports, Adonis Esports, ROY Esports have also registered to compete. However, the above mentioned teams were all absent from the final list.
List of 6 teams participating in the 2024 VCS promotion round:
1. APOLLO Gaming
2. CYRUS

3. Dino Gaming Esports
4. MGN BOX Esports
5. Original Gaming
6. Rainbow Warriors
Rainbow Warriors is the team that receives the most attention from the community with the participation of many players such as 2T, Spot, Artifact, Pake, Easylove and Noway.
Meanwhile, MGN BOX Esports has had a quality addition called Froggy. In addition, this team may add another shooter in the future.