According to the posted information, an online celebrity with the nickname Tam Thien Ca, in China, has died after showing off a huge amount of alcohol right on the livestream.
It is known that Tam Thien Ca's real name is Wang Feng, 34 years old, living in Lianyungang City, Jiangsu Province, China. On the evening of the incident (May 15), Vuong Phong livestream showed off his drinking capacity. According to Vuong Phong, he drank like a god, completely not drunk. To prove this, in his short livestream, Vuong Phong drank nearly 4 bottles of wine.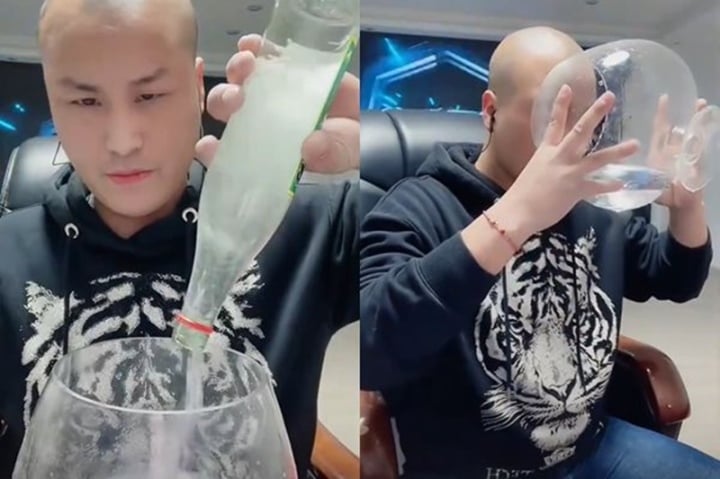 Drinking 4 bottles of wine continuously in a short time, the boy died suddenly
Unexpectedly, just a few hours later, Vuong Phong was found dead, the cause was alcohol poisoning. A friend surnamed Zhao revealed: "I am a good friend of Vuong Phong, did not expect him to leave so suddenly. Vuong Phong ended the livestream at 1 am on May 16. At 1 pm, the person We found out that he had gone to the fairy realm, there was no sign of life, the cause of death was alcohol poisoning. That day, I don't know if Vuong Phong drank before or not, during the livestream, I saw him drinking. nearly 4 bottles (about 2 liters of wine), the first 3 bottles Vuong Phong didn't vomit, so he drank the 4th bottle, never expected a tragedy."
Mr. Trieu also added that, after receiving news of Vuong Phong's death, he rushed to Jiangsu in the night to see off his good friend for the last time.
On the last day of cremation (May 20), Mr. Trieu posted a video mourning Vuong Phong with the content: "Today I came to see you for the last time and wish you a good journey! Heaven will have no more exhausting livestreams, no more ruthless PK fights, and no more deadly alcohol."
This share of Mr. Trieu has attracted attention, stunned many people, searched for information, and the case also emerged on the hot search of China's largest social networking platform.
Many netizens after watching it sighed: "Selling your life to make money is really not worth it", "Livestream, can't drink filtered water? Who knows? Drinking too much alcohol and suddenly died, heartbreaking ", "This kind of fatal and deadly livestream must be completely banned", "Too much alcohol, even drinking too much water at once is also poisoned".
Source: Ettoday