Still the Kim Dung story background, but under the hands of Studio Viet team, Tan Minh Chu has gradually conquered the community thanks to the quality of gameplay. Not just words, this game from NSX Hiker Games continuously achieves impressive achievements on the Store with winged "compliments" from the editorial team.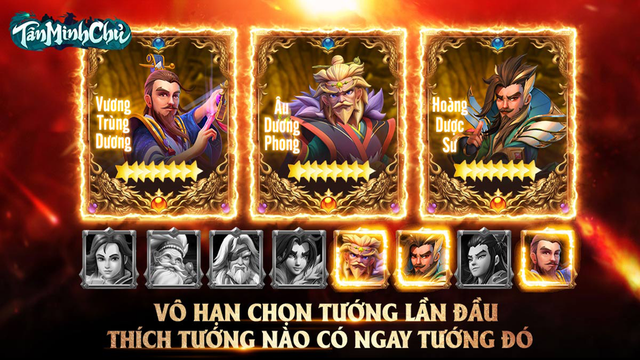 Compared to the common ground, Tan Minh Chu has an advantage and a much higher position than other games of the same type, thanks to being developed by an experienced Hiker Games team, capable of editing games based on closed opinions. Community contributions are very quick, ensuring all interests. Thanks to that, the gameplay is always refined, developed and improved continuously.
Up to now, Tan Minh Chu has spent a full year accompanying Vietnamese gamers and increasingly achieving great achievements, affirming the quality that goes with time. It can be said that for gamers who are passionate about strategy games in general and Kim Dung theme in particular, Tan Minh Chu is a choice that cannot be missed.
On the occasion of the launch of the new server Long Tuong Bat Nha, Tan Minh Chu would like to give gamers experience giftcodes. In addition, the new server will also enjoy the following privileges:
NEW SERVER Cluster-specific chain of operations
NEW FIRST DEPOSIT OFFER
PLEASE RECEIVE AWESOME GIFTS FROM NEW SERVER Cluster
FREE Hot Level Equipment, Armor
Get more general recruitment cards
Giving away a lot of valuable KNB
Increase the quality of the generals, increase the battle strength of the squad
Complete the achievement to get FREE VIP 6
FREE VIP GENERAL, GOOD EQUIPMENT when passing the stage
LOG IN 7 DAYS – GET HUGE GIFTS NOW
Day 1: Order of Disciple x10
Day 2: KNB x 500
Day 3: Remnant Soul Level x60
Day 4: Soul Stone x500
Day 5: Equip Random Level Hat x1
Day 6: Special Recruit Item x10
Day 7: Armor Equipment – Bich Nguyet Thuong
TMCOPEN
TANMINHCHU500K
TANMINHCHU555K
TANMINHCHU300K
TANMINHCHU2 CHILDREN
Download the game: https://tanminhchuvn.onelink.me/Dbn7/gamek