The 7th season of the anime My Hero Academia has been officially announced by the production team. Let's take a look at these announcements with Game8Z.
Even though the last episode of My Hero Academia Season 6 will appear on March 25, but recently, the production team of this anime has officially announced the 7th season. Let's take a look at the details of those announcements with Game8Z.
According to what has been revealed, season 7 of Anime My Hero Academia was officially confirmed in the 17th issue of Weekly Shonen Jump. And based on what's going on in season 6 of this anime, Game8Z believes that the upcoming season 7 of My Hero Academia will adapt the entire content of the "UA academy traitor" arc.
To talk more about the UA academy traitor arc, here, we will see the heroes of the My Hero Academia world preparing very hard for the most important battle in their lives, that is to fight. defeat all the villains. The plan to defeat Shigaraki, All For One, and the rest of the Alliance of Villains was meticulously prepared as well as meticulous. However, the heroes' plans run into a sizable setback when they realize that there's a traitor among their ranks.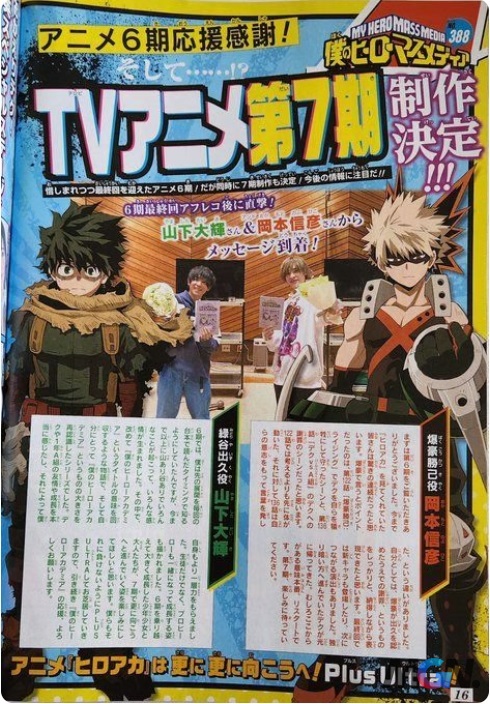 Studio Bones will still be in charge of the upcoming 7th season of Anime My Hero Academia. It can be said that this studio has also built a lot of names after taking over the creation of the anime of My Hero Academia in the past 6 seasons. And through the last season 6, fans seem to be quite satisfied and appreciate this studio for improving the image quality quite a lot compared to the failed season 5.
Besides, with the countless manga chapters of My Hero Academia was published recently, Game8Z believes that the 8th season of the anime version is also in the process of being made.
SEE ALSO: My Hero Academia: The author speaks out after countless mixed opinions about Hagakure's sensitive image in chapter 368
With the official announcement of the 7th anime season, Game8Z believes that there will be countless other important information that will gradually appear in the coming days. That's why meFans, remember to follow Game8Z to update the information quickly and accurately.