Guilds are one of the indispensable features in any swordplay role-playing game. Sword King 1 ADNX is no exception. Since this game has not yet been released, gamers have gathered together to create guilds – common homes to develop together.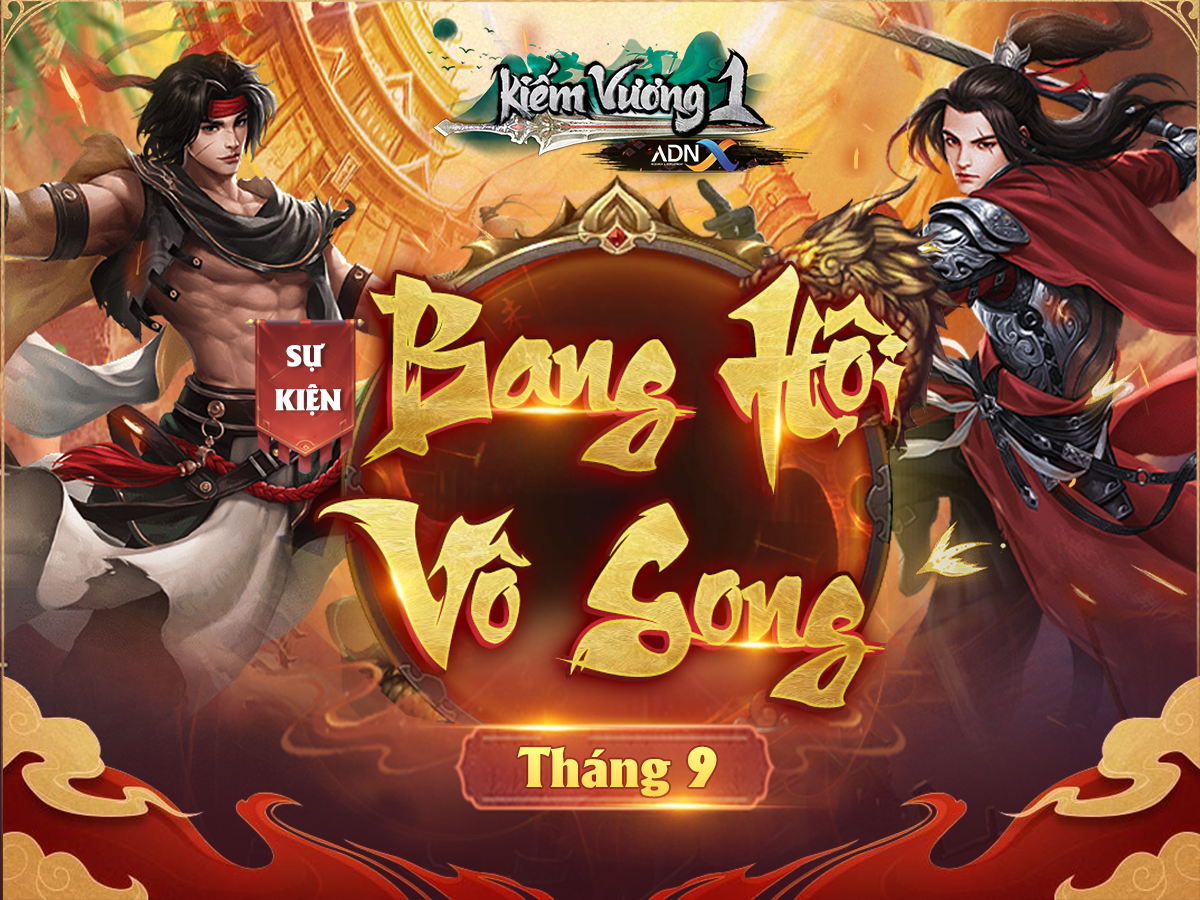 Over a period of time, the guilds in Sword King 1 ADNX have had an explosion in both quantity and quality. In all the servers of this game, guilds have really played a role in creating a dynamic and interesting ecosystem, which gamers consider their second home.
Grasping that spirit, publisher ADNX decided to organize the Peerless Guild tournament to find the strongest guild in all servers of Sword King 1 ADNX. It is known that the purpose of this tournament is to create a competitive playground, compete in tactics and also to increase the connection between fellow martial artists who share the same passion for PK plowing and hoeing. With Song fighting rules Kim Lien Server, guilds and players can unleash dramatic and extremely attractive PK battles.
To participate in this tournament, players use an account whose character has been registered to participate in the tournament. After logging in: select the cluster "Events" => select the server "Unparalleled Gang" and log in.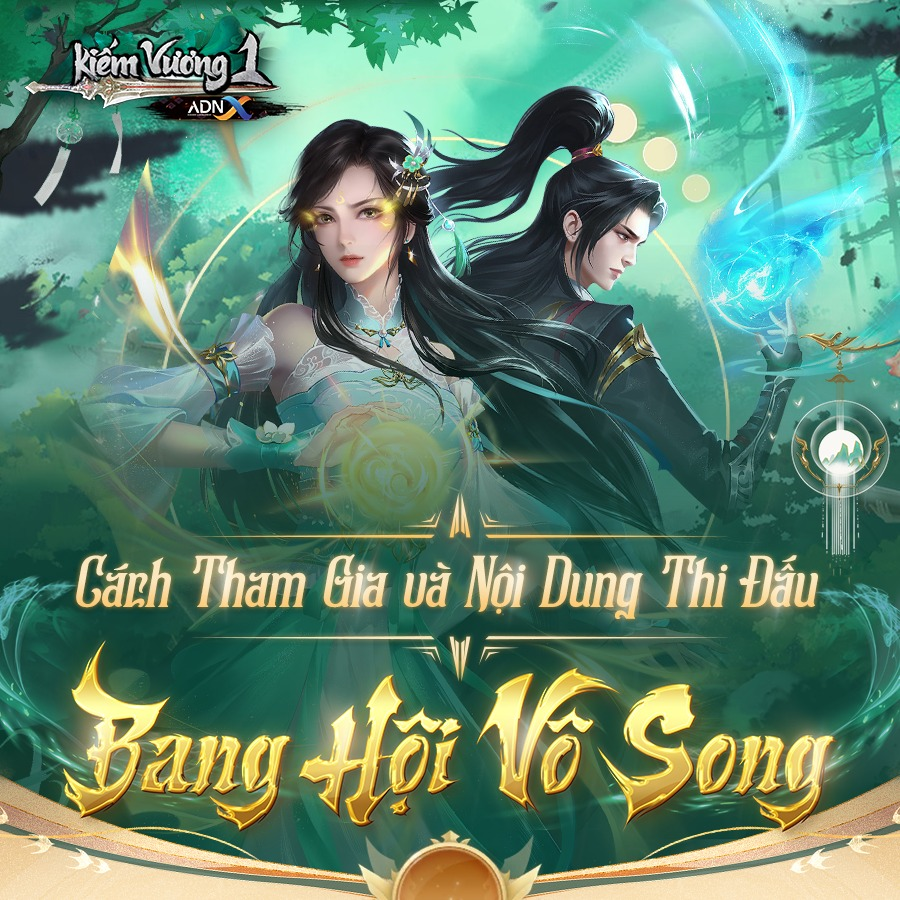 About the tournament rules:
General conditions.
During the tournament: account holders are not allowed to transfer information related to account ownership.
Commit to complying with the tournament's regulations.
Selection round
The organizers will rely on the number of Peerless Orders of Guilds accumulated through 2 events "Treasure Hunt" and "Red Beans for Marriage" to find 8 Guilds to participate in the competition.
Guild members will collect the Vo Song Order and submit it to NPC Hoang Thuong martial arts alliance. The submission time is September 11, 2023.
The time to register and update the account list will end at 10:00 a.m. on September 18, 2023. At the same time, character data will be copied to the tournament server
Note: The server will not be able to create characters, character information data such as resources, KNB, equipment… will be independent of the original server data. Players will not be able to make transactions or discard items.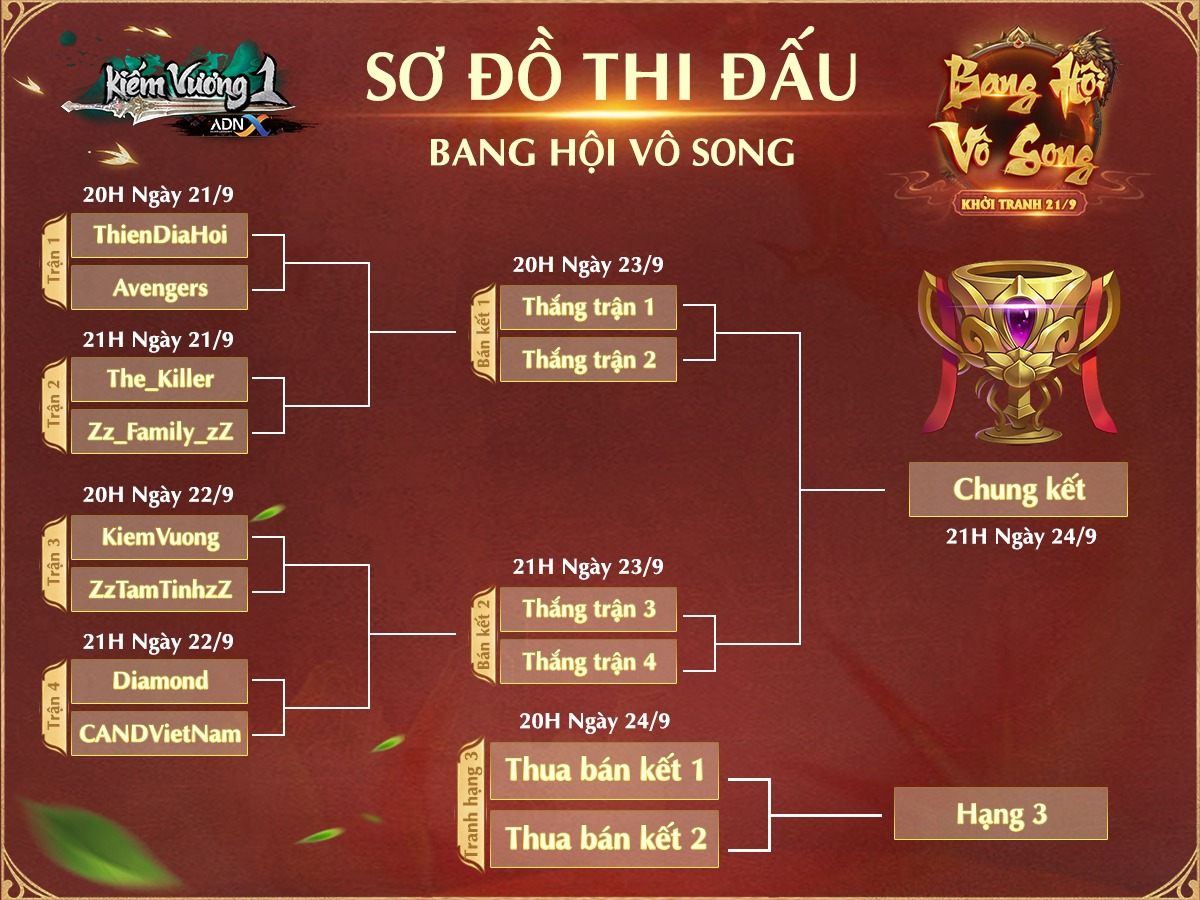 COMPETITION CHART – PEERLESS GANG
Competition rules.
Competition format: Tong Kim protects Marshal – the side that defeats Marshal Tong Kim first will win. If at the end no side can defeat the Marshal, the winner will be determined based on the score.
Each Guild will have a maximum of 50 participants.
Match time: 30 minutes.
Registration time: 10 minutes.
Each Guild will be arranged to join a faction according to a fixed list, only the characters named on the list can participate in activities.
Tournament details: https://kv1.adnx.vn/tin-tuc,su-kien/bang-hoi-vo-song
Reward
TOP 1:
1600 Peerless Guild Chests Self-designed Bang logo Unparalleled First Bang Buff (with light ring effect): 1000 vitality, 1000 internal force, critical hit 35, movement speed 10%, skill attack power 5% Title of Master of Martial Arts – Unrivaled Title of First Clan
TOP 2:
1000 Peerless Guild Chests Peerless Bang Buff (with light ring effect): 500 Health, 500 internal force, critical hit 15, movement speed 10%
TOP 3:
800 Peerless Guild Chests
Along with the exciting atmosphere waiting for the Peerless Bang Hoi season, martial artists please follow the livestream on the official Fanpage of Sword King 1 ADNX and predict who will become the First Peerless. Bang.
Kiem Vuong 1 – ADNX Mobile has been licensed for release in the Vietnamese market by the Ministry of Information and Communications No. 1963 dated October 28, 2022. Gamers can refer to more information about Kiem Vuong 1 – ADNX Mobile at:
Landing: https://kv1.adnx.vn/landing
Download game: https://kv1.adnx.vn/tai-game
Fanpage: https://www.facebook.com/kiemvuong1adnxmobile
Group: https://www.facebook.com/groups/kiemvuong1adnxmobile