Like other MOBA games, Wild Rift's ranking mode is considered challenging and not "easy". Because, players can immediately reach Iron rank, Silver rank… but cannot become a Grand Master if they have not invested a lot of effort. Famous for its high level of competition, climbing the rankings in this game is extremely difficult. Yet there are still cases of players "racing to the top" at unbelievable speeds, "straightening" to the top of the rankings in less than 2 months.
That is the story of an overseas Vietnamese who is "studying abroad" on the NA server (North America). According to sharing, he has never reached the Grand Master level before. However, recently, this gamer's journey to "rank up" to a new position was within just 6 weeks. This unprecedented outstanding achievement has attracted a lot of attention from the community.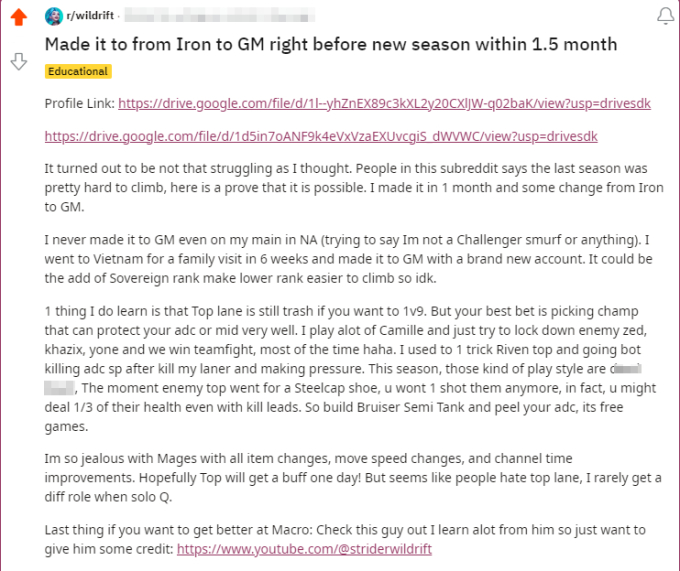 The post shared by Wild Rift gamers shocked the community.
It is known that this is a genuine Top lane player. He has only participated in more than 300 matches and regularly uses 3 generals, Camille, Riven, and Ornn to climb the rankings. With an overwhelming win rate, it only took this gamer 38 days to go from "bottom" to the Grand Master level. This can be considered an achievement equivalent to that of top professional players. Even he himself was surprised by the unbelievable speed.
As soon as it was shared on social networks, many readers felt curious about the above player's secret to winning. However, he frankly advised everyone not to follow his Top Lane playing style. Because this is a risky position, difficult to control if you "climb single rank" and want to achieve high rankings. If you really like it, choose champions that can protect AD and Mid allies.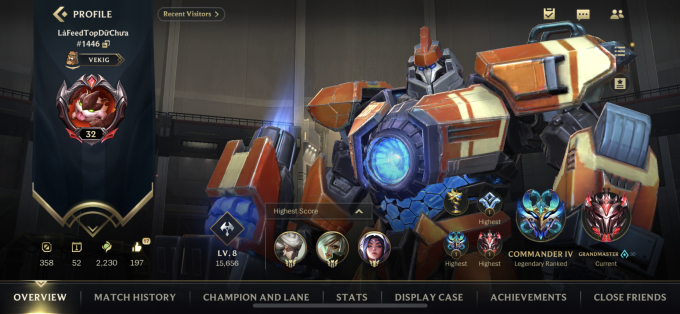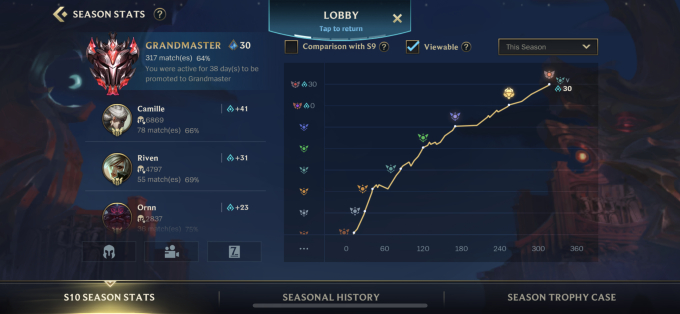 This guy actually reached the Grandmaster milestone in just 38 days!
Typically Camille – a general highly appreciated by the owner of the post. In team fights, the only task that Steel Ball needs to do is to lock down the champions that "carry" the opponent's team such as Zed, Kha'zix, Yone… He also said that he should give up the Gladiator style of play and go closer. force because the current meta is no longer relevant. However, the most important thing is still Macro thinking to capture and control the map. This is the prerequisite ability to help this gamer achieve an unbelievable win rate. When you can Macro flexibly and choose the appropriate champion, the results will certainly surprise players.