PUBG Vietnam team had an impressive performance at PUBG Nations Cup 2023.
The last day of competition (September 17) of PUBG Nations Cup 2023 (PNC 2023) took place extremely dramatic. The teams are all focusing their best to bring the best results to the tournament considered the "World Cup of PUBG". For the Vietnamese team, the players also played impressively, continuously maintaining the top 2-3 positions on the overall rankings.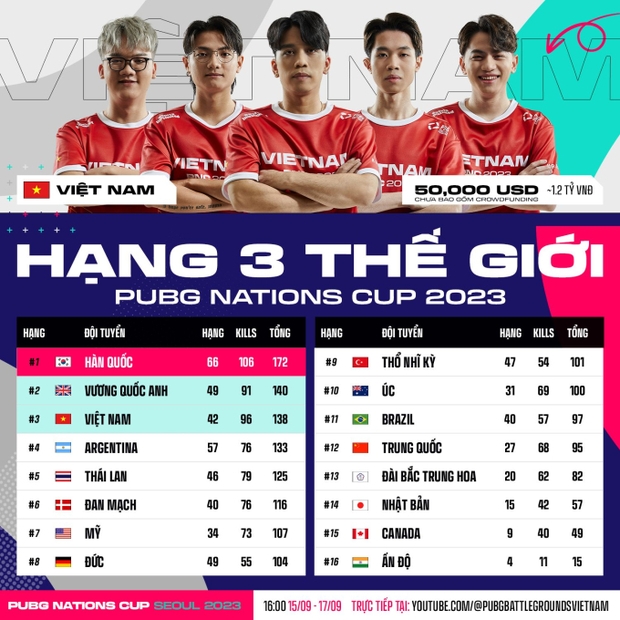 PUBG Vietnam ranked 3rd in the world
In the final round, the main highlight was the perfect home defense against the attack of the Chinese players and "reaping" all 4 kills. However, after that, the Vietnamese team could not continue to survive in a rather empty circle and stopped at 4th place in this decisive round. Thereby finishing in 3rd place overall.
It's quite a pity that with just 3 more points, the Vietnamese PUBG team can surpass the British team to win the runner-up position. However, an impressive performance with many eye-catching fights and 3rd place at PNC 2023 is probably a good result for the country's players.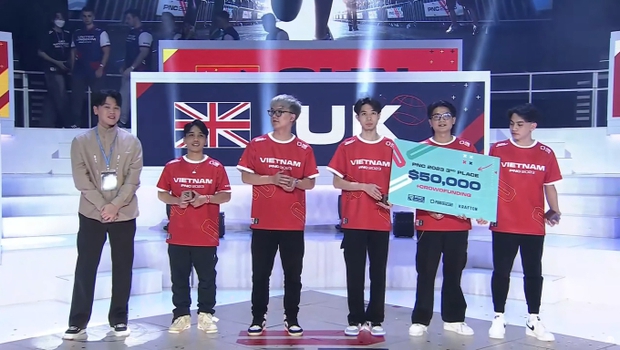 PUBG Vietnam team brought home 1.2 billion VND in prize money
With this achievement, PUBG Vietnam team brought home 50,000 USD (about 1.2 billion VND) in prize money (not including Crowdfunding). The home team Korea is the PNC 2023 champion with 100,000 USD (about 2.4 billion VND in prize money).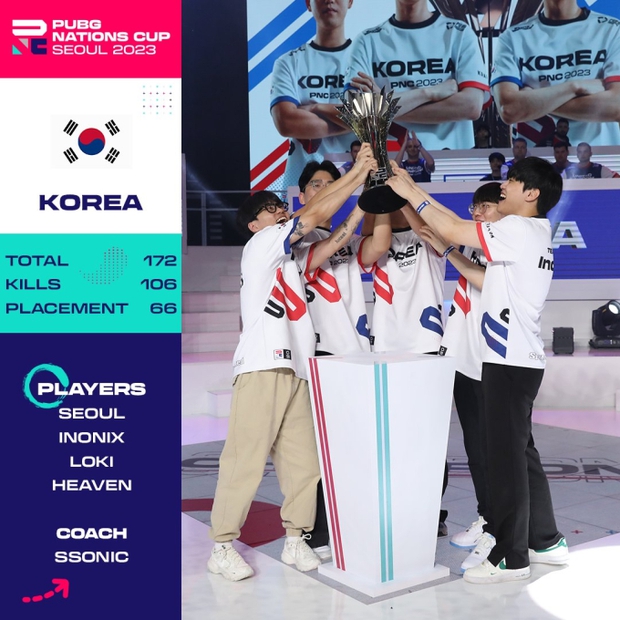 Korean PUBG team was crowned champion of PNC 2023 at home
PNC 2023 is also a playground that leaves a strong personal impression on young Vietnamese players. They are the team with the second largest number of kills out of the 16 participating teams. The young star born in 2003 – Himass (La Phuong Tien Dat) also shined brightly with a record of 33 kills. This number is only 1 kill less than the MVP of the tournament, Seoul Korea (34 kills). In addition, two other young Vietnamese players, Clories (Nguyen Long Hao) and DuCkHjeUz (Duong Duc Hieu), born in 2003 and 2004, respectively, are also in the top 10 players with the highest kill scores in the tournament.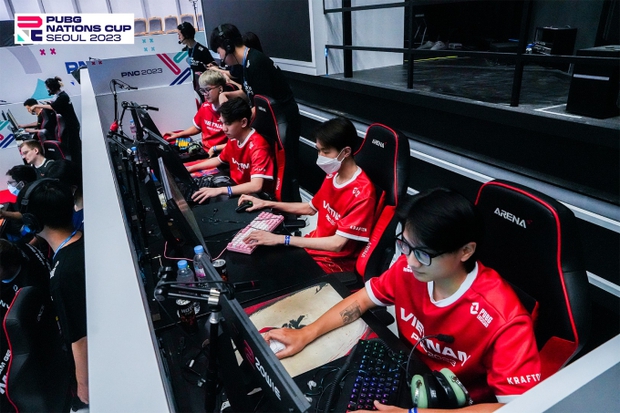 Vietnamese PUBG players at the competition venue
Vietnamese audiences, after witnessing the impressive performance of the Vietnamese team, did not hesitate to praise the young player.
– The season was successful, Himass and DuCkHjeUz were on fire for the first time at PNC.
– Himass was almost MVP this year, try your best.
– Himass is top-notch but PNC's results are a bit disappointing, hopefully they can maintain their form to explode at PGC at the end of the year.
Portrait of Himass – the most prominent gamer in the Vietnamese squad at PNC 2023