Two players playing in the LPL, Ruler and Kanavi, had strong carrying performances in two friendly matches of the Korean national team.
The Vietnamese and Korean League of Legends teams had a friendly match and cultural exchange between the two countries before ASIAD 19. A match that was considered to be unequal when the Korean League of Legends team was a collection of individuals. the best person in the world. Meanwhile, the Vietnamese League of Legends team lost both in terms of skills and in terms of personnel when Bie could not recover from his injury in time to compete in the friendly match. The Vietnamese team lost completely in both games and the matches only ended within 20 minutes.
(To Coach KkOma) I think the role of the coaching staff is to bring players from different teams together. Did that go well or not?
KkOma: The players selected for the national team are all excellent, so I work with the thought of just gathering them together. Because they are such excellent players, they seem to learn very quickly and become a team quickly.
(To Ruler) In a previous interview, you mentioned your performance as something that worried you. However, today we won a resounding victory. Are you satisfied with your performance?
Ruler: To be honest, I don't think this performance was satisfactory. I don't always feel confident because form is something that can change very quickly. However, I think I can do better if I work harder.
What is the team's pick and ban style today? Also, do you think you handled it well?
Zefa: Of course, there were preparations and if it weren't for the health problems of the Vietnamese team, we could have had a more stressful match. I think I'll have to watch replays of the match tomorrow.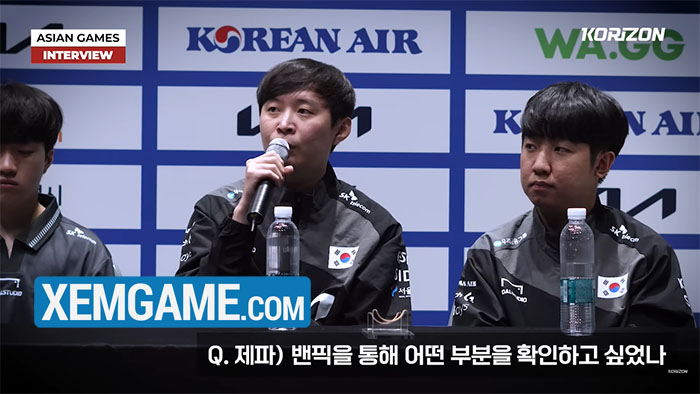 (To KkOma) Before that, you said thank you to the Vietnamese team. What do you think about today's match?
KkOma: In the first match, looking at the combination, I think we made the best choice for that situation. Although there are certain discomforts, I feel grateful that they made serious and interesting choices so I want to express that. This is the first time the team has participated in a match to evaluate their strength and I want to say thank you for coming to Korea to compete.
(To Kanavi) I have experienced at LPL for many years. When we work together as national team members, I think we will be able to compare our strength to some extent with the Chinese team.
Kanavi: After coming here and practicing with Korean players, I feel that good players can do well anywhere. There are times when I draw my own situation when competing and it seems like everything comes together very well so I'm very satisfied. We haven't played against the Chinese national team yet, but I think we have a slight advantage.
(To Khan) After retiring as a player, you joined as an analyst without any coaching experience. I think that's a very interesting thing.
Khan: After talking with coach KkOma and he was chosen as the national team coach for the Asian Games. It seemed like a great opportunity for me to continue my contribution, so I decided to join him. When I came here and watched the players play, they were really good. I thought a lot about whether I could do anything to help more and I still did it. Because this is a good opportunity, I will try my best to help the team achieve the best results.
(To Coach KkOma) You mentioned that you were a bit nervous at first.
KkOma: I think I was nervous because it was my first match as national team coach. And once the game or ban starts, I just focus on that. I don't feel worried because there are many audiences watching live around the world. Personally, I tend to worry in order to stay more focused and not let my guard down.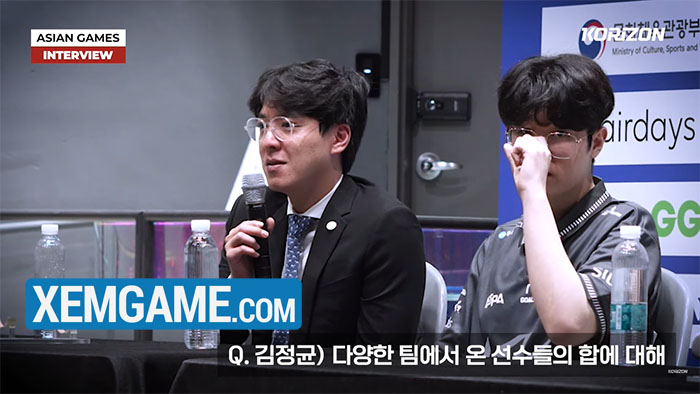 The team will soon have to play another match against the Taiwanese team. What have you done to prepare for the upcoming match?
Khan: We are preparing a lot of pick and ban strategies with coach KkOma and analyst Zefa. I will prepare well to minimize the element of surprise as much as possible and show good performance tomorrow.
Zefa: I will support Coach KkOma with all my might and win.
Keria: I will try my best to perform better today.
Ruler: I want to play soon. I hope I can improve myself by learning from what my competitors do well.
Chovy: I will try my best to win tomorrow with good form.
Faker: Please give us a lot of attention and anticipation for tomorrow's match. We will try our best to show good results at the upcoming Asian Games.
Kanavi: I won't let my guard down just because I won today and I will also prepare hard tomorrow.
Zeus: I won't let my guard down and will prepare well.
KkOma: I will always be alert and prepare well for tomorrow's match. The players of each team join the national team with a sense of responsibility. Because I represent the country, I consider the teams as a team, not as an individual. So I will make sure to support the players until the end.