The Better Choice Awards 2023 Gala night has just officially ended with uniquely eye-catching sound and light performances combined with technology. Also here, Samsung had a big win with 3 major awards, including 2 categories of Home Appliances.
To be exact, in the category of Home Appliances with Innovative Design, the Samsung Bespoke refrigerator won first prize with the highest overall score, reaching 1st place in almost every aspect, from the number of votes from users until scores from the final appraisal board.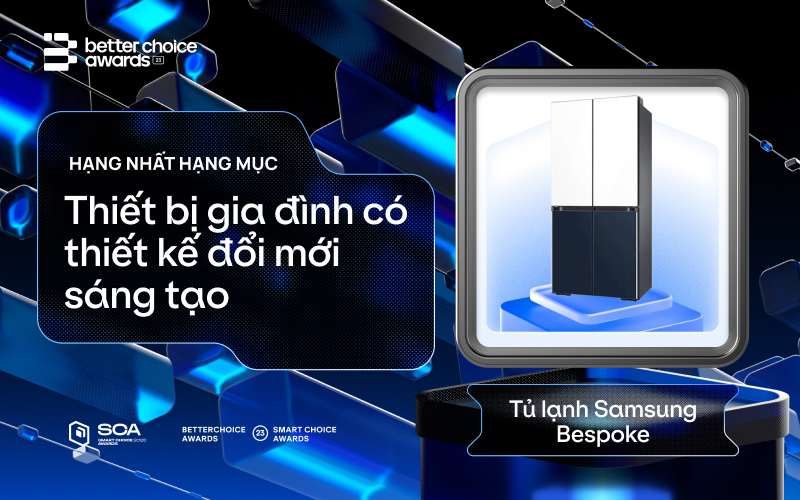 The two devices ranked 2nd and 3rd in this category are the Samsung The Frame 2023 TV and the LG Puricare Aero Furniture Air Purifier. Both of them really have impressive designs, meeting the criteria of Innovation, but unfortunately they cannot surpass Bespoke refrigerators.
Top 5 Home Appliances with Innovative Design at Better Choice Awards 2023:
1. Samsung Bespoke refrigerator
2. Samsung The Frame TV
3. LG Puricare Aero Furniture air purifier
4. Ecovacs Deebot X2 Omni vacuuming and mopping robot
5. LG InstaView refrigerator
Next, in the category of Breakthrough Home Devices thanks to Artificial Intelligence, the Samsung Neo QLED 8K TV line was honored when it achieved a high overall score superior to its competitors. It seems that this is the best overall choice in all aspects, so it received a very high average rating from both users and the final appraisal council.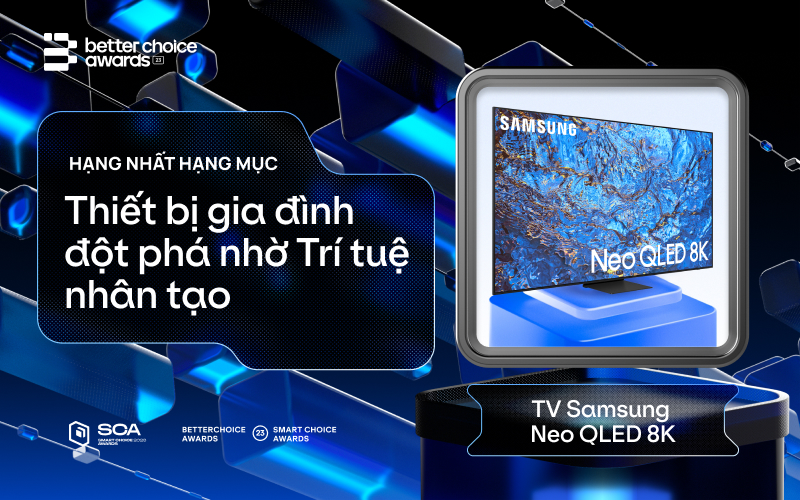 The device with the next highest overall score in this category is the Bespoke AI Ecobubble washing machine and the FPT AI Smart Camera. Both of them apply artificial intelligence very well to the user experience, but unfortunately it is not enough to convince consumers and the final appraisal council.
Top 5 breakthrough home devices thanks to Artificial Intelligence at Better Choice Awards 2023:
1. Samsung Neo QLED 8K TV
2. Samsung Bespoke AI Ecobubble washing machine
3. FPT smart camera
4. LG washing machine integrates AI DD technology
5. Ecovacs Deebot X2 Omni vacuum cleaner and mop robot