Similar to other games, Lien Quan Mobile's Binh Nguyen Endless has never been considered an "easy" area. Possessing a huge number of players at all levels, winning this game requires many different factors. Among them, the most important is still personal handling skills. In addition, gamers also need to know how to look at the team, judge strategies and have a little luck to get high results.
However, not all players are aware of this. On the contrary, they are too dependent on lucky conditions, looking forward to the ability of others to "carry the team" to benefit. This group of people is often underestimated by the community and called with many bad nicknames because their combat performance index (KDA) is so bad. Typically, the guy below "excitedly" showed off his record losing streak, making the community extremely angry.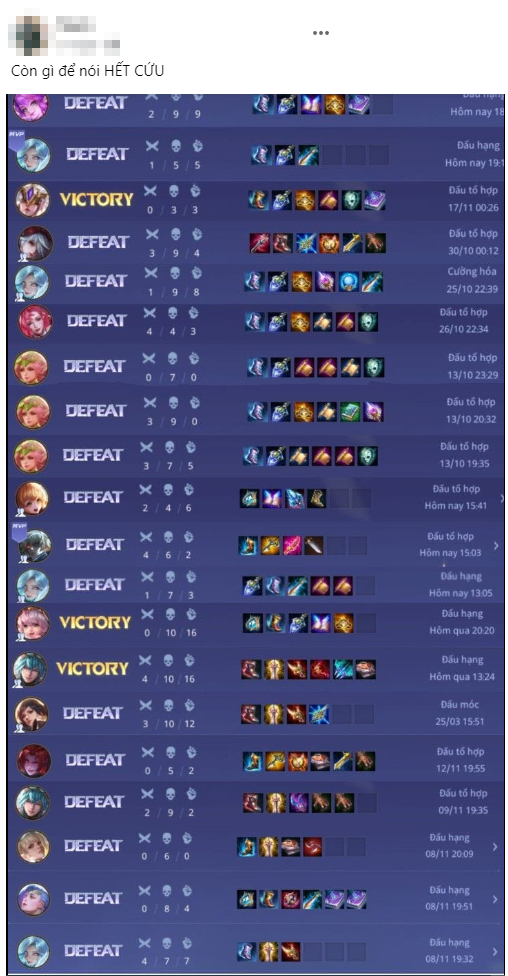 The gamer's "endless" losing streak makes viewers "angry".
Originally, the owner of the post just wanted to "ask for help" from netizens to improve his winning rate in the future. However, when looking closely at KDA in the matches, viewers realized that he was also "not average" because his stats were too poor. He even "trolled" and set up game-breaking items in a few previous losses. Therefore, the "green" match history is an unfair result that this gamer deserves with his gaming skills and attitude.
As soon as he posted the article on social media, instead of receiving words of encouragement, he was heavily criticized by the Lien Quan Mobile community. In the comments section, a series of criticisms continuously appeared, asking him to change his gaming mindset so as not to affect his teammates.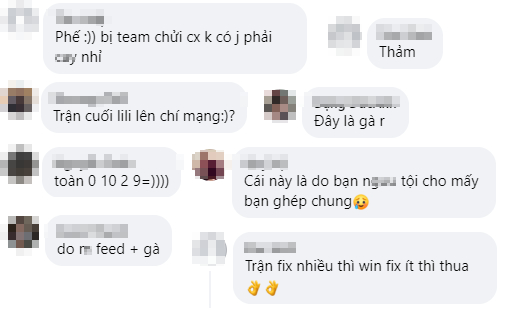 This guy didn't realize that he was the reason for the losing result.
It can be affirmed that with the above level, this player's poor results are understandable. However, it seems that the owner of the post still does not realize that the main reason is from himself. Hopefully, after a strong "education" from the community, he will be more self-aware and improve to change his achievements in the future.