In DK's win over NS, ShowMaker performed a very different Leblanc from the Statikk Electric Knife and was popular soon after.
Deft is back in the DK roster after the team's unfortunate defeat to BRO because Deft took a break due to covid. Although he could not reunite with the members at the official stage, Deft still played an important role in helping DK win against NS. Of course, if anyone has watched that pair of matches, the unforgettable highlight is the general Leblanc with the Electric Knife gameplay that is storming all the time servers. ShowMaker had an interview explaining his choice.
How do you feel about today's match?
Acorn: After losing the previous match, I really want to win today. It's a relief that we won as prepared for the plan. We still have some matches against strong teams in the first leg of the group stage. I think it's really important to prepare well for the coming weeks.
ShowMaker: Although Deft was sick, he did a great job today. Also, I want to win today because it's Canyon's birthday. I'm so glad we did.
Rahel can absolutely be used. Why do you still choose Deft even though you have to play online?
Acorn: First of all, it seems that Deft is in good health and he wants to play as well. Rahel didn't have a really good debut, but next time she'll have a chance to prove herself.
(To ShowMaker) You had a great performance with LeBlanc. Can you explain your choice?
ShowMaker: I am a regular Leblanc user and am always looking for new playstyles that are suitable for my champion. I picked Leblanc in both games with the confidence that I could use this champion effectively.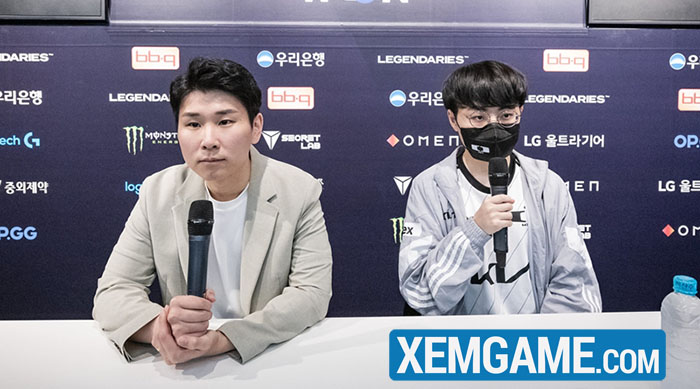 If you win the match against BRO, you will have a chance to compete for the top spot. How can you overcome previous failure?
Acorn: As we prepare for the season, our biggest goal is to reach Worlds. We need to think long-term instead of worrying too much about one or two defeats in the group stage or right now that are due to objective issues. We have to focus on the remaining matches. The players and the team weren't affected much by the outcome of that game, so it wasn't difficult for us to come back after the loss.
Have you talked to Rahel yet? What did you say to Deft before today's game?
ShowMaker: If I were in Rahel's situation, I would be very sad. If there is another chance, I want to give her the first win. I don't talk much with Deft. He looks good despite playing online, so I joked that he should play in LoL Park with us.
Acorn: I'm sorry for Rahel because he had to play in the LCK without pre-match preparation. I also apologize that we couldn't create a suitable environment for her to play comfortably. She has a difficult schedule because she has to compete in the LCK immediately without notice, so I want to apologize. I also want to thank Deft for playing today despite being sick.
DK has a tough schedule ahead of them. How will you prepare for the matches next week?
Acorn: We're trying to find what's easy and comfortable for players as they play. I need to communicate a lot with the players and prepare well to win. I can't discuss detailed strategies here, but I want to beat KT, the team we're going to face in the upcoming match.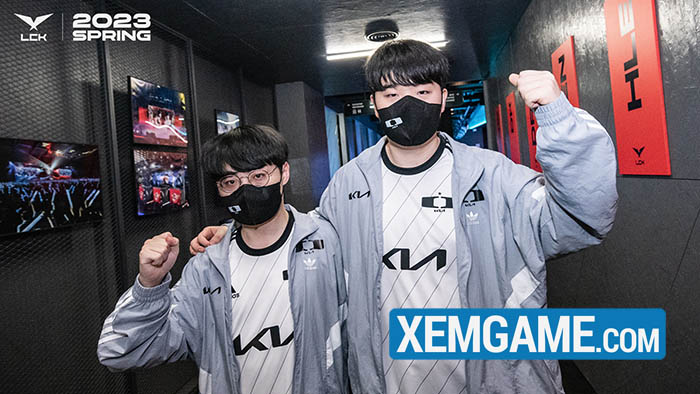 In game 1, the opponent did not ban Neeko. In the LPL, Neeko is not a must-ban champion, but in the LCK it seems different. Why is Neeko considered OP in the LCK tournament?
Acorn: In the LPL, Neeko isn't banned for about half of the games, but when picked, he often delivers excellent handling situations. Victory is not guaranteed in the late game, but when Neeko is unbanned, the teams must have their own reasons. We usually play Neeko in mid and jungle in scrims, so I think we'll pick Neeko if he doesn't get banned. If you ask if Neeko is strong, we think Neeko is a must-ban champion.
Any final comments?
ShowMaker: Happy birthday, Canyon. I'm very happy we won today and I hope Deft makes a full recovery and puts on some outstanding performances at his peak. Thank you to all the fans who cheered for us.