Buying sugarcane juice by the liter, going to the refrigerator to drink it gradually, sounds like a very economical choice at first glance: A 500 ml cup of sugarcane juice (half ice) costs 10,000 VND. But a liter of sugar cane juice only costs 25,000 VND. With a liter of sugarcane juice, you can make 4 cups of iced sugarcane juice, saving VND 15,000.
In fact, the sidewalk sugarcane juice shops in Vietnam are running an indefinite discount program of up to 37.5% – higher than the discount of Amazon, Walmart and Best Buy during the biggest shopping holiday of the year Black. Friday.
Who wouldn't be shaken by that unbeatable discount? 20,000 VND for 2 cups of sugarcane juice, or 5,000 VND more, you will have 4 cups? Selecting sugarcane juice by liter is obviously more economical.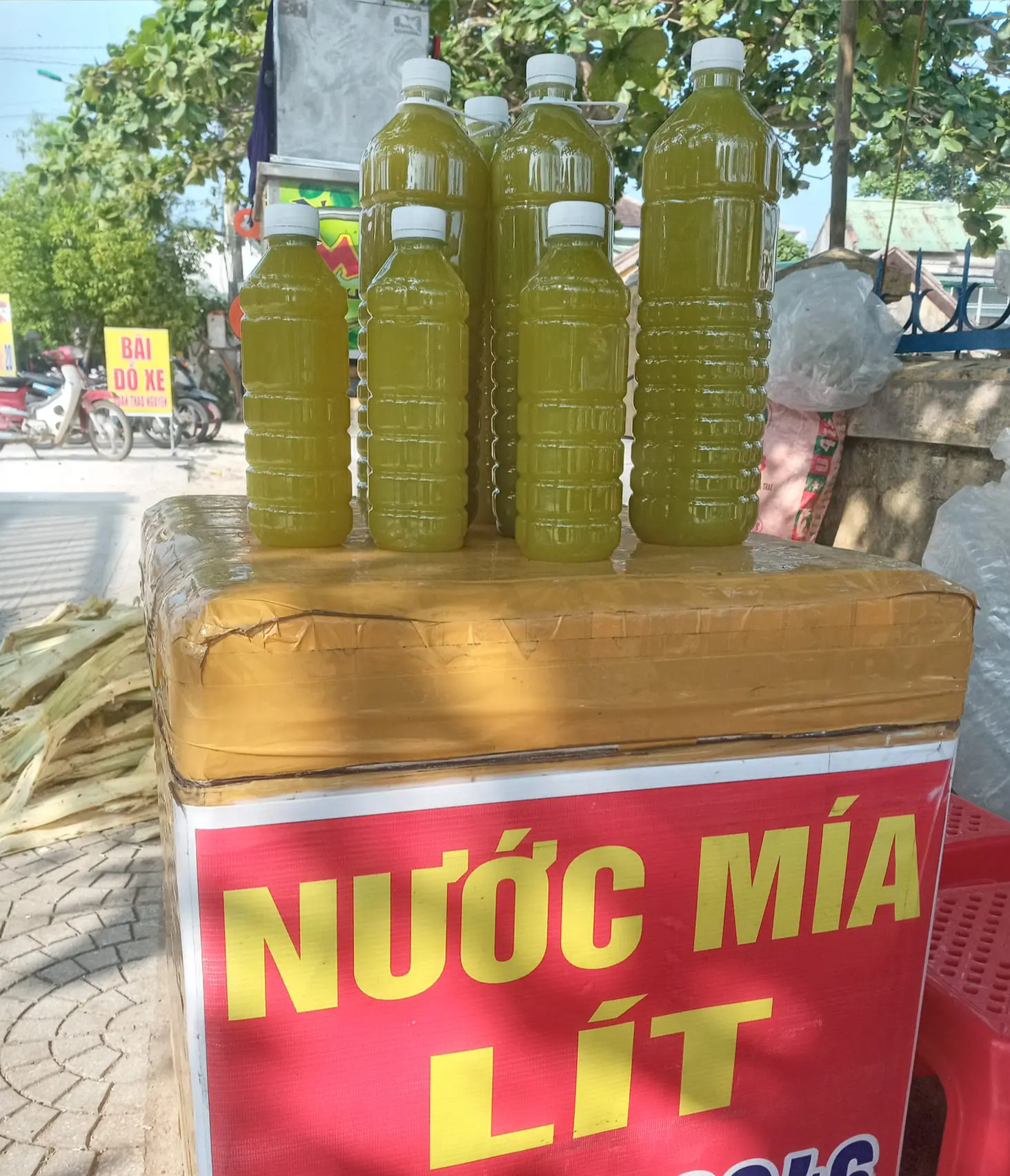 With a discount higher than Black Friday, many people think that liter cane juice is a reasonable choice.
However, many people who bought sugarcane juice like this had to regret it, because after just one night, the whole bottle of sugarcane juice left in their refrigerator was sour, browned and no longer drinkable.
If you have also been in this situation, you need to know where you went wrong?
I brought the sour cane juice bottle to complain to the shopkeeper and received the answer: "You have to put the sugarcane juice in the freezer, and I can't guarantee it for you to keep it cool".
Indeed, that is how to preserve the shortest shelf life drink on the planet: Sugarcane juice.
The shelf life of sugarcane juice is… 45 minutes
The reason that sugarcane juice spoils quickly is because this drink has two conditions that promote rapid fermentation: First, it is a high concentration of microorganisms. The second is the road.
A study published in the East and Central African Journal of Pharmaceutical Sciences found that fresh, unpasteurized sugarcane juice from sidewalk businesses can contain up to 25 strains of bacteria and 23 strains of fungi (15 strains of yeast and 8 strains of fungi). mold strains).
Bacterial counts ranged from 1.44×105 to 6.0×105 cfu/ml (colony units per milliliter) and fungal counts from 1.36×105 to 2.64×105 cfu/ml – exceeding exceed the specified limit from 10 to 100 times.
The source of bacteria and fungi in sugarcane juice can come from soil residue, even unwashed manure on the cane stem. They can also come from a mill, receiver, filter cloth or ice.
In addition, sugarcane juicers' hands, flies and cups are also sources of microbial cross-contamination for fresh sugarcane juice that scientists warn.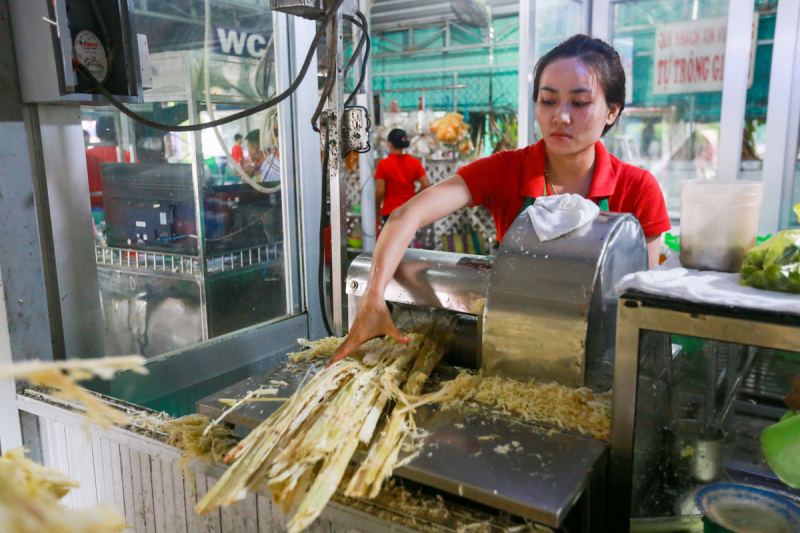 The process of squeezing sugarcane juice on the sidewalk is not hygienic, creating conditions for microorganisms to grow, damaging sugarcane juice.
The presence of microorganisms, especially yeast, promotes sugar fermentation which occurs according to the following chemical equations:
C12H22O11 + H2O + enzyme → 2 C6H12O6
C6H12O6 + 2 ADP + 2 Pi + 2 NAD+ → 2 CH3COCOO− + 2 ATP + 2 NADH + 2 H2O + 2 H+
CH3COCOO− + H+ → CH3CHO + CO2
CH3CHO + NADH + H+ → C2H5OH + NAD+
C2H5OH + O2 → CH3COOH + H2O
The products obtained from the fermentation of sugar in sugarcane juice include pyruvic acid (CH₃COCOO⁻) and acetic acid (CH3COOH) which is what gives sugarcane juice its sour taste.
Meanwhile, the browning process of sugarcane juice is due to the action of the enzyme Polyphenol oxidase (PPO), similar to the browning process of fruits such as apples, pears or avocados.
The rate of browning and fermentation of sugarcane juice depends on many conditions, such as temperature, pH and the concentration of bacteria and fungi present in the juice.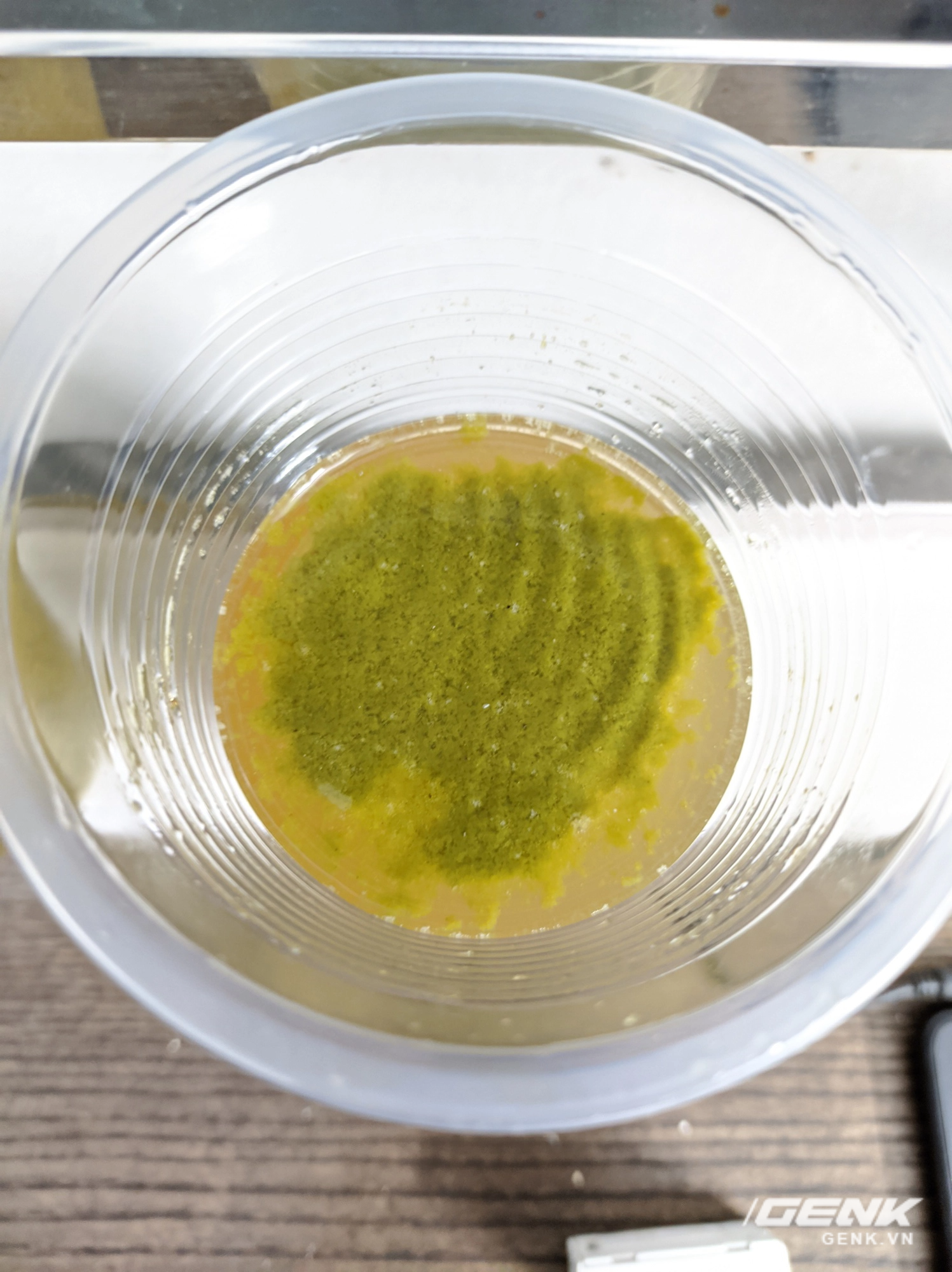 Above is a cup of sugarcane juice, which is fermented after 3 hours and 7 hours at room temperature (30±5°C), respectively.
A study published in the journal Sugar Tech by scientists in India (the country uses up 21% of its agricultural land just to grow sugarcane and then has to find a way to preserve it) says:
"The fermentation of sugarcane will begin immediately after its juice is squeezed out. Harmful enzymatic and bacterial reactions will cause fresh cane juice to turn brown and sour after only a few hours if left untreated. properly managed, this is a potential health hazard to consumers."
Published in the International Journal of Food Properties, another study specified an experimental "several hours" estimate and found that fresh sugarcane juice will spoil within 3-5 hours at room temperature (30±5 °C) and 8 hours in the refrigerator (4±2°C).
Sugarcane WNY, a sugarcane juice business based in New York, USA, even said that fresh, pure sugarcane juice pressed from cane stalks will denature within 15 minutes at room temperature.
After 45 minutes, your cane juice will "expire". It may not have gone bad, but is no longer defined as "fresh" cane juice pressed from the machine.
"We recommend that consumers drink fresh sugarcane juice immediately after juicing to get the best quality. If you want to slow down the oxidation process, you can squeeze a little lemon into a glass of juice or drink it with ice." , Sugarcane WNY said.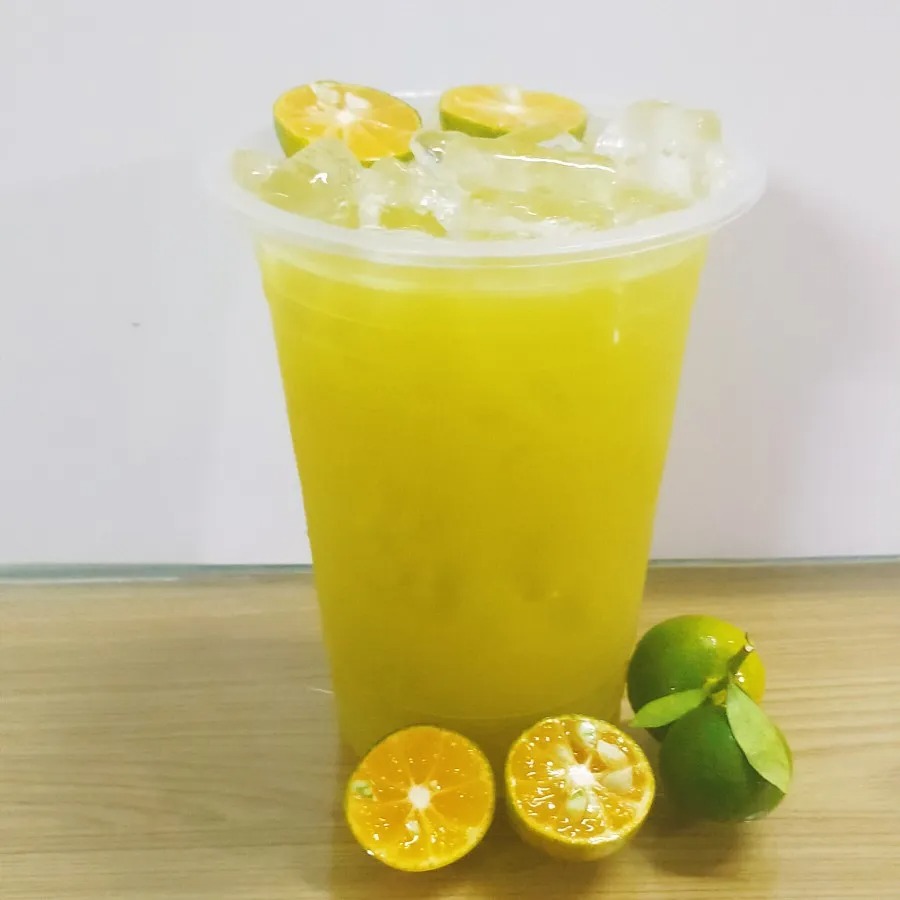 If you see kumquats added to sugarcane juice, it's not necessarily because of the taste.
How to properly preserve sugarcane juice?
That's right, if you've ever seen sidewalk cane juice bars squeezing kumquats or lemons with sugar cane, it's not exactly for the sake of flavoring. The reason is because kumquats and lemons contain a lot of citric acid, which has been shown to lower pH and prevent the oxidation reaction of sucrose (C12H22O11) thereby slowing down the fermentation process.
Ginger is also a spice often added to sugarcane juice. Scientific studies show that ginger contains many compounds such as 1,8-cineole, linalool, eugenol, and thymol – all of which have the ability to inhibit bacteria.
Experiments by Indian scientists showed that by pasteurizing sugarcane juice at 72 degrees Celsius and then adding lemon and ginger at the rate of 3 ml and 0.6 ml per 100 ml of sugarcane juice can prolong the shelf life of sugarcane juice. Store in the refrigerator for 8 hours to 1 week.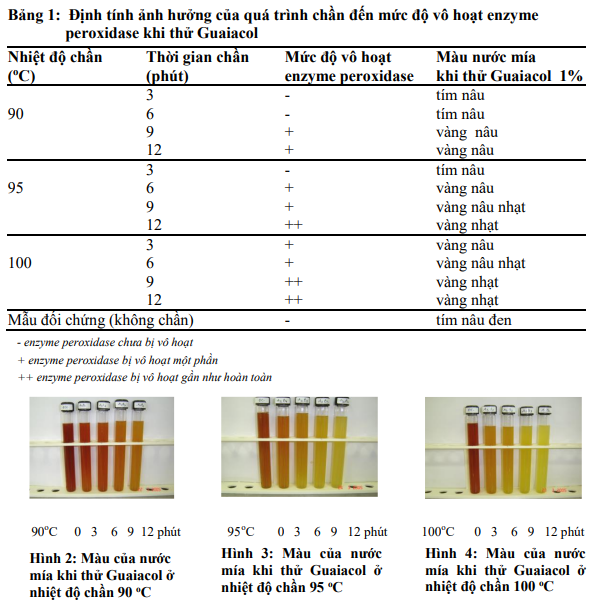 Blanching raw sugarcane for 12 minutes at a temperature of 100 degrees Celsius can reduce browning of sugarcane juice. Photo: Journal of Scientific Research, Can Tho University.
In Vietnam, a study by Can Tho University also demonstrated theoretically that adding citric acid to sugarcane juice, while blanching raw cane for pasteurization, can prolong the preservation time of sugarcane juice. In particular, this can help sugarcane juice to brown longer, keeping its color more eye-catching.
Combining the pasteurization process at 126 degrees Celsius for 10 minutes, then adding citric acid and sodium metabisulfate (SO2) at a concentration of 0.1% can increase the shelf life of sugarcane juice in the refrigerator compartment. at 4 degrees Celsius) to 105 days (or 15 weeks), according to the study published in the journal Sugar Tech.
Also by adding citric acid to lower the pH, pasteurizing, and then combining gamma irradiation to kill microorganisms in sugarcane juice, scientists can even extend the shelf life of this drink. at room temperature, from 3 hours up to 60 days.
In addition, scientists have also researched many more methods to increase the shelf life of sugarcane juice, from wrapping them in nano-films, releasing electric pulses to boiling sugarcane juice in ozone…
But as you can imagine, most of these methods require the use of chemicals or expensive equipment. They are usually only applied in industry – for businesses who want to produce, can can, and export sugarcane juice.
For consumers, a person just turns to the sugarcane juice shop on the sidewalk, buys a one-liter bottle of sugarcane juice home and keeps it in the refrigerator, the best and easiest way to preserve it is still to put the whole bottle of sugarcane juice in the compartment. stone.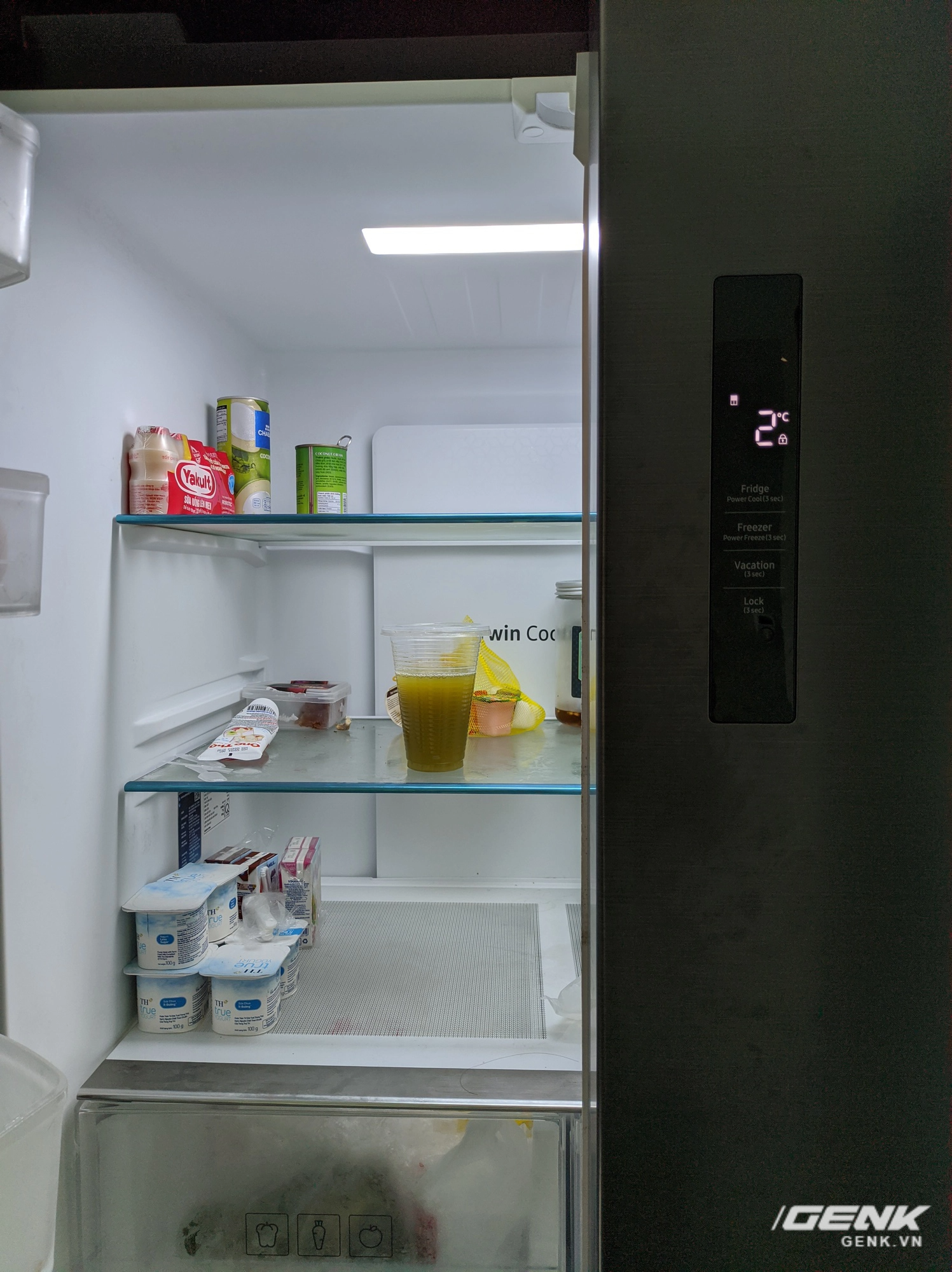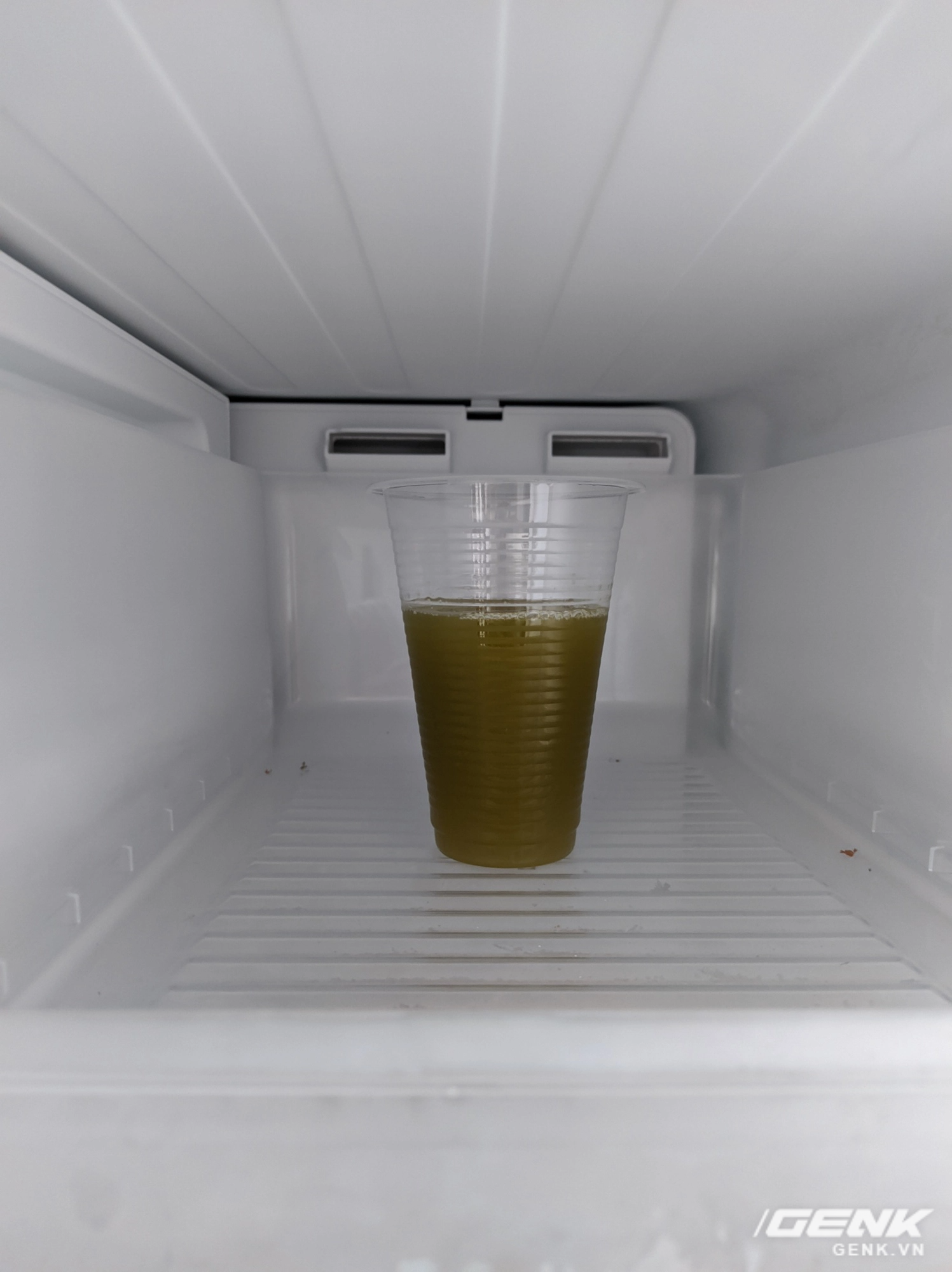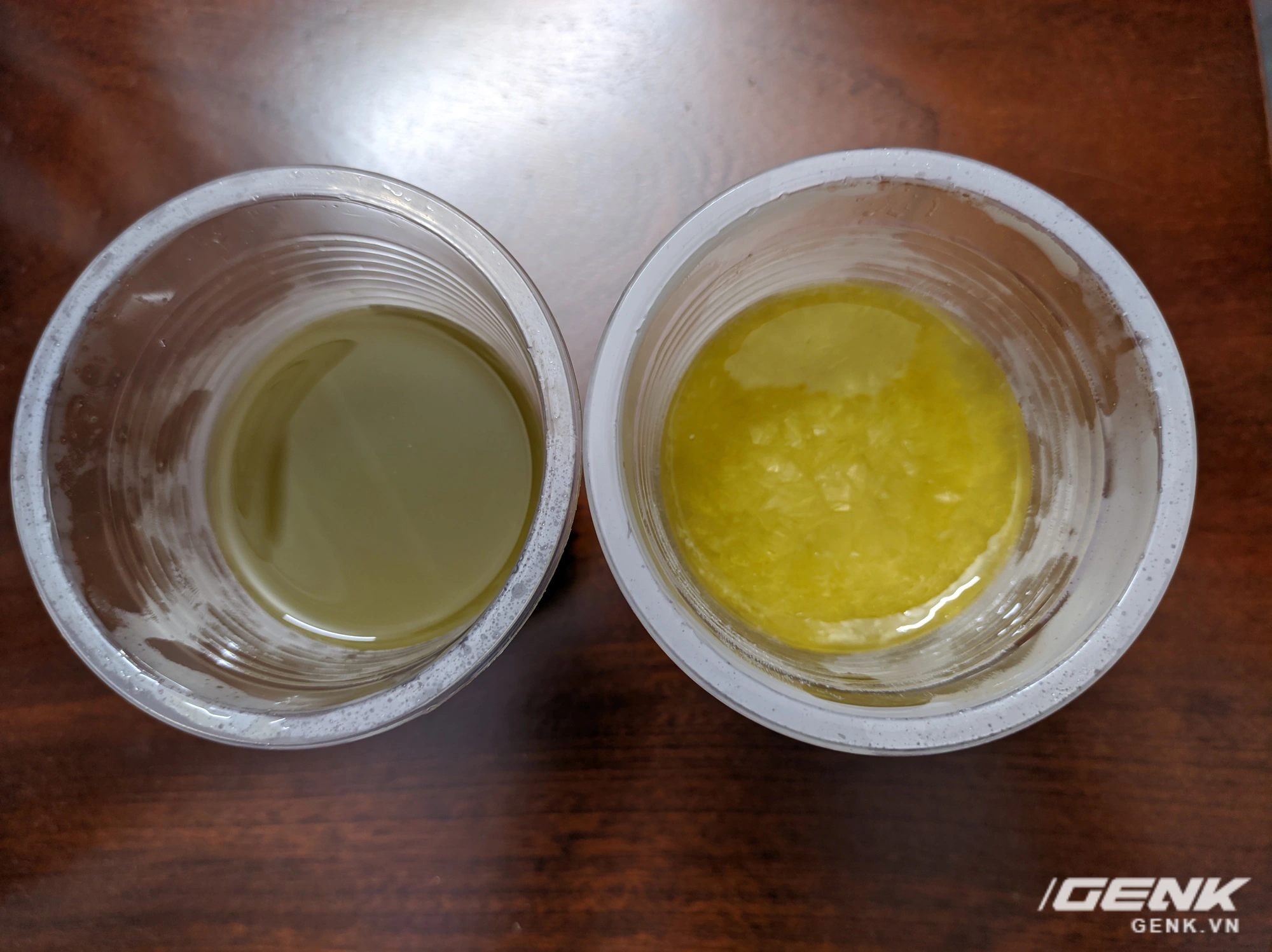 After one night (12 hours), the sugarcane juice in the refrigerator compartment (left) has browned, no longer fragrant, while the sugarcane juice in the freezer (right) still retains its taste and eye-catching green color. .
Scientific tests show that simply by putting sugarcane juice in the freezer compartment, you can keep both the color, taste and quality of sugarcane juice for 3 months without adding any chemicals. or any other preservative.
With a freezer whose temperature can be lowered to -20 degrees Celsius, sugarcane juice can extend its shelf life up to 10-12 months without spoiling.
Choose to buy sugarcane juice to ensure food safety and hygiene
Sugarcane (Saccharum) belongs to the family Poaceae, is one of the 10 most cultivated plants in the world. With the advantage of cheap, easy access and sweet taste, sugarcane juice is also popular in many countries, as a popular summer day refreshment.
Not only that, sugarcane also contains many polyphenolic compounds, minerals (such as potassium, calcium, salt, iron and magnesium), ascorbic acid and fine fiber making it a remedy for many ailments from fever, jaundice to kidney problems.
Research shows that sugarcane juice also has the effect of enhancing vision, improving heart and brain health. With its high flavonoid content, it also has the ability to protect cells from degeneration, reducing the development of cancer and cardiovascular disease.
However, in many countries, especially Latin America and Asia, sugarcane juice is often retailed by local suppliers, on the sidewalk, so it is not safe to eat.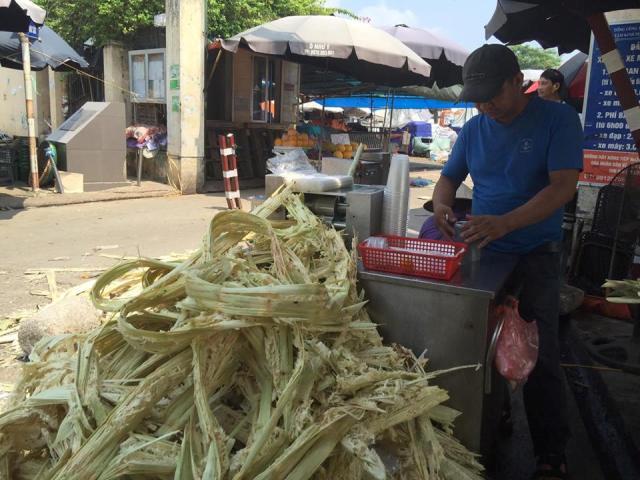 Unhygienic sugarcane juice can cause bacterial infections, abdominal pain, and digestive disorders for those who drink it.
In 2015, Sac Ky Hai Dang – one of 310 laboratories under the Eurofins system, the world leader in food quality testing – took random samples at sugarcane juice stores in Ho Chi Minh City. and detected: Each 1 ml contains 210,000 Coliforms bacteria, 490,000 aerobic microorganisms and 18,000 yeast and mold spores.
According to Mr. Huynh Ngoc Truong, Head of Microbiology Testing Department, Hai Dang Chromatography Center, the microbiological indexes in this test sample are from 1,000 to 10,000 times higher than the norm on the Regulation on maximum pollution limits. Food biology and chemistry by the Ministry of Health.
The test results of pavement sugarcane juice samples carried out annually by the Food Safety Department of Ho Chi Minh City also showed that the amount of aerobic microorganisms, Coliforms, E.Coli bacteria exceeded the allowable limit.
Mr. Truong warned that the presence of microorganisms in large quantities such as in sugarcane juice may cause the risk of bacterial dysbacteriosis, abdominal pain, and digestive disorders for those who drink it. To avoid this from happening, you should only choose to buy sugarcane juice from reputable production facilities.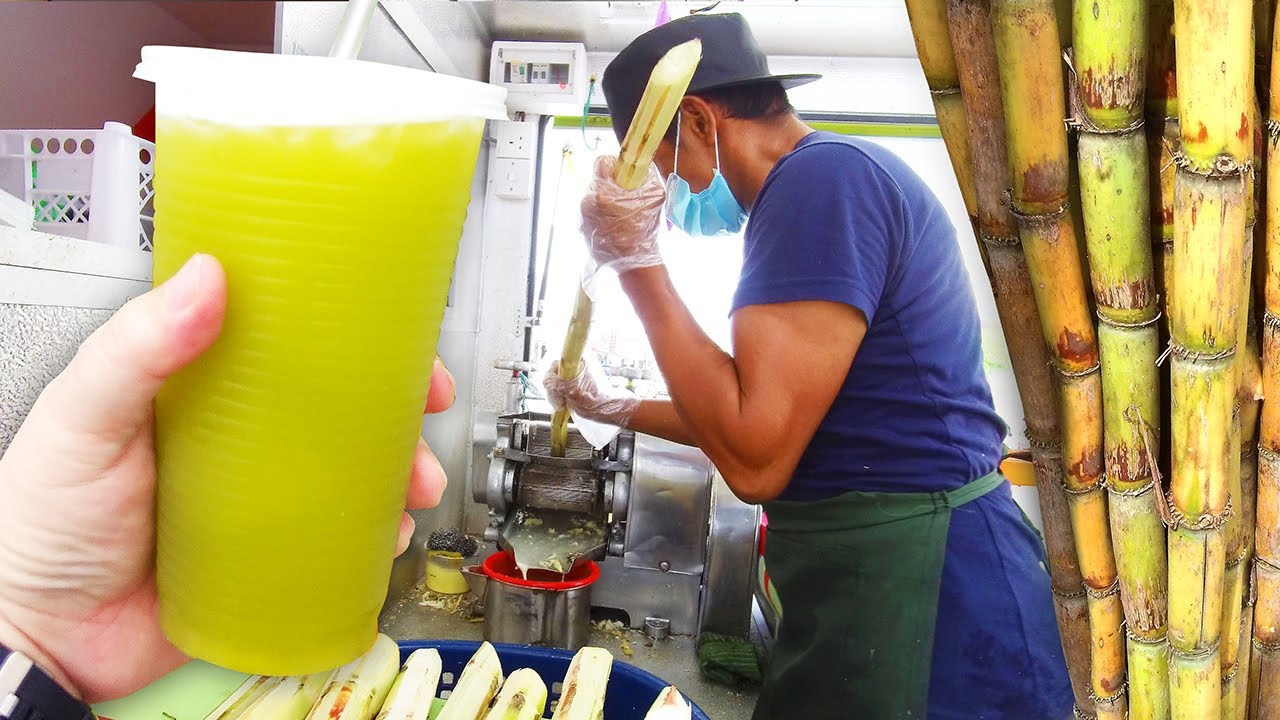 How to choose a clean sidewalk sugarcane juice shop?
Here are some notes to help you choose a sidewalk sugarcane juice shop that ensures food hygiene and safety, according to the clean practice process of Fraser Health, Canada:
1. Sanitary sugarcane press area Do not leave bagasse in the pressing area as they can ferment and attract flies
2. Use fresh raw cane, peeled and cleaned of dirt
3. Shop owners wash their hands before and after pressing sugarcane
4. Sugarcane presses and tools such as collection vessels and filters are cleaned and disinfected every 4 hours, including the beginning and the end of the business day.
5. Store raw cane and sugarcane juice in the refrigerator. Do not use raw cane and sugarcane juice after 2 hours at outdoor temperature.
With the above knowledge, hopefully you will choose for yourself a reputable address to buy sugarcane juice, ensuring food hygiene and safety.
Synthetic