The level of danger of Himawari will likely be revealed in Boruto: Two Blue Vortex, Chapter 2 in the last days of September.
For those who don't know, Boruto Two Blue Vortex officially revealed as a sequel to Naruto Shippuden in the original Boruto series.
If this manga maintains its monthly release schedule, chapter 2 will quickly reach the entire audience on September 21.
>>SEE MORE: 5 reasons why Shikamaru Nara is more suitable to be Hokage than Uzumaki Naruto!
Boruto has been training with Sasuke for 3 years, so he is definitely a lot stronger than we imagined. The same happened to Sarada, who despite not having a tutor like an Uchiha student, certainly improved exponentially thanks to the Hypnotic Sharingan.
However, there is a third character that we absolutely must not underestimate in terms of danger: Himawari.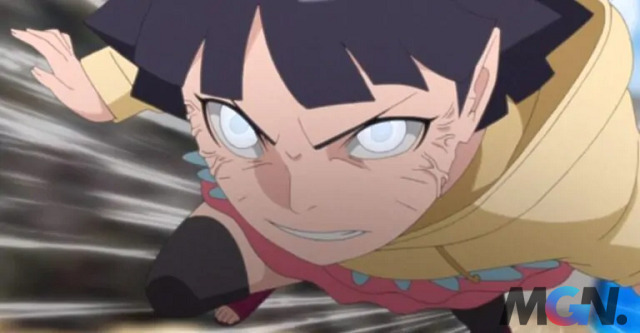 Naruto's second daughter has repeatedly shown that she is exceptionally gifted, even more so than her brother, in using the Byakugan and Gentle Fist in general despite being only 10 years old.
However, the basis for asserting Himawari's strength does not stop here and she can become stronger and more dangerous as she grows up, which is a specific dialogue that takes place at the end of Boruto: Naruto Next Generations.
In this short one-page dialogue, Daemon (Eida's younger brother and a member of Kara's group) asks why Himawari doesn't shy away when he fights her and the answer is: 'it would have been easy for her. Someone like you'.
Just then Boruto points out that his sister is not yet a Ninja and doesn't know how to fight, and Daemon looks even more confused than before.
Daemon stated that when up close, Himawari actually seemed quite weak, but he felt the power emanating from this girl was unusual.
We still don't know what he's referring to, is he implying the power of the Hyuga or some other kind of power hidden within Himawari, such as the sleeping Ohtsutsuki cells?
To know the truth, there is no other way, we will have to wait for the next chapters of Boruto.
Finally, don't forget to follow Game8Z regularly to continuously update new news about the best anime/manga series!