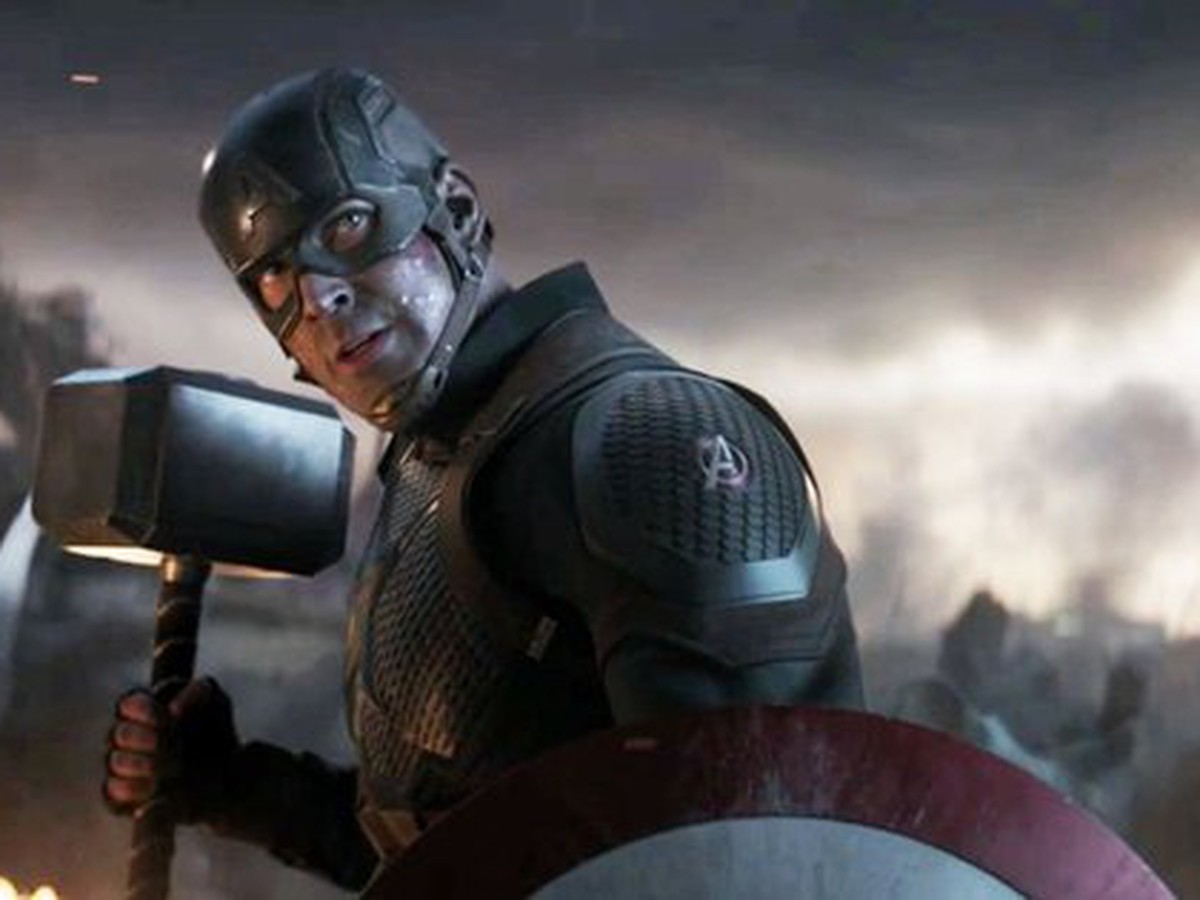 Steve Rogers/Captain America's vibranium shield and Thor's Mjolnir hammer are two of the most classic weapons of the Marvel universe. Very few superheroes have ever had the opportunity to use either of these two treasures, and the number of characters who have used them at the same time is even low enough to count on a finger.
However, in the history of superhero comics, there have been some big names who have had the opportunity to "two hands, two weapons", one shield and one hammer to fight enemies. Even more surprising, among them is a superhero from DC – Marvel's biggest rival.
Captain America
Even readers and mass audiences know that Captain America used to use vibranium shield and Mjolnir hammer at the same time – Photo: Marvel
The vibranium shield is a weapon associated with the image of Captain America. But throughout the history of Marvel comics, Captain America has used many different versions of the shield, ranging from a simple piece of metal in the Golden Age (from 1941) to the Round shield is inherently familiar to fans. Later, Captain America also had the opportunity to use the magic hammer Mjolnir to combine with his shield, thereby perfecting both his offensive and defensive abilities.
This detail was shown very clearly in the final battle of Avengers: Endgame, when Captain America confronted Thanos and even proved to be "above" the mad Titan. The Marvel Studios writers have confirmed that Steve has always been worthy of Thor's hammer. However, when participating in the challenge of raising the hammer in Avengers: Age of Ultron, he actively gave up to avoid hurting his friend.
However, Captain America used to use both shields and hammers in the comics many years before Avengers: Endgame came out. Specifically, in the Thor story chapter #390, released in 1988, Steve and Thor faced a group of soldiers and was almost overwhelmed because the enemy army was too large. In a moment of despair, Captain America decided to lift the hammer Mjolnir to Thor's surprise and describe the conflict to help himself get out of the situation.
Although soon after, Captain returned the hammer to Thor, but this was the first moment he used this legendary weapon with terrible power.
Doctor Doom
Doctor Doom is one of Marvel's most popular villains, also the only villain ever to use a vibranium shield with a hammer Mjolnir – Photo: Marvel.
Doom is the only villain on this list, although in the modern storyline, Doom doesn't really fit Marvel's evil standards anymore. From someone with the ambition to conquer the world, Doom gradually became a recluse and wanted to stay in Latveria instead of seeking to increase his power.
Still, it's hard to believe that Doom deserves to be able to use Mjolnir's hammer, because the crimes he committed in the past are so terrible and scary. In addition to the barbaric massacres, Doom is also a dictator who has repeatedly violated human rights in Latverian. Yet that unbelievable thing still happened, at least with Doom's "half personality".
In the All-Out Avengers #2 chapter, published at the end of 2022, Doom accompanies the Avengers when withdrawing from Dark Tide. In this series, Doom is a rather strange person, often doubting his own abilities, and sometimes also caring for others. That comes from the fact that Doom is divided into two different characters, Light Doom – the courageous, true superhero version, and Dark Doom – the version that always puts power above everything.
After being separated from his evil personality, Doctor Doom has become a true superhero and deserves to become the owner of the magic hammer Mjolnir. However, the character goes even further than that when he continues using Captain America's vibranium shield. That detail also shows that deep beneath Doom's evil cover are noble personalities that are not inferior to any other superhero.
Tigra
Tigra is a half-human, half-cat superhero – Photo: Marvel.
Greer Nelson/Tigra may not be as famous as Captain America or Doctor Doom, but this is still a character who has had the opportunity to use both the vibranium shield and the Mjolnir magic hammer. First introduced in the Giant-Sized Creatures #1 chapter, published in 1974 (though appearing two years earlier under a different name), Tigra is a half-human, half-cat, enhanced superhero. in terms of strength, speed, reflexes, and possessing many psychic abilities to a certain degree.
The moment when Tigra wields both a shield and a hammer comes from the series Defenders Beyond, released in 2022. In this series, the Defenders have to face many different threats, including the Beyonder, Phoenix and danger. most – themselves. Stranded on a strange planet, they become haunted by unrealistic dreams about the life they have always wished for. These dreams make their minds foggy and forced to choose between following their own secret desires, or side with their close comrades.
Crusader
Crusader is Captain America's daughter in another reality – Photo: Marvel.
Sarah Rogers/Crusader is the daughter of Steve Rogers and the mutant Rogue in an alternate reality, introduced to readers through the chapter What If? #114. Not only inheriting strange super powers from his mother, Crusader can also use the magic hammer Mjolnir like his father.
In this reality, the Battleworld from the Secret Wars event was never destroyed. The superheroes trapped here, including the Avengers and the X-Men, are forced to stop fighting with other supervillains. However, when Victor Von Doom's son plotted to take over Battleworld, Sarah Rogers led the Young Avengers against the villain. In the process, Sarah wielded both the vibranium shield and the Mjolnir hammer, similar to her father's.
Captain Marvel
Captain Marvel once "tricked" Mjolnir to be able to use this hammer – Photo: Marvel.
Captain Marvel is one of the most powerful superheroes of the Marvel universe. However, being able to use the Mjolnir hammer and Captain America's shield at the same time makes the level and stature of this character raised to a new level. However, Carol Danvers was never really worthy of Thor's hammer, but it took a bit of cunning to use this powerful weapon.
In Captain Marvel #16, Carol is captured by the villain Vox Supreme and connected to a strange machine that can "implant" the DNA of all other Avengers members, including her own. Thor. Thanks to that, after escaping from Vox Supreme, Carol can easily summon the magic hammer Mjolnir to fly towards her to use.
This chapter has caused quite a bit of controversy in the Marvel fan community, especially those who love Thor. Some argue that Mjolnir is a magical treasure and cannot be easily fooled by the thunder god's DNA in another character's body. This makes Mjolnir's criteria for selecting worthy people more complicated and confusing than ever.
Superman
Superman is the only DC superhero ever to have the honor of using both a vibranium shield and a Mjolnir hammer – Photo: DC
If there is one DC superhero worthy of Mjolnir, it must be Superman – the symbol of the purest moral in all of humanity, even surpassing Captain America. However, unlike Wonder Woman, who used Thor's hammer in the Marvel vs. DC (1996), Superman had the opportunity to wield a hammer and shield and was the only DC superhero to receive this honor.
During the JLA/Avengers combo event in 2004, the villain Krona planned to take over and control both the Marvel and DC universes. He's so powerful that he's unstoppable, at least until Superman shows up with his vibranium shield and Mjolnir hammer and ends this war. It is noteworthy that Thor actively threw his familiar weapon to Superman without even thinking about whether he was worthy or not.
These two weapons are both important symbols within the Marvel universe, with the shield being a scientific invention of mankind in the 1940s, and the hammer being the invention of the gods for worthy gods. most worth it. Both date back to the early Marvel era and are still exploited in many modern series, although not everyone has the luck and ability to use them. It wouldn't be surprising if the vibranium shield and Mjolnir hammer would continue to dominate the Marvel universe for decades to come.