On March 25 (Vietnam time), the audience witnessed one of the most attractive matches of the LCK Spring 2023 in particular and the history of this tournament in general. T1's first playoffs were again a tense BO5 even though they were chosen opponents. KT Rolster has brought the best "telecom war" in recent years. The result was KT's defeat, but both teams deserved praise.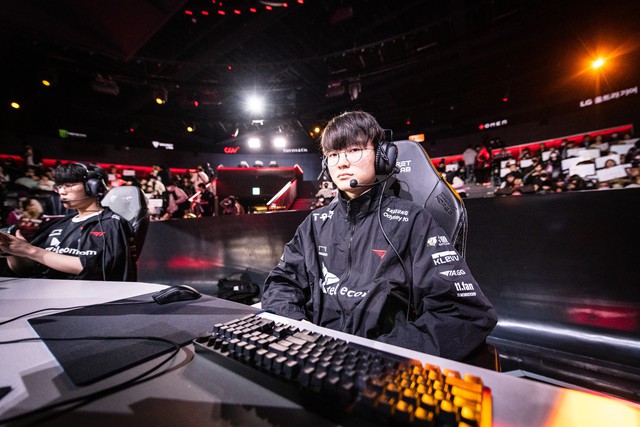 T1 struggled to overcome KT – source: LoL Esports
Of course, when the match was tense, the spectators and fans of the two teams also went from one emotional level to another. Even many fans of T1 or KT said that they were extremely nervous with each phase of the players' handling, sometimes even feeling "heartbreak" when one of the two sides acted unexpectedly. As one T1 fan shared, they felt "about to faint" when KT's Kiin teleported and destroyed the turret after a fight in the Elder Dragon cave.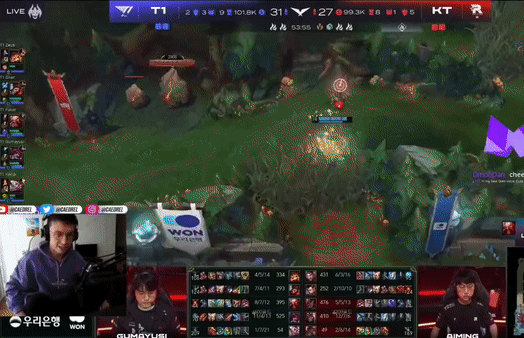 Kiin's turret push Teleport makes T1 fans "stop" – source: Twitter
But attracting all the attention must be mentioned an expression of a male T1 fan when he witnessed the performance of idol players. Specifically, as soon as he was excited after a winning fight phase of T1, this male fan immediately returned with a bewildered and lost expression. It all happened in just a few seconds, making everyone who saw it excited. Many T1 fans sympathize with this "180-degree turn of the wheel" expression when the T1 – KT match is too tense and the advantage can be changed after only one fight.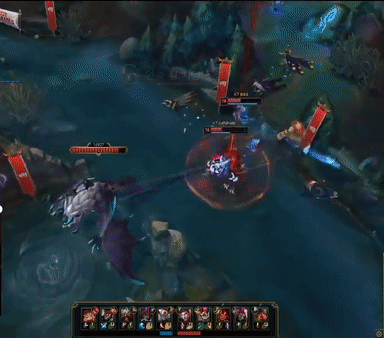 The expression of a male fan when the game turns too fast – source: Twitter
The expression of the male fan above is definitely the emotion of many T1 fans and the audience of the last playoffs. T1 and KT delivered a spectacular performance and the results led the two teams to two different destinies. But perhaps now, many people were expecting KT to reunite with T1 in the upcoming finals to witness another epic BO5 in the 2023 LCK Spring Split.