The final match between T1 and Weibo Gaming will be the last match of Worlds 2023 as well as of the world professional League of Legends. Because, after this match, all tournaments will officially end. And of course, in an extremely important match like the final, all factors will be taken into account and will be connected so that the audience can somewhat have more perspectives, as well as their own predictions. for the final result. As recently, the two teams had a coin toss to choose the team. According to the announced results, WBG will choose the Blue team and the Red team to belong to T1.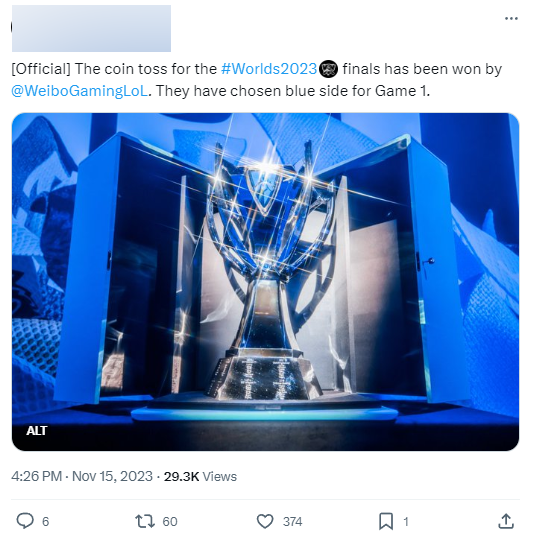 WBG will choose the Blue team for game 1 of the final against T1
Perhaps many people already know that choosing a side is also very important, especially at Worlds 2023 when the Blue side had a statistical win rate of up to 80% – an almost absolute number until after the end. Swiss ring. But according to some information mentioned before, T1 is a team with a very high win rate on the Red team (also 80%) in all of their games, as of after the win against LNG Esports. . It can be said that T1 is a rare team, no matter which side they choose, they still have a way to counter it. All thanks to the wide champion pool and diverse strategies of the players.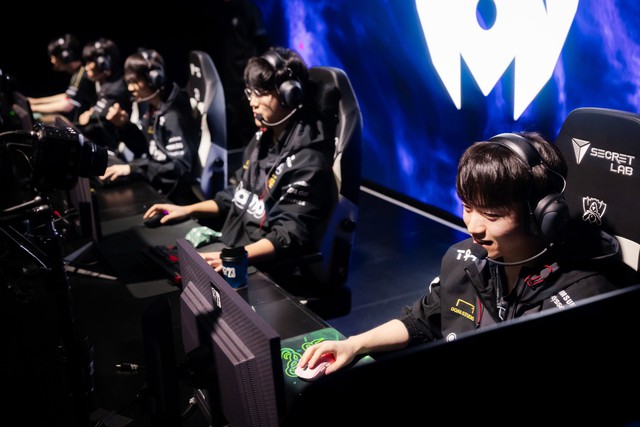 T1 is a rare team with a very high win rate on the Red side
But the audience also realized one more thing that could be a sign that T1 can absolutely win Worlds 2023. Accordingly, at this year's Worlds alone, T1 was wrong in all the coin tosses to choose the team. Or to put it more fully, T1 does not have the right to choose sides for all of their BO5 matches. This is completely different from Worlds 2022 when T1 won all side selections.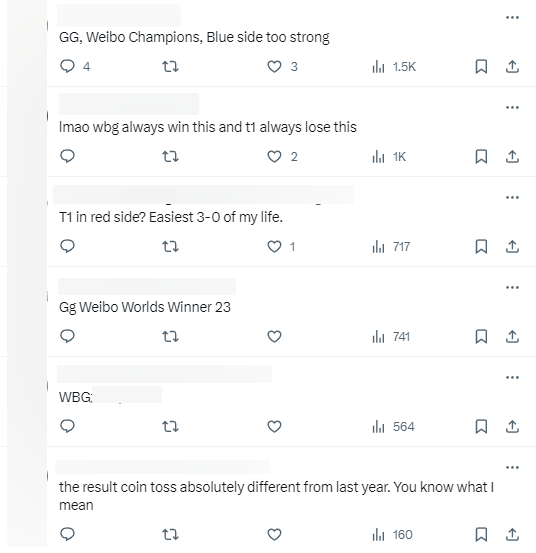 The audience debated the results of the coin toss and realized that this year's T1 coin toss all lost, completely different from Worlds 2022.
With their "achievement" of losing the coin toss, many viewers also think that T1 will also have opposite results at Worlds 2022. Last year, they failed in the final against DRX. This year, when T1 itself has a certain amount of caution and a much more flexible playing style, plus the "spiritual" element of team selection, fans can absolutely think of a positive result. More for Faker and his teammates.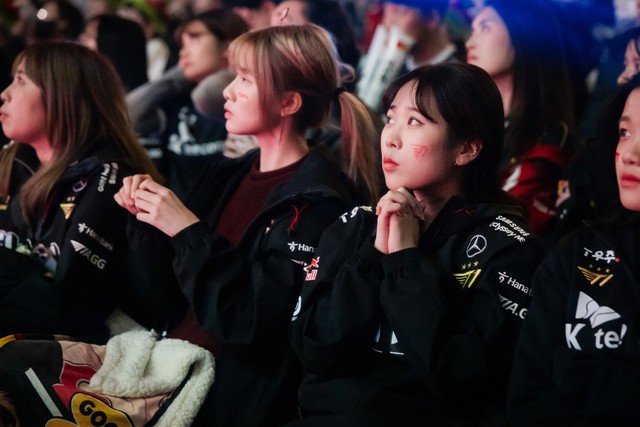 T1 fans have more grounds to believe that the home team will win the 2023 World Championship
Of course, this also depends on the players' concentration and performance. The flag has arrived, T1 players need to "wave" strongly to be able to complete the final stage of Worlds 2023.
https://gamek.vn/khan-gia-phat-hien-them-dau-hieu-dac-biet-cho-thay-t1-co-the-vo-dich-cktg-2023-ngay-ca-khi- tran-dau-chua-bat-dau-178231115175122167.chn