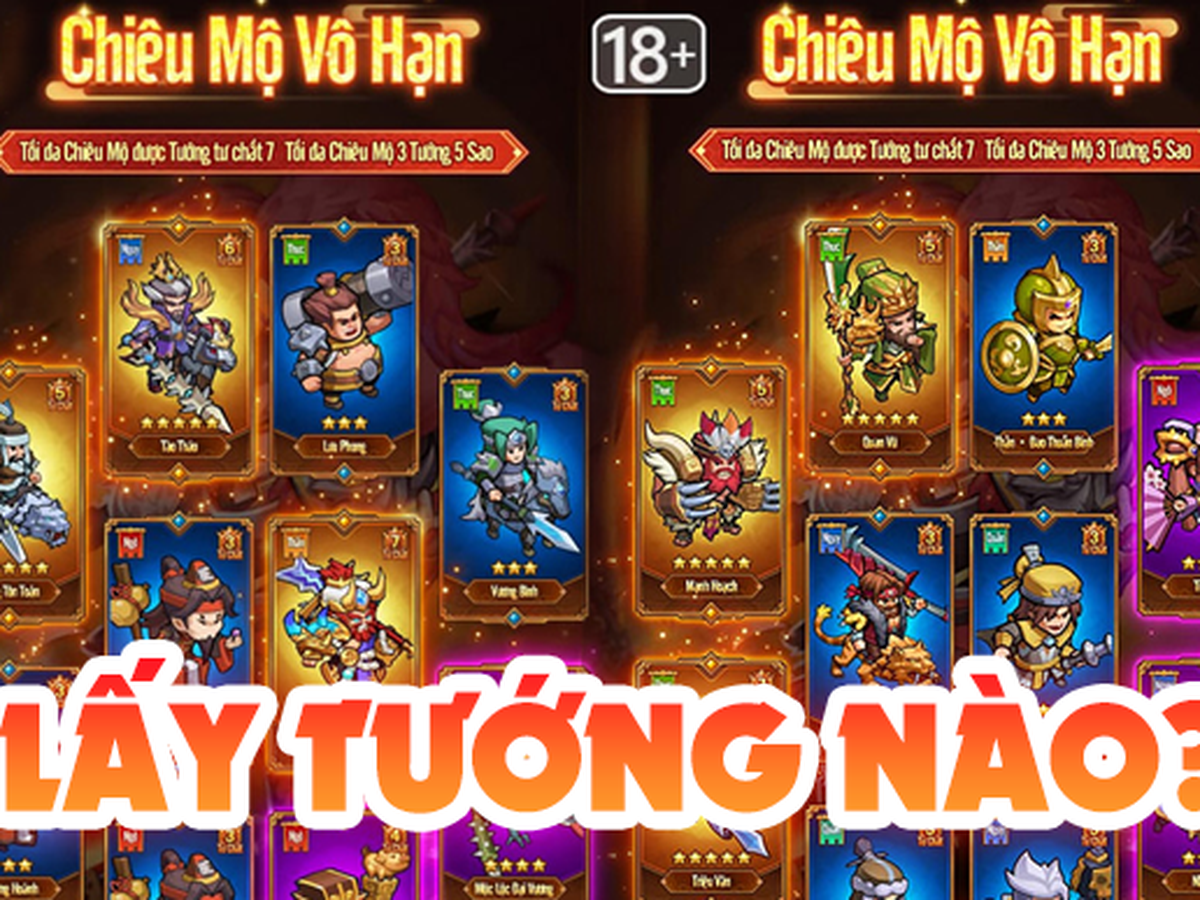 Not only 1 but 2, Three Kingdoms Chess will give gamers 2 free tickets to spin infinitely on the first and 7th day of login. With this ticket, gamers will be able to rotate the champion to their liking, turn until the champion they need, then receive and complete the missing piece in the squad.
Download game: https://tqchess.onelink.me/RCHt/PR
With these 2 tickets, along with 100 free spins earned on the first day, gamers will tend to choose all their hands on a certain champion to be able to raise stars quickly. The number of generals appearing in this rotation is very diverse, even the orange generals of quality 7 are not lacking.
Rotate comfortably, which champion should receive?
This is a difficult question, because each player, each type of squad will have a different answer. Everyone knows that the generals in the Three Kingdoms Chess all possess a unique set of skills, taking on the role of a clan – an irreplaceable system, that's why it's easy to turn into a champion while using that champion. need to be calculated.
According to the players who are deeply knowledgeable about this line, there is no definition of the strongest champion in the Three Kingdoms Chess, you can only find the pieces that best suit your gaming orientation. However, in the early stages, when passing the stage quickly is the common goal of many people, there are a few names that are preferred.
One is Trieu Van, belonging to the Thich Khach tribe, which has been sought after by many gamers since the first days. The reason is because Trieu Van possesses a fast attack speed, a skill with stun, is an assassin who jumps back, so he can approach the enemy gunner and mage easily. Not to mention, Trieu Van also has the ability to dodge, take damage, and counterattack, so the initial plowing and climbing tower is very strong.
The second is Lu Bu, quality 7 but can still easily turn out in the infinite recruiting round. Lu Bu fights hard, the more he plays, the hotter he gets, while buffing himself by 60% attack speed, and stealing 20% ​​of the attack of the defeated enemy champion, immune to magic damage, direct damage as a percentage of enemy health. This is also the optimal choice when hunting Boss.
Third is Truong Phi. Truong Phi is currently a phenomenon in the Three Kingdoms of Chess thanks to his ability to 1 kg 7 god, the more blood loss, the stronger. Truong Phi's skill set focuses on survivability when health is weak, health drops below 40% automatically into a frenzy. This state allows Truong Phi to be immune to control, increase attack speed and heal continuously.
Finally, a new name that has emerged recently is Wei Dien, also of the Thich Khac system, which is a stronger version of Trieu Van when possessing a skill set to destroy the enemy's rear. Wei Yan has the ability to deal large area damage, increasing his own attack up to 30%, 50% attack speed. Wei Yan also copes well with enemy tank champions thanks to a 50% chance of breaking armor and inhibiting the target.
Above are 4 generals who are showing their strengths. However, no one in the strategy game can use one type of squad forever, at first, prioritize choosing a solid start, easy to play, easy to raise, then through each stage, each chapter will gradually create more, try Experience more to flexibly switch, gain more experience and think about what is suitable and what is not suitable for the current situation.
Recently, Three Kingdoms Chess has also officially released the first update called Long Ho Ky Mon, with the spectacular appearance of God Zhuge Liang. This is a dual-type general with the ability to heal teammates, create extremely strong damage and cause a quiet effect for surrounding enemies.
In particular, God Zhuge Liang has the ability to respawn in the form of Crouching Dragon after dying for the first time, "changing Human – Dragon form" and changing skills. It can be said that new challenges will be continuously added in the Three Kingdoms Chess for gamers to unleash their creativity and conquer.
Welcome the new update, Three Kingdoms Chess offers all gamers valuable gift codes.