So, after many days of waiting, Teamfight Tactics season 9.5 has finally officially launched to the gaming community. There have been many big changes, both in terms of mechanism and chess pieces present in TFT. Therefore, players need to have new tips, as well as update information to be able to climb rankings effectively. One of them is the Legendary mechanism – one of the mechanisms added since season 9 and contributes greatly to the match results.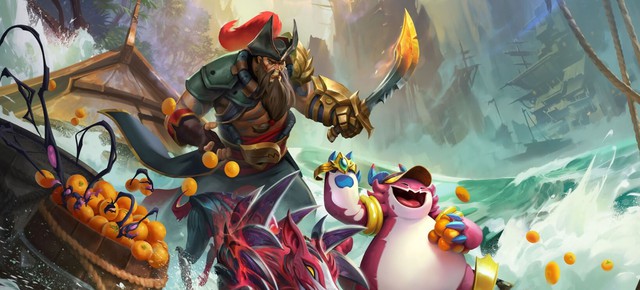 TFT season 9.5 has officially begun
At the present time, although TFT season 9.5 has only been going for a very short time, these are the 3 most popular Legends, because of their effectiveness as well as the benefits and ability to change the outcome of the match. of them.
Legend of Ezreal
One of the new elements is the new equipment series that will appear in TFT season 9.5. Worth mentioning, in recent TFT seasons, Riot has made equipment increasingly important as they greatly impact the match results. Therefore, if you own a lot of equipment and equip the main generals, the player will have a huge source of power to win.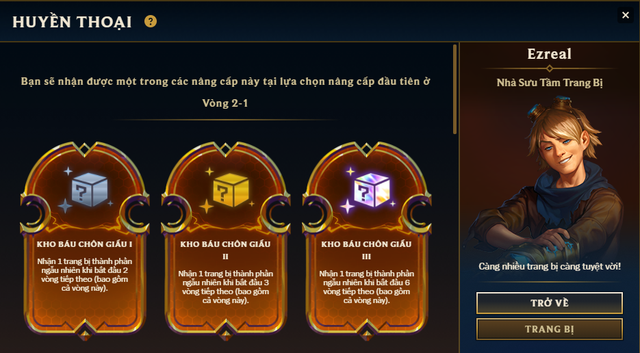 Legends of Ezreal provides a large number of equipment components
Therefore, Legendary Ezreal with its ability to provide a large amount of equipment and components is popular. With the appearance of many new items of equipment, players like Legend Ezreal even more. Not to mention, competing for equipment and components in TFT is inherently difficult, but with Legend of Ezreal, gamers do not need to compete too much to get the items they need.
URF Legend
In recent TFT seasons, Riot has focused more on developing the power of the clan system. Specifically, different level milestones will give different strength milestones for generals. If in the early seasons, activating clans was not too important, today, gamers prefer to stimulate clans to the highest level to maximize squad effectiveness.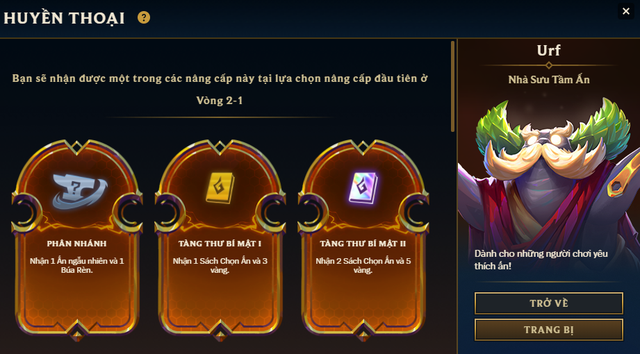 URF Legends will help players easily trigger clan milestones
That's why URF Legend provides clan seals that will promote their strength. In addition, with TFT season 9.5 bringing many new clans, players will definitely want to experience all the unique, unique lessons. At that time, URF Legend will be the most reasonable and effective choice.
Legend of Ornn
There is no need to wait until season 9.5 for the Legend of Ornn to prove his strength. The extremely powerful equipment that Ornn provides will be effective choices for gamers in their journey to climb the ranks. Not to mention, if Legendary Ornn can be combined with Jayce's Workshop portal, these upgrades will become even more powerful than ever.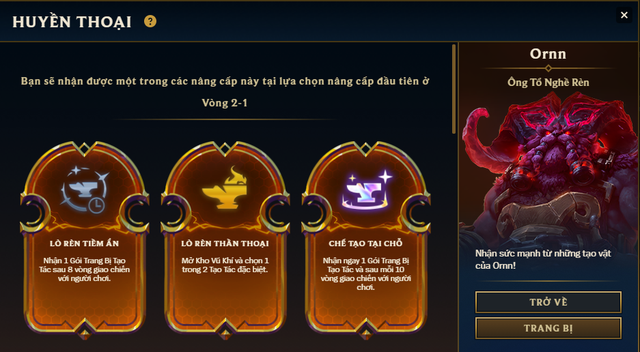 Legendary Ornn also provides equipment, but it is high-end equipment
Entering season 9.5, as mentioned above, when the amount of equipment has many new additions, Ornn's upgrades are even more valuable. Not to mention, Legendary Ornn can also provide Golden Dragon equipment that brings a huge amount of gold and damage. It's no wonder that Legendary Ornn has become a very popular upgrade in TFT season 9.5 up to now.