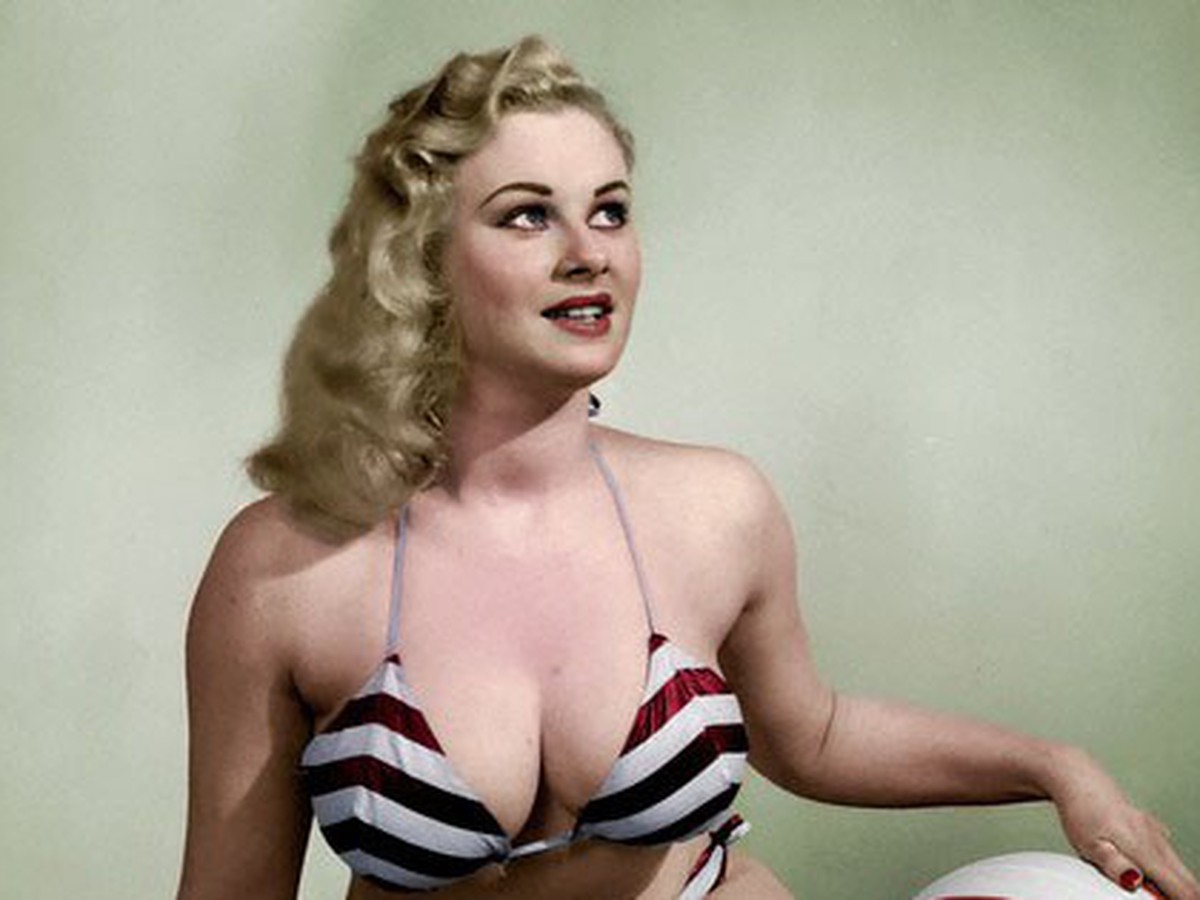 One of the new TV series that is receiving international media attention is Funny Girl, starring British beauty Gemma Arterton. A six-part series based on the 2014 novel of the same name by Nick Hornby. The film tells the story of Barbara Parker, a beauty queen turned television comedian.
It is a little known fact that there was an actual Barbara Parker that existed in real life decades ago. It was Norma Ann Sykes, once known as "Marilyn Monroe of England". However, unlike Marilyn who became a legend of Hollywood cinema, Norma's fame was only "soon to bloom, ephemeral".
Norma Ann Sykes – "blonde bomb" of the 1950s, said to be the prototype of the character Barbara Parker in Funny Girl. Photo: Shutterstock.
Famous for a "terrible" round
Graham Haslam, Norma Ann Sykes' maternal cousin, said that like many others Norma had a normal start. She was born in 1936 in Stockport, Cheshire (Greater Manchester, England), the only child of Walter and Annie Sykes, a mechanic and a seamstress. In the late 1940s, the Sykes family moved to Blackpool (Lancashire county, England). Here, Annie runs a hotel.
"She is a little older than me. I remember she had long curly blonde hair and was very pretty. We see her quite often," Graham said.
Norma's life was turned upside down when she contracted rheumatic fever and polio at the age of 11. For the next four years, she spent most of her time in the hospital. Later, when she became famous, Norma always kept her feet hidden when taking pictures because of the scars caused by surgeries as a child.
Before her illness, Norma was an excellent swimmer. Rumor has it that she swam 1.6 km a day when she was 9 years old. However, Graham expressed doubts about this. However, this sport not only helps her recover faster but also develops an "unbelievable" bust. Norma herself later admitted that her figure was her most valuable asset. The beauty is also proud of owning a "terrible" bust than two sexy icons of the same time, Jane Russell and Marilyn Monroe. According to the Daily Mail, Norma has a waist of 45.7 cm and a bust of 104 cm.
Conscious of her outstanding physique early on, at the age of 16, Norma lied to her mother on vacation to Bournemouth, but went to London in search of a chance to be famous and never looked back.
"She is very attractive. She had a beautiful figure and she made the most of that," recalls Mr. Graham.
However, that appearance also made Norma noticed by the bad guys. A photographer convinced her to take nude photos. This image then appears on decks of cards. When she realized she was being taken advantage of, Norma angrily destroyed the photos but did not solve the problem.
After that, Norma worked many jobs as a waitress, housekeeper and jewelry maker to make a living. Photographer Sydney Aylett was the one who helped her restart her modeling career. Photos taken by Aylett caught the attention of then-famous comedian Arthur Askey. At the time, he was hunting for a gimmick for the new BBC TV show, Before Your Very Eyes.
Earlier, Askey told the audience he had a nightmare in which he was confronted with huge breasts. This announcement followed a nationwide manhunt to make Askey's nightmare come true. The result was beyond imagination, the producers stumbled upon Norma during a photo shoot of Sydney Aylett.
Norma officially entered the entertainment industry, changed her name to Sabrina and turned to another page of her life. She went down in world showbiz history as the first woman to show off her chest on TV.
Sabrina is famous for her breasts. Photo: Reddit.
In a short time, Sabrina received 1,000 letters a week from fans. Every time she appeared in public, she almost caused a riot. An estimated 4,000 people came to see when the beauty opened her shop in the city of Sheffield. An airport roof has collapsed due to fans jostling and jostling to see the idol and her breasts.
Sabrina received countless invitations to take pictures. They even produced a short film with the title At Home With Sabrina. A restaurant in central London named after the beauty's stage name. One band leader even composed a samba with her name.
"It is unlikely that I would walk down the street without a crowd surrounding me, trying to rip my clothes off. This is crazy. I had no talent, no experience, but suddenly became a star. Things got so bad that I could only go out in disguise," Sabrina said years later.
The blonde star also has a tight schedule at cabaret shows (entertainment that includes comedy, music and dance), and once performed in front of Prince Philip.
Sabrina became a household name in Britain in the 1950s. The radio comedy show The Goon Show also coined the phrase "Sabrina's great measurements".
However, Sabrina's hot body is not always welcome. While attending a horse race in Ascot (Berkshire, England), her revealing outfit caused her to be denied entry to the Royal Enclosure to meet Queen Elizabeth II and the Queen Mother.
Hot blonde can't talk
Although she joined showbiz as a comedian, in addition to her attractive appearance, Sabrina has never been recognized for her sense of humor. Instead, she was always labeled "the hot blonde who can't talk".
"She has a lovely face and figure but can't act, sing, dance or even walk," Arthur Askey once commented.
In fact, Sabrina is always trying to get away from the "portable vase" image. She enrolled in acting, speaking and singing lessons. However, all those efforts did not work.
In her film debut, Sabrina suffered the humiliation of being voiced by an actress with a Cockney accent (a dialect of traditional English, commonly used by the working class, London market merchants). In the comedy Blue Murder At St. Trinian's (1957), her character only appeared in bed, read books and never spoke.
Sabrina wasn't bothered about this at all. "Why should I worry about the stupid blond label being put on me? After all, it makes me a lot of money," she said in an interview.
Sabrina is beautiful, hot, but has no talent. Photo: Shutterstock.
Just like Sabrina said, a year after becoming famous, she bought her first car and house. She owns apartments in Knightsbridge (London), then in Hollywood Hills (Los Angeles, USA). She has a yellow and white Chevrolet car, with registration number S41 (boob measurement in inches)… Sabrina proudly claims to pay for all her possessions herself.
Sabrina was so successful that her agent, Joe Matthews, insured her breasts. The contract was signed with Lloyd's for £ 100,000 (equivalent to more than £1 million today, about $ 1.2 million) The clause in the contract stipulating that Sabrina received £2,500 per inch of breasts was reduced , except in cases of civil war, foreign invasion and nationalization.
However, public interest waned over time. The image of "stupid blonde" gradually lost its advantage. At the same time, Sabrina was fed up with being the subject of lewd jokes.
"People get the impression that I like it. But I don't, I hate being laughed at when I'm a comedian. I want to build a career in the right program. All I get is shame… I give people what they want to see, but I try to let them know I'm laughing at myself," she said after one show.
To forge a more "serious" career, Sabrina began touring in Australia and the US and acted in a number of films and plays. However, she has never escaped from the image that has been shaped since the beginning of her career. When she tries to express herself on a deeper side in a more conservative outfit, the question she always gets is "Don't you have something with a lower neckline?".
In the 1960s, Sabrina gradually fell into darkness. The fame she once had was last like a soap bubble, shimmering but only for a moment.
Sad ending
Sabrina's love affair was not so smooth. She was seen hanging out with British singer David Whitfield, circus owner Billy Smart, American movie star Steve Cochran and German Prince Christian Oscar.
In 1967, happiness seemed to "knock on the door" for Sabrina. She is married to a handsome German-American gynecologist, Harold Melsheimer, from Beverly Hills (USA). According to the Daily Mail, he was unaware of his wife's former fame.
Those years, Sabrina lived in luxury, luxury – outings on a private yacht (renamed Sabrina), sports cars, parties in Hollywood, even private bedrooms and bathrooms. for her pet Doberman Pinscher.
Sabrina said she once went shopping with the Hollywood Walk of Fame comedian Lucille Ball. Interestingly, Gemma Arterton – who plays inspired by Sabrina in Funny Girl , idolizes this legendary star.
However, like her career "soon and fade", Sabrina's marriage to a wealthy husband ended in the 1970s. Since then, she has almost disappeared from the public eye. After unsuccessful back surgery, her health deteriorated, she was confined to a wheelchair and dependent on pain medication.
Sabrina was beautiful, once popular, but at the end of her life was forgotten by people, tormented by illness. Photo: Daily Mail.
Later, she had the opportunity to confess her feelings to a fan named Mark from Australia. This person began researching the life of the once-entertainer when he was attracted by the introduction of Sabrina in The Goon Show. He also compiled an online book called The Sabrina Encyclopedia.
Mark spoke to Sabrina for the first time in 2003. Through the exchanges, Mark drew on: "I think she feels abandoned and misunderstood. She brags about her dream home in West Toluca Lake (California) and celebrities like Bod Hope living nearby. I think she always hoped to be appreciated for her artistic talent rather than her physique. She truly believes herself to be an underrated actress and singer. In fact, she's terrible in both areas even though I'm her number one fan."
Sabrina died of blood poisoning in 2016 in the US, at the age of 80. She died alone, losing contact with her family in England. Later, relatives learned about what Sabrina was going through when contacted by the "heir hunter".
Having owned many expensive items, the list of possessions left by Sabrina is awe-inspiring: few pieces of furniture and boxes of old clothes, hats, shoes and bags.
Graham was sad to learn how his cousin spent the last years of her life. However, he was proud of her and everything she had achieved.
"She is an attractive young woman, but in many ways she is quite shy. She started modestly but reached a surprising level. It's not easy to be successful in showbiz. But she made people talk about a blonde with a great figure. They compared her to other famous blondes like Diana Dors, Jayne Mansfield and Marilyn Monroe. We're pretty proud of her rolling herself in a tough industry," the cousin shared.
A month before her death, Sabrina asked her caregiver to invite a hairdresser to her home in North Hollywood. Photo: Daily Mail.
According to Daily Mail